ACET Exam Pattern 2023 - Institute of Actuaries of India (IAI) prescribes the ACET 2023 exam pattern on its official website. Candidates preparing for the ACET exam should be familiar with the paper pattern. Details such as mode of the exam, number and type of questions asked, marking scheme, total marks, time duration and related are provided under the exam pattern of ACET 2023. The ACET exam 2023 will be conducted in computer based mode at various test-centres acorss India.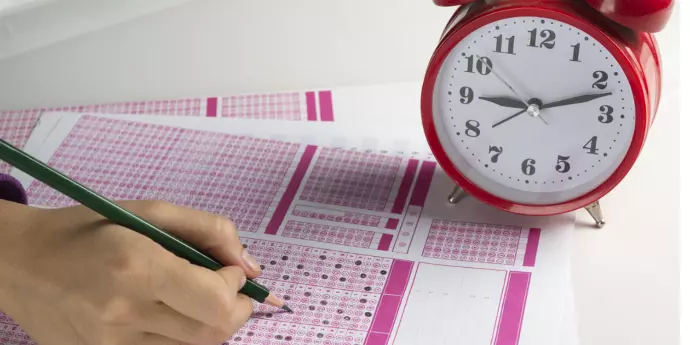 ACET Exam Pattern 2023 - Mode, Marking Scheme, Technical Requirements
Related: Check the complete ACET exam schedule.
Careers360 provides complete insights on the ACET exam pattern as well as the syllabus covered. This will help candidates to plan their preparation ahead of the exam.
Overview of ACET Exam Pattern
As per the official website of IAI, the ACET 2023 exam will be conducted in online computer based mode. Candidates will be asked to solve 70 multiple choice questions within 3 hours of time duration.
ACET Exam Pattern 2023 - Highlights
Particulars

Details

Mode of ACET 2023 exam

Online mode

Time duration

3 hours

Number and type of questions

70 Multiple choice questions

Question distribution

45 questions - 1 mark each

20 questions - 2 marks each

5 questions - 3 marks each

Total sections

Five

Marking scheme

There is no negative marking for wrong answers in ACET exam
ACET Section Wise Marks Distribution
| | |
| --- | --- |
| ACET Exam Sections | Marks Allotment |
| Mathematics | 30 marks |
| Statistics | 30 marks |
| Data Interpretation | 15 marks |
| English | 15 marks |
| Logical Reasoning | 10 marks |
| Total | 100 marks |


ACET 2023 Passing Criteria
The minimum marks required by a candidate to qualify the ACET exam is called the ACET passing criteria. As per the official website of IAI, candidates need to secure minimum 50% marks in ACET 2023 to qualify. Candidates securing less than 50% marks will be considered unqualified and will have to reappear for the ACET exam.
Institute of Actuaries of India (IAI) releases the syllabus of ACET on its website. It is important for candidates to acquaint themselves with the latest syllabus for preparation purpose. Information related to the topics and sub-topics covered in the exam are mentioned in the ACET syllabus. The questions asked in the ACET exam 2023 will include topics covered under the syllabus.
Actuarial science is a dynamic in nature. This the reason why rigorous preparation is required to crack the ACET exam. Registered candidates can find relevant ACET study material under the member's login on the official website. Candidates preparing for the exam should refer to the official study material.