CA 2017 Topper Mohit Gupta - "Do not leave studies for the last minute"
A combination of strong determination, undivided focus and hours of self-study, helped Mohit, one of the toppers of CA 2017 exam in reaching the top echelons. Mohit is of a strong opinion that it is not at all difficult to crack Chartered Accountancy (CA) exam, provided enough hard-work is put into the preparations.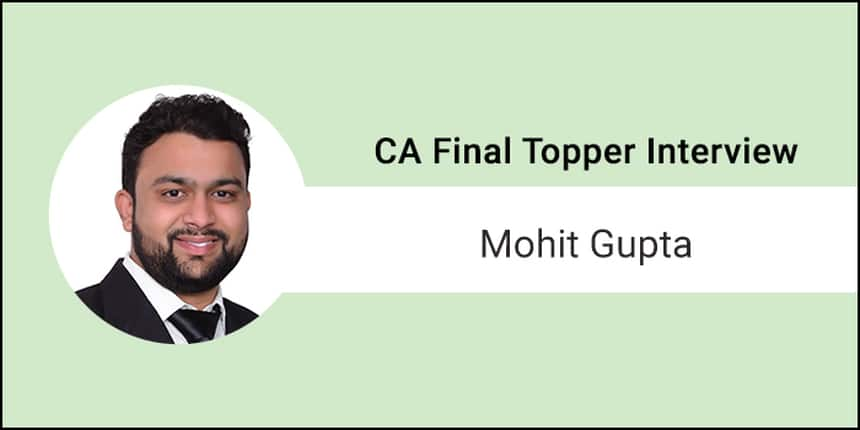 Besides hard-work, the CA 2017 topper, believes that no amount of coaching or formal training can replace the importance of self-study. "Do not leave studies for the last minute and prepare from the very beginning", says Mohit Gupta.
Having completed his articleship from Price Waterhouse (PwC), Mohit also gives credit to the work-culture and on-job-training at PwC which proved instrumental in helping him become CA 2017 topper. In an exclusive CA 2017 topper interview with Careers360, Mohit shares his experience of becoming a CA final topper of 2017 and also shares some advice for future aspirants of CA.
Read the full interview below:
Fast Facts
Name: Mohit Gupta
Exam: CA Final
Marks: 587/800
Percentage: 73.38%
Careers360: Why did you choose to become a Chartered Accountant and who inspires you the most? Please share with us your journey of reaching the top echelon and becoming a CA topper.
Mohit: My brother, Arun Garg cleared CA exams and became a Chartered Accountant back in 2011. That inspired me to the core to pursue Chartered Accountancy as my career. He is presently working with Kotak Mahindra Bank.
My journey of becoming a CA was a very simple one but required a lot of hard work and dedication. I would like to mention here that it was not my dream to become a CA topper. I just wanted to be an expert in whatever I choose to pursue. My strategy was to remain focused on my goal and pursue it with utmost dedication and passion.
Careers360: How did you prepare for CA examinations? Please share your strategy from the beginning.
Mohit: Time Management is the key strategy to success in CA exams or for any exams for that matter. During my articleship at PwC, I used to study for 3-4 hours every day. I made a two-fold division of my time. My focus was on strengthening my concepts, while at the same time dedicating time to thoroughly revise whatever I study.
Careers360: Did you face any challenges in aiming for your target or did you find anyone subject particularly hard to crack?
Mohit: Each subject is easy and at the same time difficult, depending on how well you practice and understand it. It is all about how well you understand the subject.
The only challenge I faced was getting diagnosed with dengue just a month before my exams. However, I did not let that demotivate me and kept myself focussed. Rather, I worked harder than before for my exams.
Careers360: Do you think coaching plays an important role in cracking CA examination?
Mohit: Coaching helps in better clarification of the concepts, but at the same time I give a huge credit to self-study. In my case, though coaching helped me understand the concepts, studying on my own helped me to grasp those concepts better. I think for me, it was the key to success.
Careers360: Some aspirants believe that becoming a CA is very hard. Is it a truth or myth? What are your views on it based on your journey?
Mohit: Cracking CA exam is not at all difficult; it can easily be done with thorough preparation, managing your time well, planning and by staying focused.
Careers360: Please share your experience during articleship.
Mohit: I have done my articleship with one of the Big Fours, Price Waterhouse (PwC), which gave me an opportunity to learn multiple aspects of auditing through in-house classroom sessions and e-learning along with the first-hand experience of working with clients. Working with some of the best minds in the industry an on-the-job training not only helped me with my studies but also helped me develop into a confident professional. This is truly an experience which will remain with me for a lifetime.
I would like to tell at this point that as many as nine article trainees at PW including myself are rank holders this year. Few things that I think helped us all is the continuous in-house learning interventions by the firm, immediate feedback from our managers, stress on quality and timely delivery, access to technology-based audit tools, awareness of global best practices and 24X7 access to knowledge repositories.
This helped us not only in understanding the exam content better but also in developing a logical thought process which helped in cracking the surprise elements in the CA exam. Of course, I can't undermine the hours of self-study that each one of us put in. With the kind of support and hands-on training provided by the Firm, I don't think we could have asked for anything more.
Careers360: Please share your preparation routine with us. Do you really think that studying for long hours help?
Mohit: I followed a very simple routine where I dedicated long hours just for preparation. I stuck to a healthy lifestyle, regular exercise and healthy food every day for a peaceful mind and a healthy body.
Careers360: Any advice would you like to give to future CA aspirants?
Mohit: The only advice I would like to give future CA aspirants is that don't leave the studies for the last minute and prepare from the very beginning which would leave you with enough time to revise and strengthen your concepts. Also, don't panic. I have seen aspirants panicking in last minute. Believe that you know everything, just stay calm and you will remember the answer. All the best!