CA CPT 2015 Exam Pattern – In the notification of CA CPT, Institute of Chartered Accountants of India (ICAI) has specified the list of the Exam Pattern of CA CPT 2015. Candidates, who are appearing for CA CPT 2015 on December 13, 2015, must check CA CPT 2015 Exam Pattern described below on this page.

LATEST - Candidates can get CA CPT 2017 Application Form and CA CPT Admit Card 2017 here. Know all about CA CPT 2017 such as eligibility, dates, result and much more.

Going through the table below on this page, candidates can get know about the complete details about the CA CPT 2015 Exam Pattern, including all the sections, number of questions and marks allocated to in each section, total number of questions and total marks, and also duration for each session and total duration of the exam.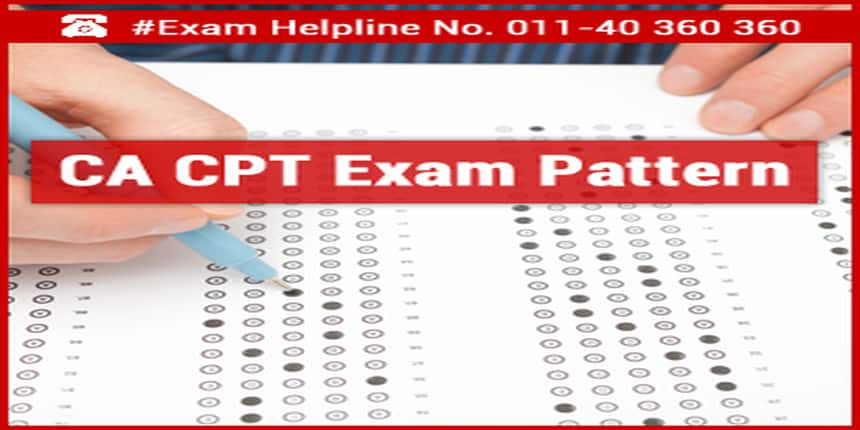 CA Common Proficiency Test is divided into two sessions of two hours each. In the first session there are two sections: Section A – Fundamentals of Accounting carrying 60 marks and Section B – Mercantile Laws carrying 40 marks. In the second session there are two sections: Section C – General Economics carrying 50 marks and Section D – Quantitative Aptitude also carrying 50 marks.


CA CPT Exam Pattern 2015:
Session

Section

Paper

No. of Questions

Marks

First Session

(i.e. Morning Session)

10.30 AM to 12.30 PM (IST)

A

Fundamentals of Accounting

60

60

B

Mercantile Laws

40

40

Second Session

(i.e. Afternoon Session)

2.00 PM to 4.00 PM (IST)

C

General Economics

50

50

D

Quantitative Aptitude

50

50

Total

200

200
Students will be awarded 1 mark for each correct answer and 0.25 mark will be deducted for each wrong answer, as the negative marking is applicable.
CA Common Proficiency Test is an objective type multiple choice questions based examination. Candidates will be allowed to opt for Hindi Medium Question Paper Booklet for answering the questions. Detailed information is available in the Information brochure.


A minimum of 50 percent marks in aggregate is required for a candidate to secure in order to be declared as pass in CPT exam. It is to be noted that there is no requirement of securing minimum marks in any subject/section in CPT, but appearance in both sessions of CPT is mandatory.
Stay tuned to finance.careers360.com for more news and articles on CA CPT
Also Read:
CA CPT 2015 Eligibility Criteria