Top Tips to Crack the ICAI Exams and Become a CA
One of the most popular courses in finance is the Chartered Accountancy course. Candidates who have completed or are appearing in Class 12 can start preparing for the CA exams. To strengthen the financial backbone of India, Chartered Accountant are considered as watchdogs. Every year ICAI conducts CA exams twice in a year - May/June and November/ December.
LATEST: ICAI results 2021 are to be released soon.
Latest Updates for CA Foundation Exam
Stay up-to date with CA Foundation Exam News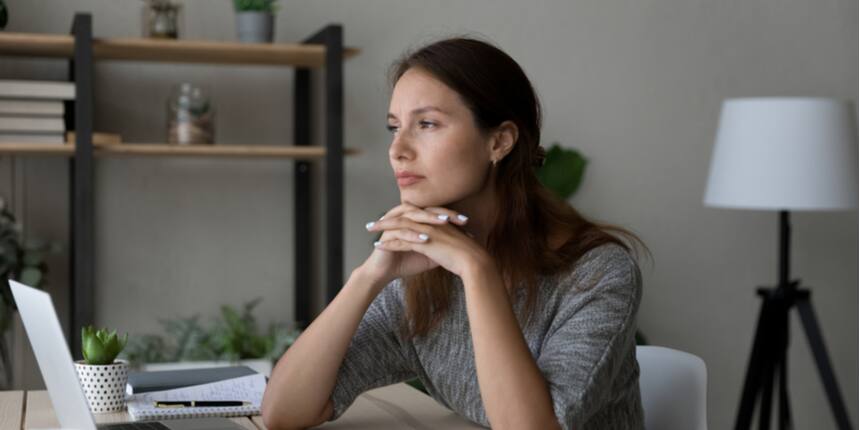 ICAI CA exams have three levels, with difficulty ranging from moderate to difficult to most difficult. CA Foundation, which is the 1st level, is moderate. The CA Intermediate is the 2nd level and falls in the difficult category, while the 3rd level, the CA Final is the most difficult. Candidates who are preparing for ICAI exams must formulate an effective preparation strategy to succeed in CA exams.
In this article, Careers360 provides an analysis on the top tips and tricks that candidates must follow in order to excel in ICAI exams and become Chartered Accountants.
Overview of top tops to crack the ICAI exams and become a CA
| | |
| --- | --- |
| S. No. | Tips and Tricks |
| 1 | Analyse the CA exam pattern and syllabus |
| 2 | Formulate a time table |
| 3 | Get hands on best study material |
| 4 | Prepare your notes |
| 5 | Follow up the previous year question papers |
| 6 | Know the importance of mock tests/ revision/ sample papers |
| 7 | Self evaluation through revision |
| 8 | Maintain a positive mindset |
Let us look at each point one by one in detail to have a better understanding-
Analyse the CA Exam Pattern and Syllabus
Before appearing in any academic exam, all candidates are advised to go through the pattern of paper and syllabus covered. The exam pattern explains clearly about the time duration of the paper, number of papers and questions asked, type of questions asked, marking scheme and related details. Whereas, the syllabus of CA explains the topics and sub-topics covered under each level.
ICAI officially provides the CA exam syllabus and CA exam pattern for all three levels - CA Foundation, CA Intermediate and CA Final. Candidates must refer to these details in the initial phase to avoid chances of blunder.
Related Links:
| | | |
| --- | --- | --- |
| Details | Links | Links |
| CA Foundation | | |
| CA Intermediate | | |
| CA Final | | |
Formulate a Time Table
Having a roadmap and walking on a predefined footstep has many benefits. Candidates must pre-plan their study duration, form a suitable time table and move accordingly. Try to make a to-do list on a regular/ weekly basis. Fix a time when you think you can give your best and focus more than other regular hours. Follow the schedule to crack the ICAI exam. Remember, determination and persistence is the key to success.
Candidates can prepare their time table according to the CA exam dates:
Get Hands on Best Study Material
No doubt that the market is flooded with a number of CA preparatory materials. But, you must dig deep into the resources to find out what will help you succeed. Although ICAI provides official study material to help candidates prepare for the exam; sometimes candidates look for some additional resources. Thus, one of the major/ top tips to crack the ICAI exams is to get hands-on constructive resources (be it online/offline modes).
Try being a part of online study groups where students help each other. Some groups are free of cost and don't charge you a penny while some are paid groups.
You can also check the given links for official ICAI study material
Prepare Your Notes
One of the best ways to understand any topic is to write it down in your own words. Read the topics, take your notebook and start making your notes.
Notes Making Tip-
Make separate notebooks for each subject

Flash cards/ sticky notes can be used to differentiate different topics

Use margins to have a clear picture

Make use of highlighters/ different colour pens

Use short and crisp sentences to avoid confusion during revision

Always write references (incase you are confused for any topic)

Most importantly, do not overwrite. Note down only what is most important and will be helpful during revision.
Follow Up the Previous Year Question Papers
According to toppers, one of the top tips to crack the ICAI exams and become a CA is to solve the previous year question papers. ICAI provides subject-wise question papers for all three CA exam levels - CA Foundation, CA Intermediate and CA Final question papers.
Click here to check the official previous year question papers.
Referring to the previous year question paper sets of ICAI will help you to understand the questions asked in exam. Many candidates have even witnessed the same questions being asked repetitively in following years with a slight change in number/ details.
Know the Importance of Mock Tests/ Revision/ Sample Papers
Mock tests are considered to be the best preparatory resources. By solving mock tests, candidates are able to understand the exam day scenario, type of questions asked and get a simulated exam day ambiance. Along with CA mock tests, the Institute of Chartered Accountants of India (ICAI) releases sample papers and other preparatory materials. Candidates can access these resources on the official website of ICAI.
Quick Links-
Self Evaluation Through Revision
Start with the most vital topics. Challenge yourself by solving question papers and evaluate your performance during the revision phase. Remember that practice makes a man perfect. Self evaluation will help you boost confidence and work on your areas of improvement. Look for guidance whenever required for support.
Quick link -
Maintain a Positive Mindset
Above all, maintain your willpower and do not deviate from your motive if becoming a Chartered Accountant. Move ahead and prepare for the ICAI exams will positive mindset. Stay away from people/ situations that you think demotivate you at any level.
All the best!
Questions related to CA Foundation Exam
Showing 6 out of 6 Questions