Over 2500 new members receive ICAI certificates at annual convocation
The Institute of Chartered Accountants of India (ICAI) organized its annual convocation to award certificates of membership to over 2500 new members and facilitates rank holders of the recent CA examinations at New Delhi.
Injeti Srinivas (IAS), Secretary, Ministry of Corporate Affairs, Government of India congratulating the new Chartered Accountants said, "The fact that the institute (ICAI) is set up by an act of parliament is an endorsement that Chartered Accountants perform a critical role in nation building. In this context, the newly inducted CAs should feel empowered but these powers also come with a lot of responsibilities. They should be aware that the Chartered Accountant Act also has built-in safeguards to protect the accounting professionals from unnecessary interferences in their work."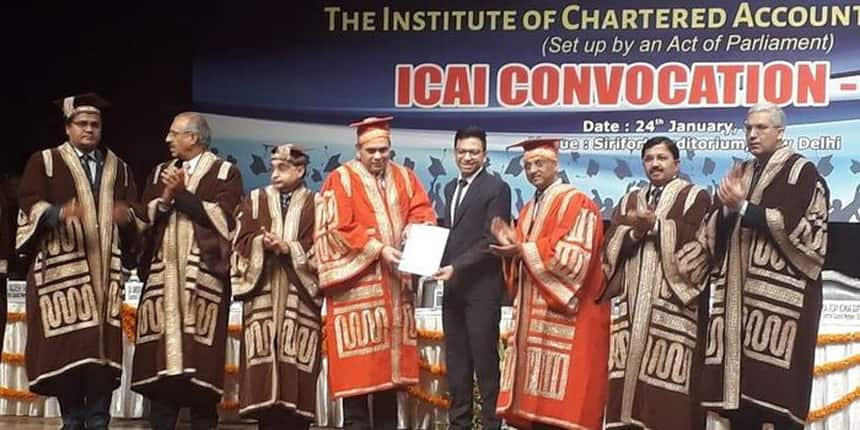 The Convocations at eight centres across India were also organized in the other four regions i.e. East, West, South & Central region of ICAI.
CA. Naveen N.D. Gupta, Vice-President ICAI said, "This is a special day for the newly qualified Chartered Accountants, the chosen ones. This convocation is a platform for us to welcome all of you into the folds of the profession. I exhort everyone to always think big and ensure that whatever you do brings glory not only to the profession but also makes the country proud. With this Convocation, you are entering into a domain where you carry a huge responsibility of showing accounting prudence which would ultimately help the government and the society at large."
The ICAI conducts Convocation twice every year to award Certificate of Membership to newly enrolled Members as bonhomie to the CA fraternity. The Convocation is intended to bring young members of the profession under the umbrella of the fraternity of Chartered Accountants and foster a sense of belongingness to the profession and the Institute.
The Institute has been striving for constantly equipping its members to deliver professional services of the best standards with greater credibility, reliability and accountability. The Institute would continue to provide guidance for the growth of profession in line with changing requirements of stakeholders and enable full utilization of capacities of the Indian professionals at National as well as International level.
ICAI functions under the Ministry of Corporate Affairs, Government of India. It has its headquarters in New Delhi and five Regional offices in Chennai, Kanpur, Kolkata, Mumbai and New Delhi. It presently has 163 branches spread all over the country. In addition, it has also set up 30 chapters outside India and an overseas office in Dubai.
Questions related to CPT
Showing 446 out of 446 Questions