CA vs. CFA - Which is best and why?
For almost every second commerce student, becoming a CA is on the top list. Also, among every 5 finance interested students one desire to become a CFA. Considering the data you can realize that the competition is going to be tough. Around the globe there is always a need for expert professionals in accounts and finance, these two subjects are what CA courses and CFA courses are all about, in their entirety.
View more- Explore Online Courses and Certifications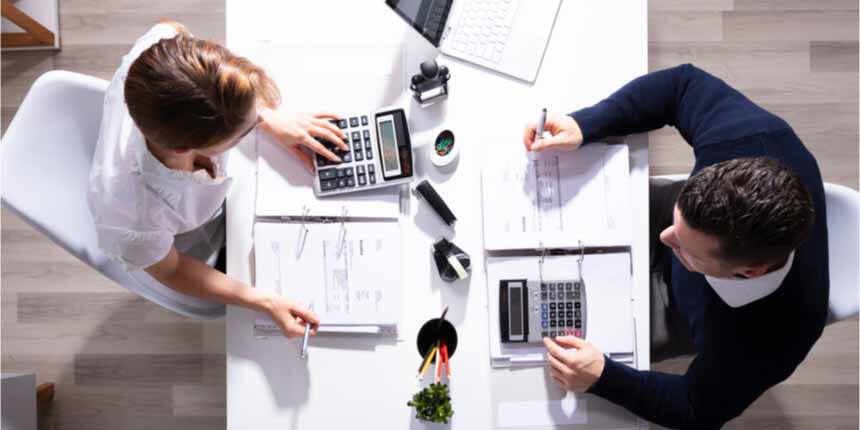 Accounts and finance are the favored subjects for many commerce students. This is because every student today knows if it's business and you want to get the highest pay among your peers then you need to pursue your further degree in finance or accounting. Now this is said, what can be a CA or a CFA? Let's try and learn about both one by one to be able to make a sound decision for our career.
Everything You Need to Know About CA and CFA
Let us discuss various pros and cons related to these two degrees. We will be considering answers to various questions in your mind about your career. What is the CA course? What is the CFA course? How do you become a chartered accountant? What is CFA certification about? Who is a chartered financial analyst?
We will consider all aspects of these two specializations such that you can find your dream career among these two. We will talk about salary to the job profile, opportunities abroad to government jobs in India, the competition level of the exam to college fees. In the end article, you will get a clear picture of both these courses to wisely be able to choose the best one for yourself.
CA COURSES
When do you ask a new commerce student what is the best-paid job related to accounts in India? They will answer you back that it is the job of a CA. What is a chartered accountant course? What does his or her job look like? Can you do CA courses online?
Chartered Accountants is among the highest paying jobs in India after some technical field jobs. CA is a certification awarded to you after education and exams in the field of business, taxation, and accounting.
Yes, it is being said that being a chartered accountant is hard and very time-consuming but a degree that gives a promising career after an investment of time and money is always worth it. CA professionals are employed in various business organizations in India from private to public. A qualified CA is hired to handle the business account details, tax dues, and investments of an organization. He or she is responsible to keep a check on money in and money out. CAs are also involved in helping in solving disputes and avoiding bankruptcy.
Chartered Accountancy or CA Eligibility Criteria
Minimum Qualification Required to become a CA is a 10+2

Minimum Marks required or aggregate that you have to score in 10+2 to become a CA is 55% only.
CA Selection and Structure:
There are three levels of CA certification:
CPT or Common Proficiency Test

IPCC or Integrated Professional Competence Course

FC or Final course
Read more: How to Pursue a Course in US CPA or CA in India?
Requirement for Accounting Technician Course (ATC):
Firstly a CA aspirant has to appear for the CA foundation course or CPT and then enroll for the accounting technician course. The minimum qualification needed is a 10+2 degree with at least a 55% score
After clearing the Entrance Examination called Professional Education (Examination-I) or CA Foundation course, you can register directly for the ATC program.
You can apply for ATC if you have applied for the Intermediate Professional Competence program or Professional Education (Course-II) before this can also register for ATC.
Also read: ACCA, CMA, or CA: Which One Should You Choose?
Apply for IPCC:
Requirements- You should have secured at least 50% marks in CPT after 10+2. CPT is a 200 marks paper.
Please note- If you wish to register for IPCC, it must be done nine months before the month of the exam date.
The course has 7 subjects, each subject has 100 marks. To clear the course, aspirants will have to score at least 40 % in every subject.
Articleship in CA:
After clearing the IPCC or CA intermediate course you have to go for an internship of 2.5 years under a certified CA is mandatory for all candidates. The articleship is to acquire a practical perspective in the field of accountancy.
Also read: Top Chartered Accountancy Colleges in India 2021
Final Course:
During the last six months of the 2.5-year articleship, the candidate can appear for the final course exams. After you clear the final course, aspirants are awarded the designation of Chartered Accountant.
After doing CA courses you can get job profiles like-
Auditor Accounts Clerk

Business Services Accountant

Chief Financial Officer

Cost Accountants

Financial Controller

Tax Accountant
Also read- Certified Management Accountant
CA online classes
You can take online CA course from these places:
Takshila Learning

Unacademy

UpGrad
Best colleges for CA courses in India
CMS

Kabir commerce classes in Noida

Elite IIT
All About CFA Program
CFA or Chartered Financial Analyst course is the one that is structured to enhance financial and investment management skills in an aspirant. It is one of the globally recognized programs that provide a strong base for the investment analysis world. This degree is offered internationally by an American organization called CFA institute.
This body is responsible for regularizing the syllabus, curriculum details, etc. of the CFA program. CFA helps you to get an overview of the real investment market. Many aspirants apply for the CFA courses every year, but only 40-50% qualify for the 2nd level.
It is one of the most difficult exams for students aspiring for such career options. You need to have four thousand hours of professional work experience in the investment decision-making process in a minimum of 36 months period that will be given to you.
Also read- Financial Analyst
Why CFA Program?
There are several advantages related to your CFA program. After you complete this course you will be getting several great opportunities.
There are a large number of job opportunities in the Market. There are large job profiles and opportunities open for a person who completed his or her CFA degree successfully. You can work in sectors like Accounting, Auditing, Taxation, Financial Services, and many more.

There is a Great Scope for Career Advancement – after successful completion of this program, you can easily get numerous opportunities to incorporate and a great job.

You get a Higher Salary – The average salary will be around 4 Lakhs- 40 Lakhs per annum on completion of the CFA courses which is an amazing salary for the start.
Also read: Best Tips to get hired after completing CA
After doing CFA program your job profile can be
Portfolio management

Research

Consulting

Risk analysis and risk management

Investment strategy

Asset management

Private wealth management

Commercial banking

Investment banking

Insurance
CFA online course
There are many CFA courses available on the web.
You can try to use some of the sites for online CFA course like-
Upgrad

Udemy
Understand that it is not at all like the full-time course.
Best colleges for CFA in India
Difference between CA and CFA
| | | |
| --- | --- | --- |
| Factors | Chartered Accountant (CA) | Chartered Financial Analyst (CFA) |
| Area | CA course is organized by ICAI (Institute of Chartered Accountant) | CFA course is organized by CFA institute |
| Number of Levels | There are 4 levels in CA which includes practical training after clearing IPCC | CFA course has 3 levels. Each year denotes to each level. |
| Passing Percentage | The passing percentage of the CA course is 0.5% as it is considered as one of the difficult exams. It has been determined that 5 students out of 1000 get clear in the CA Final Examination. | The passing percentage of the CFA course is higher as compared to CA. It is 10%. It means out of 1000, 100 students can clear the CFA Exams. |
| Focus Subjects | The main focused subjects in CA are Financial accounting and reporting, business environment and concepts, and audit and attestation, and regulations. | The main focused subjects in CFA are accounting, ethics, corporate finance, equity investment, portfolio management, and fixed income. |
| Salary | The average package of a CA as a fresher is around 6-7 lakh per annum. | The average percentage of CFA as a fresher is up to 4 lakh |
| Paper Pattern | The paper pattern of CA is subjective | The paper pattern of CFA is MCQ based. |
| Scope | The demand for CA is higher because it is responsible for the Statement of the company | CFA is demanded in the national and multinational organizations to manage finance and investment. |
Conclusion
As we have discussed in detail about CA and CFA courses, we are much aware and got a better idea to choose the career. Both courses have a great scope in future and career opportunities. You must choose your career wisely. Opt for a CA course when you have an interest in audit and taxation whereas opting for CFA when you have an interest in investment banking and portfolio management. To sum up, it is recommended to every candidate who wants to pursue these courses that neither go for CA online classes nor CFA online classes. Join the renowned institute where you can get all your queries answered.
Explore Popular Platforms Certification Courses
Frequently Asked Question (FAQs) - CA vs. CFA - Which is best and why?
Question: What is the duration to complete the CFA Program?
Answer:
You can complete the CFA program in two years by giving Level 1 in June and Level 2 and 3 in June and December. You can only clear the CFA program in 2 years when you dedicatedly give 300 hours to study according to exam level. Therefore, many people take three to four years to complete the CFA Program.
Question: What is the main focus of CA and CFA?
Answer:
The main focus of CA is to do an audit, accounting taxation, and finance. On the other hand, the main focus of CFA is core finance and is completely based on concepts of formulas rather than learning.
Question: Is CA better than CFA to get good career opportunities?
Answer:
It is difficult to select which course provides good career opportunities. As both of them have great scope and job opportunities. It all depends on your interest. If you have a keen interest in finance formulas then you must opt for CFA. On the other hand, if you have an interest in taxation, audit, and others, then you must for CA. Both courses will provide you good career opportunities.
Question: Is it worth doing CFA after CA?
Answer:
Yes, it is worth doing CFA after CA. If you become a CA, then it wouldn't be that difficult to clear CFA Level 1. CFA and CA both are finance-related topics. Many CA candidates do CFA to pursue theirs in Investment Finance. A candidate who has done both CA and CFA courses get all-around knowledge and global recognition.
Question: Is CFA better than CA?
Answer:
CA is beneficial for those people who want to make their career in taxation and audit whereas CFA is beneficial for those who want to go into Portfolio Management and Investment Banking. Both courses have their recognition. The scope of these two courses is increasing rapidly. Choose your career as per your interest and ability.
Question: What is the future scope of CA?
Answer:
The future scope of CA is that the candidate can make their client by starting their own independent business based on merit. A qualified Chartered Accountant is eligible to apply for a government job, private, and public sectors. If they want they can join a firm and provide services of the capital market.
Question: What is the career option for a Chartered Accountant?
Answer:
Career options for CA are internal auditing, managing treasury function, book-keeping, finance controller, a statutory audit under applicable statutes, tax auditing, forensic auditing, preparation of financials of companies, and so on.
Question: When should you start the study of CA final after completing IPCC?
Answer:
Once you clear your IPCC exam, you should immediately start the preparation for CA Final. Do not waste a single day as clearing CA requires time and dedication. Although, it will take time to understand the acquaintance with the subjects.
Question: How to Study for CA IPCC exams?
Answer:
Make daily targets and fulfill them.

Revise the previously taught part and then begin with a new topic.

Increase your study hours during weekends.

Make effective use of the internet to know the appropriate information.
Question: What is the career path for a CFA candidate?
Answer:
Career path for CFA candidates are consulting, research, investment strategy, portfolio management, risk analysis, and risk management.
Questions related to Chartered Accountancy
Showing 16 out of 16 Questions