CA Intermediate Topper, Sudeepta Benya Rank 3, says, "Hard work and high aspirations play a major role."
ICAI declared the CA Intermediate July 2021 result on September 19, 2021, in online mode. The results were declared for both old and new courses. The joy knew no boundaries for Sudeepta Benya when she checked her CA Intermediate result. Securing an All India Rank 3, the topper felt overwhelmed and shared the exceptional news with her family and friends. Considering her family as a source of inspiration, Sudeepta credits all her success to them. Let us have a sneak peek at the conversation between Careers360 and Sudeepta Benya.
Stay up-to date with CA Intermediate Exam News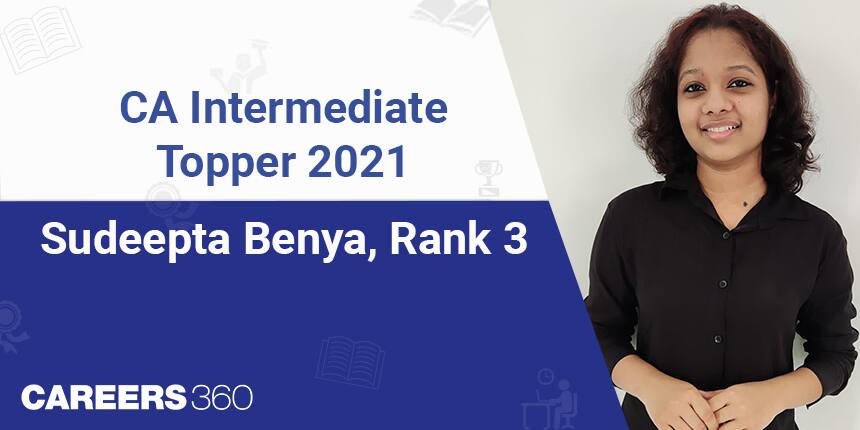 Excerpts from the CA Intermediate Topper's Interview:
Careers360: How did you celebrate your success? Which elements would you attribute your success to?
Sudeepta: The success was celebrated by sharing the good news with relatives and friends through phone calls. Everyone congratulated me. Hard work, time management and dreaming big have played a major role. I also owe it to my parents, brother, teachers and god.
Careers360: Tell us about your childhood, family background, schooling and key inspirations in life.
Sudeepta: I am from Koraput district of Odisha. I have studied up to class 10 in a CBSE school at Koraput. I was a class topper till class 10 and had secured 10 CGPA. My brother suggested moving to Bengaluru for higher studies as he was staying there. My father is a social worker and my mother is a teacher in Odisha. My inspiration has always been my family.
Careers360: Throw light on your rank and score in CA Intermediate 2021?
Sudeepta: I secured an overall score of 624/800 with Rank 3 in the CA Intermediate exam.
Careers360: Elaborate a bit about planning, study hours, timetable and daily efforts which you had put in during preparation for CA Intermediate?
Sudeepta: I used to make monthly goals along with daily goals. I practised a lot. I never set a time limit for studies, rather I finished my daily targets no matter how much time it took. On average, I used to study for about 14-16 hours.
Careers360: Which group or subject of the CA Intermediate exam did you find the most challenging and easiest? Could you cite some reasons why?
Sudeepta: I like accounting so I found it easy as I practised a lot of sums. I found EIS-SM a bit challenging. I put in extra effort and made flashcards which helped me in understanding it better.
Careers360: What made you opt for CA?
Sudeepta: Since my childhood, I have noticed the respect given to a Chartered Accountant. Though I was unaware of CA, I found it really interesting after some research. I wanted to dive deep into the practical aspect of it and know how it works in the real world. The fact that no one in my family and relatives was a CA played another role in encouraging me to be the first.
Careers360: While attempting the CA Intermediate exams, which all factors need to be considered and what strategy works best?
Sudeepta: I feel one strategy that works for one may not work for another because everyone is unique in their strengths and skills. So, I think instead of taking any advice, we need to ask ourselves some questions such as ``how much effort do I need to put in?", "What is my ability?", " What is my strength and where do I need to improve more?", "How many times do I need to revise?".
Careers360: Since you have reached your dream destination, so in your opinion, how has life changed for you now. What was the thought behind choosing CA?
Sudeepta: Life has turned upside down. I am quite happy because many students from all over India are calling and congratulating me. It is a different feeling altogether that they are taking out time to contact and talk to me. I am grateful. The thought behind choosing CA is the respect the profession gives and the responsibility it comes with.
Careers360: What is more suitable according to you - Self-study or coaching?
Sudeepta: Both are needed. We cannot say one is better. Coaching guides you, your doubts are solved but self-study gives you clarity and helps you acquire confidence in yourself. Both have pros and cons and we need to analyse which one is better for us. But yes, self-study requires double the effort as coaching as we know practice is the most important.
Careers360: Tell us about the important learnings or focus areas that can be helpful for CA aspirants and our readers from a preparation point of view?
Sudeepta: Do every single thing from the ICAI module, work hard, be consistent, start from the beginning, put in that extra bit of effort than everyone else, practice a lot, revise and re-revise whatever is already completed. Give equal importance to all the subjects.
Careers360: When did you appear and qualify the entry-level course?
Sudeepta: I qualified CA Foundation in November 2019 in my first attempt with AIR 32.
Careers360: What is the difference between the old and new syllabus?
Sudeepta: Old syllabus has seven subjects in total. It has IT-SM and Financial management is merged with Costing. In New syllabus, we have eight subjects with EIS-SM instead of IT-SM. We have a separate subject for FM and Economics.
Careers360: How beneficial are previous years question papers or the summary of the examiner's comments?
Sudeepta: Solving past question papers is a must as it helps us to know the pattern of questions. We come to know which are the areas or concepts that can be seen in the papers consistently. Summary of examiner's comments helps us improve the presentation of answers. We get to know what should be avoided while writing answers and that helps us to score more.
Careers360: Did the Covid pandemic affect your preparation for the CA Intermediate exam? How did you manage stress in such a situation?
Sudeepta: Yes, sometimes I felt low and stressed. My escape was listening to music and watching funny videos. Conversing with my family and friends helped me in keeping my mind calm.
Careers360: Any message for the future aspirants?
Sudeepta: Put in your all, never lose track of your final goal. When you feel low - pick yourself up and start with even more dedication, make the required sacrifices. If I can become a ranker, you all can too.
Questions related to CA Intermediate Exam
Showing 2 out of 2 Questions
11 Views
after bcom we are compulsory to give ca intermediate exam
Hello Omkar,
Hope you are doing well.
There's no compulsion to give CA intermediate exam after completing BCom if you don't want to pursue CA as a career.
However if you want to give CA intermediate exam then you need to have completed your graduation.
Hope this helps. In case of any further query, please get back to us.
Thank you.