CA Final 2021 result (December) was declared by the Institute of Chartered Accountants of India (ICAI) on February 10, 2022. The day became a forever memory for Nitin Kamat who secured the second position in CA Final exam for new course. Nitin credits his success to his parent's support. He believes that self-study is the core of the CA Final preparations. In an exclusive interview with Careers360, the CA Final 2021 topper has shared his success story. Related- To check the list of CA Final toppers - Click here
Latest: Company Secretary: A guide. Download EBook
Recommended: Certificate Courses Offered by ICAI. Check Now
Don't Miss: CA placements, salary, recruiters. Check Now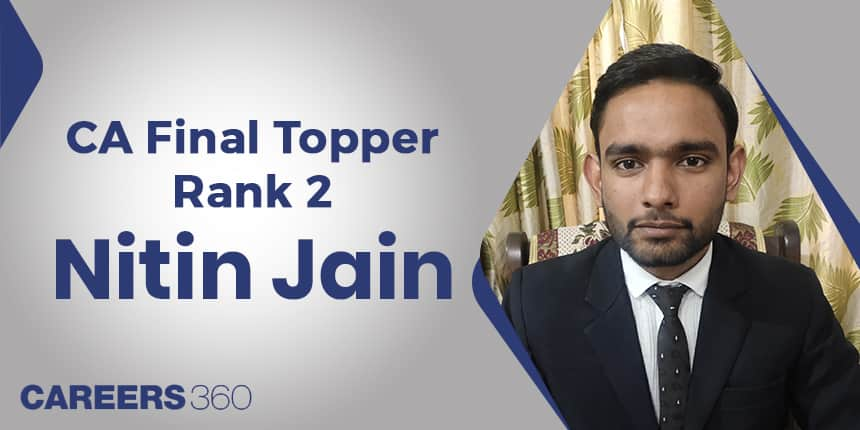 CA Final Topper Nitin Jain, AIR 2, says, "Consistently and self-belief are the Key"
Students can read the excerpts of the interview with CA Final 2021 topper Nitin Jain below.
Careers360 - How did you celebrate your success? Which elements would you attribute your success to?
Nitin - Qualifying CA exam is a great achievement. But, when I got to know the news straight from ICAI's president that I have secured AIR 2, I was awestruck and felt myself on cloud nine. It was truly more than a dream coming true and when I informed my parents about it, their happiness and joy was all I can remember. The attributes that I can attribute to this success are consistently, willingness and the self-belief.
Careers360 - Tell us about yourself, family background, your schooling and your key inspirations in life.
Nitin - My name is Nitin Jain. I've recently cleared my Chartered Accountancy course with All India Rank 2. I'm currently doing my articleship from Grant Thornton Bharat LLP, Delhi, in Audit Domain. I belong to Khatauli, Muzaffarnagar. I've completed my basic schooling and Graduation from there itself. There are four members in my family, my Father, Mother and a younger sister.
My key inspirations are my parents for the hard work they did and this always gives me motivation to give my best.
Careers360 - Share about your rank and score in CA Final exam.
Nitin- I have secured AIR 2 in CA Final Dec 21 exams with an aggregate of 632 marks out of 800 marks.
Careers360- Give us a brief about your preparation plan, study hours, time table.
Nitin - I've started my preparation 5 months before exams. To be honest. I planned my first revision for 2-2.5 months. To begin with, I selected numerical subjects like SFM, FR, Costing and then focused on theory subjects. I wanted to remain in touch with theory subjects throughout so I avoided too much delay in revising theory subjects. For the second revision, I prefer solving past papers, MTPs, etc. to have an exam time experience. I used to make summary notes for the last day revision and mark the important concepts or the difficult ones that are to be revised on the exam day.
Careers360- Which group or subject of the CA Final exam did you find the most challenging/easiest? Could you cite some reasons why?
Nitin- For me audit is bit challenging as the syllabus is vast and to retain so much it takes huge efforts. As, in audit key words are important to secure good but it becomes difficult to memorize them and reproduce in exams. It takes multiple revisions to get comfort over the subject.
Careers360 - Apart from the official study material, what all books did you refer to?
Nitin - I've referred to books suggested by my teacher and also prepared my short notes for quick revision before exam day.
Careers360 - While attempting the CA Final exams, which all factors need to be considered and what strategy works best?
Nitin - First, one should gain thorough conceptual knowledge and then practice by solving mtps/rtps and check your answers with ICAI suggested answers. This helps in to be exam ready. In exams try to utilize the reading time of 15 min in the best possible way. I used to decide which questions to attempt during these 15 minutes and the sequence in which to be answered. Always first attempt the question in which you are most confident and so on.
Careers360 - What is more suitable according to you for CA preparation - self-study or coaching?
Nitin - It depends on multiple factors like previous knowledge of subject, one's interest, time available and many more. As if one doesn't have interest in subject he may spend a lot of time in doing and may not get the desired results. Nevertheless, it doesn't mean that after coachings we don't need to do self-study, self-study is the core of the preparation process for any exam.
Careers360 - What are the important learning or focus areas according to you that CA aspirants should specifically focus on?
Nitin - CA aspirants should focus on writing practice and also gain in-depth knowledge of concepts.
Careers360 - When did you appear and qualify the entry-level course and the intermediate?
Nitin - I have cleared CPT in 2017 and Intermediate Group 1 in May 2018 and Group 2 in November 2018.
Careers360 - How beneficial are previous years question papers or the summary of the examiner's comments?
Nitin - Previous year question papers are of utmost benefit as they help to understand the exam pattern and at the same time improve time management as well. In addition, the examiner's comments also help to understand common mistakes one is to avoid.
Careers360 - From where did you complete your article-ship training? Did it bother your study regime?
Nitin - I'm doing my articleship from Grant Thornton Bharat, Delhi (GT) in the Audit domain. Initially, it was difficult to manage studies and work simultaneously but then after proper planning and some efforts I managed to make a balance.
On the other hand, articleship also plays an important role in improving my conceptual understanding of subjects, especially Financial Reporting, Audit, Law and Taxation that in turn helps in completing the syllabus in less time with more understanding.
Careers360 - How did the Covid pandemic affect your preparation for the CA Final exam? How did you manage to maintain consistency during a pandemic?
Nitin - Firstly at the start of COVID it was a bit challenging as the Work from Home concept was new and in adjusting with studies suffer a bit. But from a coachings point of view, it helped me to an extent as I utilized the office travelling time for coaching.
One more challenge was that with the things happening around it was difficult to be focused and that's the time when one needs to be strong and determined. One needs to avoid the negative things going around. In addition, family and friends play an important role at such moments, with of support of them helps me keep the focus on my goal and put my efforts for that.