CA Full Form - ICAI CA Course Details, Duration, Eligibility, Syllabus
CA Full Form: The full form of CA is "Chartered Accountant". The CA professionals practice Chartered Accountancy. CA's practice professional accounting, taxation, auditing, and financial assessment for an organization or an individual. The designation Chartered Accountant (CA) is given to accounting professionals who have received certification to practice, CA from the statutory body - The Institute of Chartered Accountants of India the full form of ICAI
Latest Updates for CA Intermediate Exam
Stay up-to date with CA Intermediate Exam News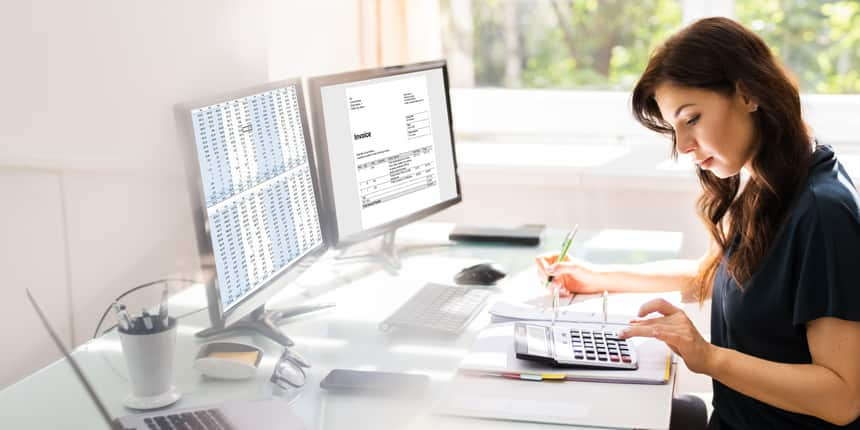 The CA professionals take care of accountancy matters such as tax filing, auditing financial statements as well as business practices, preparing review financial reports, etc. A professionally trained CA can also offer advisory services to their clients that includes either individuals or companies.
To become a certified CA in India an individual needs to complete three levels of CA exam including training that is designed by the Institute of Chartered Accountants of India (ICAI). ICAI is a statutory body that maintains and regulates the profession of Chartered Accountancy in India.
Candidates to become Chartered Accountants (CA) can take admission in CA foundation course after 10+2 or directly after graduation in the CA intermediate course. The CA foundation exams have replaced CA CPT exams and it is held twice a year for CA aspiring students. CA Foundation is followed by CA Intermediate and CA final exams.
Eligibility to enroll in Chartered Accountancy (CA) programme
To become a certified Chartered Accountant (CA), a candidate must go through a training process and also clear exams at three different levels conducted by ICAI.
The candidate should have passed 10+2 successfully

He/She should also complete four months of study period after CA registration to be eligible to appear for the CA foundation exam.

The candidate should get themselves registered with the ICAI board of studies and complete a four months study period.
Eligibility Criteria for CA Direct Entry Route:
For direct entry, graduates/ postgraduates from the commerce stream can enroll.

The person should have at least 55 percent marks in aggregate.

They must have studied accounting, mercantile laws, auditing, corporate laws, taxation both direct and indirect tax, cost and business management, etc.

Graduates or postgraduates from a non-commerce background should have secured a minimum of 60 percent marks in aggregate by any recognized university.

A person who has passed the intermediate level from the Institute of Cost Accountants of India can also get direct admission to the intermediate level of CA.

Candidates appearing in the final year exam of graduation can also get admission on a provisional basis but their admission will be based on successfully clearing their graduation with the required percentage of marks.
Process to become a Chartered Accountant (CA)
The process to become a CA requires very deep preparation. Aspirants willing to do a CA programme can start preparation at various stages in life. The different stages have been explained below:
CA Foundation
The foundation course is the entry level course for Chartered Accountancy (CA). Candidates who have appeared for the class 12 exams or appearing for class 12 exams can write the foundation exam. Graduates or postgraduates are exempted from writing this examination.
Candidates after successfully completing the CA foundation course need to enroll in the intermediate stage of CA. There is also a direct entry route for graduates and postgraduates from CA background to enroll in CA intermediate courses. Students can enroll for intermediate courses after 9 months of appearing for foundation course.
Articleship Training
After completing the CA intermediate course students must enroll themselves in the articleship training. The CA full form also consists of complete training of the CA's in the Chartered Accountancy course. This training provides them with real time experience. In this training course, candidates get to learn about the nature of the work of CA. The primary motive of the training is to provide exposure of companies to the candidates.
CA Final
This is the last part of the course. Before coming to this, candidates need to clear GMCS and ITT exams. After clearing CA final course candidates can register themselves in the ICAI as practicing Chartered Accountants. The CA full form in commerce includes the successfully passed candidates in the CA final exams.
Course and syllabus of Chartered Accountancy course
The syllabus of the primary three levels of the CA course at each level have been mentioned below:
The CA foundation course has been divided into four papers. To qualify the exam students need to pass all the papers. The subjects and topics for CA foundation course has been covered below:
CA Foundation Papers Wise Topics
CA foundation papers

Topics

Paper 1

Principles and practice of accounting

Paper 2

Part 1 : Business laws

Part 2 : Business correspondence and reporting




Paper 3

Part 1: Business mathematics and logical reasoning

Part 2: statistics

Paper 4

Part 1: Business economics

Part 2: Business and commercial knowledge



In CA intermediate course students need to clear eight papers of accountancy course. The table below explains the subjects in the course:
CA Intermediate Group Wise Papers
Groups

Paper

Group 1

Paper 1: Accounting

Paper 2: Corporate and other Laws

Paper 3: Cost and Management Accounting

Paper 4: Taxation

Group 2

Paper 5: Advanced Accounting

Paper 6: Auditing and Assurance

Paper 7: Enterprise Information Systems & Strategic Management

Paper 8: Financial Management and Economics for Finance
The CA final course has been divided into two groups and eight papers. The table give below explains the syllabus in detail:
CA Final Group Wise Syllabus
Groups

Syllabus

Group 1

Paper 1: Financial Reporting

Paper 2: Strategic Financial Management

Paper 3: Advanced Auditing and Professional Ethics

Paper 4: Corporate and Economic Laws

Group 2

Paper 5: Strategic Cost Management and Performance Evaluation

Paper 6: Elective Paper

Paper 7: Direct Tax Laws & International Taxation

Paper 8: Indirect Tax Laws
Important - Check the Complete List of Full Forms
Career prospects for CA after graduation
After the successful completion of course a person becomes an official member of ICAI. They have the option to either join a company or a firm or start their own firm. Some of the domains where CA can work are:
Banks

Auditing firms

Taxation firms

Public limited companies

Management consultancy firms

Legal firms

CFO firms

Investment houses

Mutual funds
Some of the top corporate firms hiring CA's are:
E&Y

BDO

KPMG

PwC

Deloitte

JP Morgan Chase

Credit Suisse

Edelweiss

Grant Thorton

Kuwait Resources House

State Bank of India

Khumji Khiverji & Co

Luthra & Luthra

ICICI bank

Kotak Mahindra

Axis Bank and many more
Frequently Asked Question (FAQs) - CA Full Form - ICAI CA Course Details, Duration, Eligibility, Syllabus
Question: Is there any limit on the number of attempts for CA exams?
Answer:
No, there is no limit on the number of attempts for CA exams.
Question: What is the total duration to clear CA course after the 12th?
Answer:
The total duration of the course after the 12th class is 4.5 years.
Question: Is it important to opt for mathematics in 10+2 exams to appear for CA foundation exams?
Answer:
No, it is not mandatory to opt for mathematics in 10+2 exams to appear for the CA foundation course.
Question: What are the eligibility criteria to get enrolled for CA intermediate?
Answer:
To get enrolled at CA intermediate a candidate needs to complete graduation or post-graduation with a minimum cut-off mark of 55%. For non-commerce graduates, the percentage of marks is at least 60% from the Institute of Cost Accountants of India or ICSI.
Questions related to CA Intermediate Exam
Showing 15 out of 15 Questions