CS Executive Exam Centres 2020
CS Executive Exam Centres 2020 - The Institute of Company Secretaries (ICSI) has announced the addition of 3 cities to CS Executive 2020 exam centres for June session of exams. The updated list of 130 Indian cities and 1 overseas city selected as the CS Executive exam centres 2020 is available in this article. Candidates will be able to choose a suitable exam centre of CS Executive 2020 while filling the online application form which will be available till April 9, 2020. The application correction window might also be provided for a specified period for candidates who need to make some changes to their form. No further changes will be allowed once the correction window closed. Moreover, the overall examination fee to be paid by a candidate also depends on the choice of CS Executive exam centres 2020 as selecting Dubai charges them US $100 extra. For more details regarding the exam centres of CS Executive 2020, read the full article below.
Latest- ICSI will announce CS Executive Result on February 25, 2020 in online mode.
ICSI announces addition of three more cities to be allocated for CS Executive exam centres June 2020.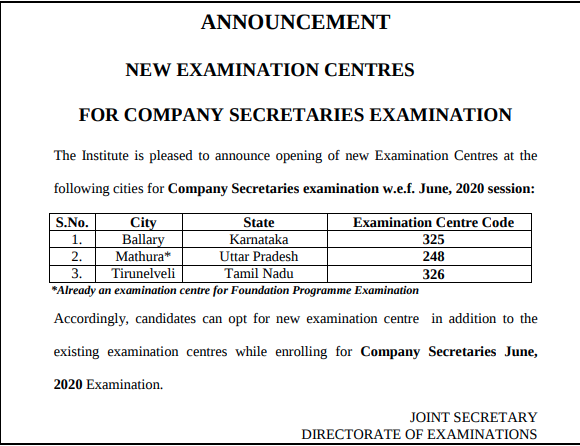 How to select CS Executive Exam Centres 2020?
While filling the CS Executive application form 2020 in online mode, candidates will be required to select the most preferred exam centre location. For those living outside India, Dubai has been set as the overseas CS Executive exam centre. Candidates must ensure that they choose the CS Executive exam centres 2020 judiciously as generally, changes are not allowed. ICSI may open an application correction window wherein candidates can avail the chance to change their CS Executive 2020 exam centres. Moreover, if a candidate wishes to switch his/ her exam centre from an Indian location to Dubai, he had to pay Rs. 250 + US $100 (or an equivalent amount in INR).
List of CS Executive Exam Centres 2020
The zone-wise list of CS Executive 2020 exam centres is mentioned below:
CS Executive Exam Centres
EAST Zone

BHUBANESWAR

DHANBAD

GUWAHATI

HOOGHLY

HOWRAH

IMPHAL

JAMSHEDPUR

KOLKATA (N)

KOLKATA (S)

PATNA

RANCHI

ROURKELAROURKELA

SAMBALPUR

SILIGURI




NORTH Zone

AGRA

AJMER

ALIGARH

ALLAHABAD

ALWAR

AMRITSAR

AMBALA

BAREILLY

BEAWAR

BHILWARA

BIKANER

CHANDIGARH

CHITTORGARH

DEHRADUN

DELHI (E)

DELHI (N)

DELHI (S)

DELHI (W)

FARIDABAD

GHAZIABAD

GORAKHPUR

GURGAON

HISSAR

JAIPUR

JALANDHAR

JAMMU

JHANSI

JHUNJHUNU

JODHPUR

KANPUR

KOTA

LUCKNOW

LUDHIANA

MEERUT

MORADABAD

MUZAFFARNAGAR

NOIDA

PALI

PANIPAT

PATIALA

REWARI

SHIMLA

SIKAR

SONEPAT

SRINAGAR

UDAIPUR

VARANASI

YAMUNA NAGAR

MATHURA





SOUTH Zone

BANGALORE

BELGAUM

CALICUT

CHENNAI

COIMBATORE

ERNAKULAM

GUNTUR-AMARAVATI

HUBLI-DHARWAD

HYDERABAD

KOTTAYAM

MADURAI

MANGALORE

MYSORE

PALAKKAD

PUDUCHERRY

SALEM

THIRUVANANTHAPURAM

THRISSUR

TIRUCHIRAPALLI

VIJAYAWADA

VISAKHAPATNAM

BALLARY
TIRUNELVELI



WEST Zone

AHMEDABAD

AHMEDNAGAR

AKOLA

AMRAVATI

AURANGABAD

BHAYANDER

BHILAI

BHOPAL

BILASPUR

GANDHIDHAM

GANDHINAGAR

GWALIOR

INDORE

JABALPUR

JALGAON

JAMNAGAR

KOLHAPUR

MUMBAI ZONE-I

MUMBAI ZONE-II

MUMBAI ZONE-III

MUMBAI ZONE-IV

MUMBAI ZONE-V

MUMBAI ZONE-VI

NAGPUR

NASHIK

NAVI MUMBAI

PANAJI

PIMPRI-CHINCHWAD

PUNE ZONE-I

PUNE ZONE-II

PUNE ZONE-III

PUNE ZONE-IV

RAIPUR

RAJKOT

SAGAR

SATARA

SOLAPUR

SURAT

THANE ZONE-I

THANE ZONE-II

THANE ZONE-III

UJJAIN

VADODARA

VAPI




OVERSEAS Centre

Dubai
How to edit your CS Executive exam centre?
The process listed below helped candidates to change their preferred exam centre if they wish to do so:
Click here to open the student portal of ICSI. Type in your log-in credentials.

Click on 'My Account' and then on 'Examination Enrollment'.

Select the 'Change of Centre' option from the drop-down menu.

Enter your examination enrollment ID and choose your preferred exam centre of CS Executive 2020.

Read the instructions carefully and hit the 'Submit' button.
Note: Change of CS Executive exam centres 2020 within a particular city is not allowed.