The CA Final May 2022 results were announced today, July 15, 2022. Meet Anil Shah from Mumbai, Maharashtra emerged as the topper of the CA Final exams. The CA topper has secured the highest 642 marks out of 800. In an exclusive interview with Careers360, the Shah says he was always attracted to the CA programme due to the range of knowledge it offers to the students. Students can read the interview excerpts below.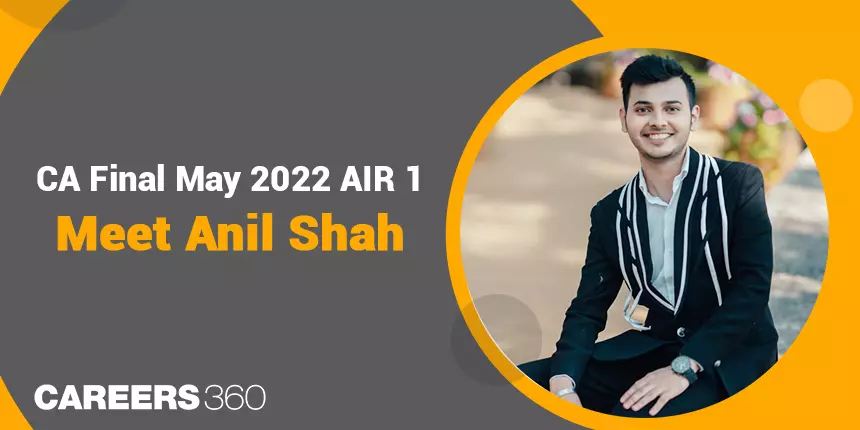 CA Final Topper Interview: Meet Anil Shah AIR 1
Tell us about your educational background
Meet Anil Shah - My schooling was from Saint Mary High School till Class 10th. I did my college from H R College of Commerce and Economics in 2021.
How did you respond to the CA result news?
Meet Anil Shah - It was unbelievable initially. Because you might have prepared very well across the duration but the CA exams are very unpredictable. I was open to the best as I gave my 100%. But still getting AIR was completely unexpected. I got a call from ICAI members informing me that I have got AIR 1.
Why CA profession?
Meet Anil Shah - I was always attracted to Chartered Accountants. Because it gives exposure to various things such as business management, financial management, economics, legal knowledge and others. So, even after this, if I want to go into consulting, I can go there as well because the CA programme has given me an overall knowledge of various aspects of the economy. It is not restricted to one particular course.
Any career plans?
Meet Anil Shah - Right now, I am doing my article ship in an audit department. I am still evaluating my various options post qualification. I am in the process of finally choosing my career path.
I will complete my articleship first. I will decide whether I should continue with the same organization or start my own practice as a chartered accountant. I may also look to go into the industry.
How challenging was it to become CA?
Meet Anil Shah - It is very challenging. I like face-to-face classes and interacting with the professors. But in online classes, even the doubts are resolved on WhatsApp. The face-to-face interactions help broaden your knowledge as the doubts of other students are also discussed. So, my first and biggest challenge was to learn from video lectures. The second challenge which most of the students face was managing their work with articleship.
On theoretical vs practical subjects
Meet Anil Shah - It is very subjective and changes from person to person. I find practical subjects easier. I love numbers, so the calculation was never challenging for me. I faced some difficulty in theoretical subjects such as audits, and law where one is required to remember the provision.
How many hours a day for CA preparation?
Meet Anil Shah - Honestly, I never keep a track of hours for CA preparation. I could target 12 hours a day, but if I am not able to sit for those hours, it could become very demotivating. So, instead of hours, I used to set daily targets in terms of chapters and concepts. Still, I could manage to study for around 10 to 12 hours a day.
After joining the office, I used to study for around one or two hours, depending on the office work. So. there is no fixed standard for how many hours one should be given, what is more, important is to be consistent in the preparation.
What are best study materials for CA preparation?
Meet Anil Shah - The most important study material for CA exam preparation is the one given by the ICAI. Almost all concepts they want to test are given in the study material itself. It is very rare when they ask questions out of the given syllabus and study material. I also referred to the notes given by the coaching classes I used to attend. I also prepared my handwritten notes.
How relevant are the ICAI mock tests?
Meet Anil Shah - The ICAI mock tests are very relevant. The objective of mock tests is not to get all the answers right, but to create an understanding of the examination. With mock tests, one can also learn time management and devise a strategy for attempting the test papers. For example, by solving mocks, one can understand that in case of a difficult question, whether it is right to attempt it or to move on to the next question. It also helps you decide whether objective or descriptive questions should be attempted first. The more you practice the better you become.
On previous year papers
One thing that students should not miss is the previous year's papers for ICAI exams. It helps you understand the actual difficulty level that ICAI could test. Even if one misses the mock tests, there may not be much harm in this. But, the previous year's exam papers are extremely important.