CSEET Pass Percentage 2020 - CSEET 2020 minimum qualifying marks and Cutoff
CSEET Pass Percentage 2020 - Institute of Company Secretaries of India (ICSI) has released the CSEET 2020 pass percentage to determine the passing status of candidates. In the August 2020 session, 77.24% of candidates declared successful. Students who will score more than the minimum passing marks of CSEET 2020 will be deemed as qualified for the entrance examination. CSEET August 2020 session is conducted on August 29. ICSI will conduct the 2nd CSEET 2020 on November 21, 2020. Students appearing for the entrance examination can take the help of the CSEET passing percentage to know what score they need to secure to pass the examination. CSEET is a home-proctored test. Read the complete article to know about CSEET pass percentage 2020.
Latest- CSEET Result 2020 Declared.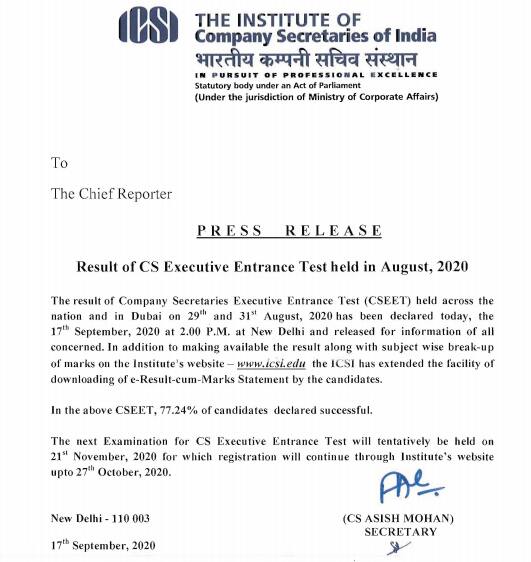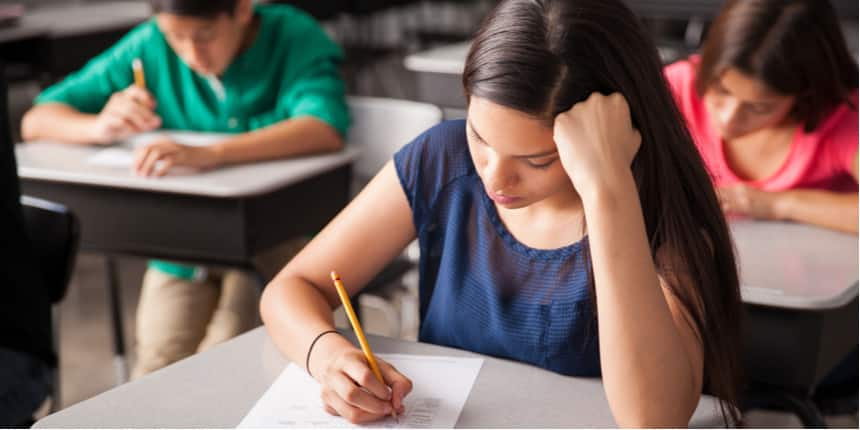 CSEET Pass Percentage 2020- Minimum Qualifying Cut off
ICSI has announced a minimum qualifying mark for CSEET. The passing criteria of CSEET is the same as other CS examinations. The CSEET qualifying cutoff is mentioned below
Candidates must obtain a minimum of 40 % marks in each paper

They must also obtain a minimum of 50% in aggregate.
Candidates who secure the qualifying cutoff of CSEET will be declared as "Pass" in the entrance exam.
CSEET Passing Criteria 2020 (Paper-wise)
Paper

Sectional cut off

Overall cut off

Business Environment and Law

40%

50%

Business Economics

40%

Business Management, Ethics and Entrepreneurship

40%

Fundamentals of Accounting and Auditing

40%
CSEET- Previous Year's Pass Percentage
Till last year, 2019, CSEET was considered as CS foundation. Below is the CS Foundation pass percentage of previous year's for reference
CS Foundation pass percentage in Dec 2019 exams – 67.14%
CS Foundation pass percentage in June 2019 exams – 64.53%
CS Foundation pass percentage in Dec 2018 exams – 62.11%
In June 2017 session, a total of 61.29% candidates passed the CS Foundation exam wherein girls outshone boys with pass percentage of 65.18% and the pass percentage for boys was 55.47%.
CSEET 2020 Toppers
ICSI will also release the merit list including the list of 25 top rank holders. The merit list will be published on the official website for the ease of students.
ICSI will release the result of CSEET 2020 in the month of September 2020. Candidates should have their ICSI CSEET 2020 Login Credentials to check the result in online mode. Only the qualified candidates will be able to appear for the CS Executive exams 2020. The registration for the same will commence after declaration of result.
How to Check CSEET Result 2020?
Go to the official website- icsi.edu

Click on the link referring to CSEET August Result 2020

Enter the login credentials like Registration ID and password

Now, click on "Submit"

The result will be displayed on the screen.
Candidates are advised to keep a copy of CSEET Result 2020 for future reference
ICSI conducts the CSEET (CS Executive Entrance Test). It is an entry-level test for candidates who want to become Company Secretary.
What After CSEET Result 2020?
Candidates who will qualify the CSEET exam will be eligible for CS Executive exam. However, candidates who fail to secure the minimum qualifying marks in the CSEET August 2020 session will be able to apply for the upcoming session. The registration of CSEET November 2020 has been started. CSEET November 2020 will be held on November 21, 2020.
Other Links
Frequently Asked Question (FAQs) - CSEET Pass Percentage 2020 - CSEET 2020 minimum qualifying marks and Cutoff
Question: What is the minimum qualifying marks of CSEET 2020?
Answer:
Candidates should secure an aggregate of 50% marks in all papers to qualify the exam. However, the minimum passing marks for each paper is 40%.
Question: When will the CSEET result be declared?
Answer:
ICSI has declared the result of CSEET 2020 on September 17.
Question: Can I appear in CSEET again, if I fail in the August session?
Answer:
Candidates have to register again for CSEET November session, if they fail to qualify in the August exam.
Question: How to apply for the CSEET 2020 November exam?
Answer:
Candidates have to visit the ICSI website to register for CSEET.
Questions related to CSEET
Showing 57 out of 57 Questions