CA Final Topper Nivedita Natarajan, AIR 3, says, "Mindful strategy, pre-planning will surely lead to success"
The Institute of Chartered Accountants of India (ICAI) declared the CA final December 2021 result on February 10, 2022. Amongst thousands of candidates, Nivedita Natarajan has made her way to the top rank holders in CA Final exams by securing AIR 3. Nivedita believes that to achieve success a transparent mindful strategy, pre-planning, prioritizing things and enough time for sufficient revision is very important. Along with topping CA exams, Nivedita has also got AIR 2 in CS Executive exam. In an exclusive interview with Careers360, CA Final 2021 topper Nivedita shares her experience about the road to clearing ICAI exams.
Related - To check the list of CA Final toppers - Click here
Latest Updates for CA Final Exam
31 Aug 2022:

ICAI has extended the last date to fill CA Final exam form for November session till September 7, 2022 without late fees - Read to know more

09 Jul 2022:

CA Final Result 2022 to be declared on July 15 or July 16: Check here

30 Apr 2022:

ICAI CA Final admit card for May 2022 exams released, to download - Click here
Stay up-to date with CA Final Exam News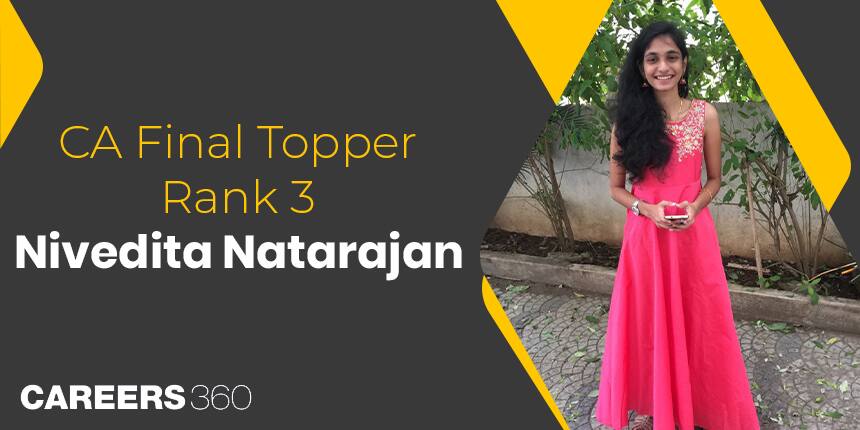 Students can read the excerpts of the interview with CA Final 2021 topper Nivedita Natarajan below. ICAI CA Final exams.
Careers360: How did you celebrate your success? Which elements would you attribute your success to?
Nivedita: The feeling of having qualified, let alone getting a rank, is still sinking in. I have always believed in giving my best, whatever may be the result. The same has helped achieve success this time in CA results.
Careers360: Tell us about yourself, your family background, your schooling and your key inspirations in life.
Nivedita: I'm from Chennai, Tamil Nadu. My father is into business, my mother is a homemaker and my elder brother works in a private firm. I did my s21 chooling from Chennai and B.Com from MOP Vaishnav College. I have also got AIR 2 in executive-level of Company Secretaryship (CS). I follow most of the international sports and am inspired by the varied qualities that a sportsperson needs which is the same that anybody needs to succeed in a given task.
Careers360: Share about your rank and score in CA Final exam.
Nivedita: I scored 624/800, which works out to 78%. After writing the exams, I expected that I would clear but did not expect a rank.
Careers360: Give us a brief about your preparation plan, study hours, time table.
Nivedita: I made it a point to finish the coaching classes for all the subjects before my study leave started. During the study leave, I prepared for 14-15 hours a day with periodic breaks. I made a time table in such a way that I cover two subjects (one theory and one practical) in a given course of time.
Careers360: Which group or subject of the CA Final exam did you find the most challenging/easiest? Could you cite some reasons why?
Nivedita: I felt that the Advanced Auditing paper was a bit challenging because of the vast syllabus. It was difficult to revise all the chapters in the break before the exam. I was very interested in Strategic Financial Management and Indirect Taxation and was able to finish the revision much quicker for these two subjects.
Careers360: Apart from the official study material, what all books did you refer to?
Nivedita: I referred to the previous year question papers, RTP's and MTP's and summary notes of the study material for revision.
Careers360: While attempting the CA Final exams, which all factors need to be considered and what strategy works best?
Nivedita: I believe that no one strategy is the best fit for everyone. But given the vastness of the syllabus, a clear plan in mind to cover the portions during the available time and leave enough time and energy for sufficient revision (at least 3 times) is very important.
Careers360: What is more suitable according to you for CA preparation - self-study or coaching?
Nivedita: I did self-study for Auditing and Law but I believe the choice is different for everyone.
Careers360: From where did you complete your article-ship training? Did it bother your study regime?
Nivedita: I did my articleship from S.R. Batliboi & Associates (part of the Big 4 accounting firms in India). I planned my study regime around my work hours so that both were mutual. Support from my seniors, colleagues and peers was paramount in my success.
Careers360: What are the important learning or focus areas according to you that CA aspirants should specifically focus on?
Nivedita: A concept-driven learning with practical insights is something that the aspirants must strive for. Once the concepts are clear, multiple revisions will help reinforce the concept and ensure success.
Careers360: When did you appear and qualify the entry-level course and the intermediate?
Nivedita: I cleared CPT in June 2016. I appeared for the two groups of CA-IPCC separately and cleared Group 1 in May 2017 and Group 2 in November 2017. I started articleship after completing my graduation.
Careers360: How beneficial are previous years question papers or the summary of the examiner's comments?
Nivedita: The question papers are critical in assessing the student's preparedness and the level of answers that are required in exams. It is a good method of self-evaluation and getting into the groove of exams.
Careers360: How did the Covid pandemic affect your preparation for the CA Final exam? How did you manage to maintain consistency during the pandemic?
Nivedita: A positive change due to the lockdowns was the availability of virtual classes which saved time and energy in travel, although I missed the camaraderie and interaction of physical classes. A tight schedule that must be maintained with commitment is very important in finishing the classes on time and leaving enough time for preparation.
Questions related to CA Final Exam
Showing 8 out of 8 Questions