CA Final Topper Sakshi Bagrecha, AIR 3, says, "Planning, hardwork will surely lead to success"
The Institute of Chartered Accountants of India (ICAI) declared the CA final July 2021 result on September 13, 2021. Amongst thousands of candidates, Sakshi Bagrecha has made her way to the top rank holders in CA Final exams by securing third rank. Sakshi celebrated the joy with her family who were her source of inspiration and motivation during this long journey. According to Sakshi, pre-planning, prioritizing things and managing time efficiently with dedication is vital to achieve success. In an exclusive interview with Careers360, CA Final 2021 topper Sakshi Bagrecha shares her experience about the road to clearing ICAI exams.
Related- To check the list of CA Final toppers - Click here
Latest Updates for CA Final Exam
10 Feb 2022:

CA Final and Foundation Result 2021 declared (Live Updates) - Check here

04 Feb 2022:

CA Final Dec result to be declared on February 10, 2022 - Check here

23 Nov 2021:

CA Final admit card released, to download - Click here
Stay up-to date with CA Final Exam News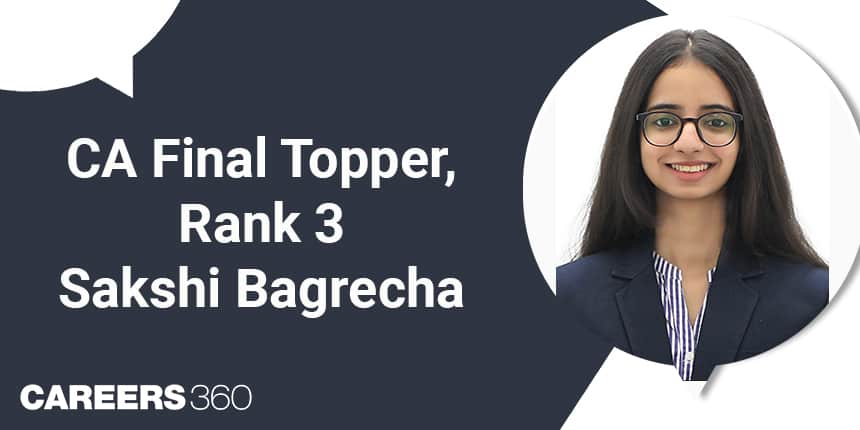 Students can read the excerpts of the interview with CA Final 2021 topper Sakshi Bagrecha below. ICAI CA Final exams.
Careers360: How did you celebrate your success? Which elements would you attribute your success to?
Sakshi: When I got to know about AIR-3, my happiness knew no bounds. I celebrated this with enormous joy with my family. I would attribute this success to the hard work that I had been putting in since the day I joined this course.
Careers360: Tells us about your childhood, family background, schooling and key inspirations in life.
Sakshi: I have done my schooling from Ichalkaranji, Maharashtra. My family then moved to Bengaluru for better business prospects and accordingly, I shifted to Bengaluru post completion of Grade 10. It was in Grade 12 that I decided to join the CA course after schooling. My parents have always been an inspiration to me, their motivation and support has shaped my efforts to achieve better in life.
Careers360: Tell us about your rank and score in CA Final 2021.
Sakshi: I secured AIR-3 in CA Final July 2021 exams. My total score is 605 out of 800. I had also secured AIR-15 in CA Inter May 2018 exams.
Careers360: Tell us about your preparation plan, study hours, time table and daily efforts which you had to put in for CA Final?
Sakshi: Anything that you start with needs to have a robust plan, because only that takes you a longer way ahead. During my exam leave of two months, I made a plan to complete exhaustive study and revision of all Eight subjects within two months of the leave. I had made pairs of all subjects by coupling a theory subject with a practical one.
Having made four such pairs, I then devoted 15 days for each such pair. I used to take up theory subjects in the first half of the day followed by practical subjects in the latter part of the day. Every day, I used to study for around ten hours. Post the exhaustive revision, I wrote two mock tests. When exams neared (roughly 30 days before exam), I scaled up and used to revise for 12-13 hours each day.
Careers360: Which group or subject of the CA final exam did you find the most challenging? Could you cite some reasons why?
Sakshi: I found the Audit subject a little more challenging compared to others. This is because the vastness of the subject makes it a tedious job to study. However, I tried overcoming this by creating chart flows and some short handwritten notes which ultimately helped me to get a better hold of the subject.
Careers360: What made you opt for CA?
Sakshi: I didn't have any specific reason as such to opt for CA. It was in grade 12 when I decided to take up this course after consulting a few seniors and friends.
Careers360: What is more suitable according to you - self-study or coaching?
Sakshi: I think both are equally important. Coaching provides you with a strong foundation on which to base your conceptual understanding. However, along with coaching, self study is equally important. It is only when we work harder, is the coaching going to be fruitful.
Careers360: Would you like to share some important learnings or focus areas for the sake of new aspirants and our readers from a preparation point of view?
Sakshi: Managing time and prioritizing stuff becomes really important when it comes to CA. We should allocate our time wisely between studies and other activities.
Careers360: When did you appear and qualify the entry level course and the intermediate?
Sakshi: I appeared for CPT in June 2017 and had gotten 173/200. For CA Inter, I appeared in May 2018 and cleared with 618/800 marks bagging an AIR-15.
Careers360: How beneficial are previous years question papers or the summary of examiner's comments?
Sakshi: Previous years' question papers provide us with useful insight on the types of questions being asked and which helps us sharpen our performance for the upcoming attempts.
Careers360: How was your experience during the article-ship training? Did it bother your study regime?
Sakshi: It is not easy to study while your article-ship is going on. Same was the case with me. However, I had planned on time and in a manner that helped me to study everyday at least a little bit.
Careers360: Did the Covid pandemic affect your preparation for the CA final exam? How did you manage stress in such a situation?
Sakshi: The lockdown imposed due to COVID pandemic resulted in postponement of our exam with no dates ahead. This demotivated me to a certain extent as the uncertainty was prevailing on whether exams will happen or will be merged with November attempt. However, I kept going on. Rather than getting back to the same books, I started watching revision lectures on Youtube that helped me calm down and refresh myself.
Careers360: Any message for the future aspirants?
Sakshi: This course is quite challenging and indeed requires you to give your 100%. It is very important to prioritize things and manage time efficiently alongside hard work and determination in order to excel in this course.
Questions related to CA Final Exam
Showing 8 out of 8 Questions