ICAI BoS Knowledge Portal: Repository of CA Preparation Material
The Institute of Chartered Accountants of India (ICAI) is a professional accounting body that is responsible for regulating the business of Chartered Accountancy in India. To pursue the Chartered Accountancy course, candidates need to qualify - CA Foundation, CA Intermediate and CA Final exams. These exams are held twice a year in May/ July and November/ December.
Click here to go to the ICAI BoS Knowledge Portal.
Stay up-to date with CA Intermediate Exam News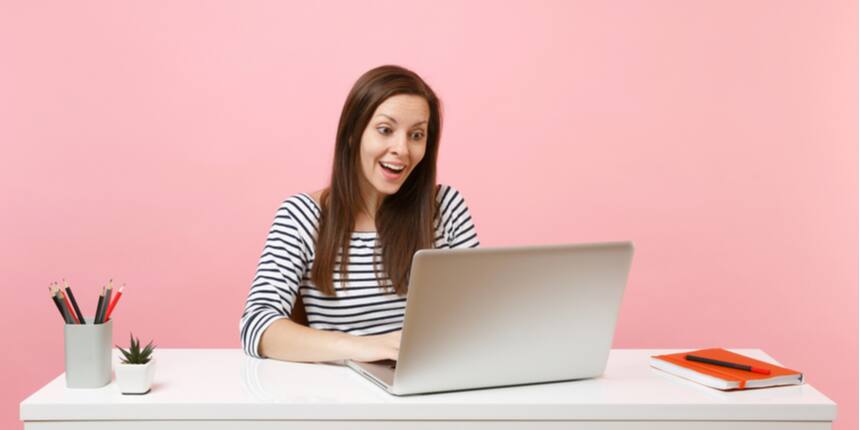 The BoS Knowledge Portal was formed to provide a strong foundation of knowledge, skills and professional values to candidates and enables them to continue to learn by lifelong learning and adapt to change throughout their CA professional lives.
ICAI BoS Knowledge Portal provides information related to the scheme of education and training given by ICAI such as the study material of each level, revision test papers, mock test papers, sample questions, live virtual classes (LVC) etc.
Click here to access the mock test papers available under BoS Knowledge Portal.
How to Access ICAI BoS Knowledge Portal
Candidates can follow the given steps to access the BoS Knowledge Portal of ICAI.
Steps for ICAI BoS:
| | |
| --- | --- |
| Step 1 | Go to the official website of ICAI i.e. icai.org |
| Step 2 | Select the option "Students" |
| Step 3 | Click on the "BoS Knowledge Portal" given on the dropdown menu |
| Step 4 | Access the information as per your requirement |
| Step 5 | Download and save the pdf documents for preparation |
Level of Study Material Available
ICAI BoS Knowledge Portal has relevant and updated study material for all levels of CA courses - Foundation, Intermediate, and Final. Paper-wise study material is available on the official website of ICAI Bos knowledge portal. Its is accessible 24*7 by all candidates.
Now the question that strikes in the minds of some candidates is why should they refer to the BoS study material?
Well, the ICAI's major reason of having a BoS portal was to provide quality education to students. Hence, all the data available in BoS knowledge portal is officially provided, timely updated by ICAI. Moreover, candidates can easily rely on the ICAI certified study material as it comes directly by ICAI. Candidates do not need to look anywhere else to search for any particular topic if they wish to know about it.
Format in which the ICAI study material is available
All the ICAI study material is available in PDF format. ICAI does not take any additional money to provide the study material. Candidates can download the pdf documents according to their needs.
Along with the ICAI study material for each course, ICAI also provides comprehensive CA syllabus for each course. The topics and subtopics covered under the syllabus are updated regularly by ICAI.
Major Links:
| | | |
| --- | --- | --- |
| Level | ICAI study material | Syllabus |
| CA Foundation | | |
| CA Intermediate | | |
| CA Final | | |
Click here to check the section-wise weightage.
Study Material Fee
ICAI BoS Knowledge Portal: Repository of CA preparation material provides the study material for all ICAI courses for free of cost. Candidates do not need to pay any additional charges to download the pdf copy from the official website.
Note: Any person, be him/ her registered with ICAI's CA courses or not can have access to the study material without paying any monetary charges.
ICAI Digital Learning Hub
An integrated Learning Management System (LMS) of ICAI which is the Digital Learning Hub, is a new knowledge ecosystem that aims to bring professional and academic content in multiple formats to candidates. The ICAI Digital Learning Hub platform is a single source of knowledge. It works like a central learning material repository for both the members and students. It contains various publications, guidance notes and courses that are facilitated by an ICAI committee/ department.
ICAI BoS Mobile App
To disseminate information, ICAI has recently launched a mobile application on the occasion of CA Day on July 1, 2021. Presently, the ICAI BOS mobile app has the following features-
Gives announcements and push notifications

Provides ad-free learning and

Live coaching classes for candidates where they can remove their doubts

Availability of all educational content - study material, RTPs, quick references and related

Online MCQ based test to access the performance of candidates

Candidates can also check recorded lectures at any time in the application
Further, the ICAI BoS mobile application will be expanded with other services in the second phase.
How to download the ICAI BoS?
Students can download the mobile application of ICAI Bos from any of the following-
Google play store

iTunes store

Windows phone store

Blackberry app world
How to login in the ICAI BoS application?
Candidates have to enter their student registration number and date of birth. It should be same as recorded in the Students Service Portal (SSP) to validate the information.
Note- Enter 7-digit Student Registration Number starting with zero (0) only.
In case of login failure even after entering correct information, candidates can send their complaint at bosmobileapp@icai.in.
Questions related to CA Intermediate Exam
Showing 1 out of 1 Questions