What are Your Options if You Fail in the IPCC Exam?
As per the January 2021 CA IPCC exam results, only 14 out of 3749 candidates and 1184 out of 12046 candidates who appeared in old and new syllabi respectively were able to pass both groups.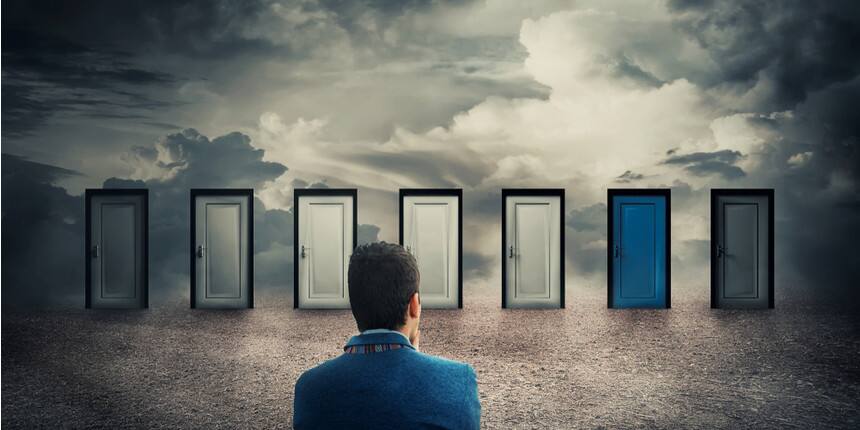 Due to such low pass percentages, many candidates feel the urge to look for other options as a backup plan just in case they fail to crack the IPCC exam. For such candidates, Careers360 brings all possible options that can be opted even if success in the IPCC exam is not achieved. According to the latest CA IPCC result, the pass percentage is around 5-10% which signifies that not all candidates are able to make it to the CA Finals.
However, due to the wider scope of the finance domain, various new courses are coming up o that can be opted by candidates who have failed in IPCC exam. Instead of getting demotivated, candidates need to embrace the challenges and look out for the best alternatives.
Before moving ahead straight onto the available options, candidates must understand that experiencing failure should be taken as an opportunity for making future decisions.
Quick link-
Common Reasons Why Students Fail in CA Exams
Alternative Options if you fail in CA PCC Exam
| | |
| --- | --- |
| S.No. | Options |
| 1 | CMA (Certified Management Accountant) |
| 2 | CS (Company Secretary) |
| 3 | Pursue Certification Courses in Finance |
| 4 | Move to Academics |
| 5 | Move to Government/ Private Jobs |
| 6 | Pursue Graduation (B.com/ BBM/ BBA) |
This is like a chartered accountant profession that requires expertise in financial accounting and strategic management. Candidates who qualify CMA have an extensive range of career options. There are sub-disciplines which can be opted by candidates according to their preferences.
Company Secretary course is one of the most sorted courses that can be opted by candidates who failed the IPCC exam. More commonly referred to as the CS course in India, it is the gateway to a job in corporations. Candidates who have more interest in legal specifications can opt for a CS course and work at any MNCs or government organizations.
Candidates can directly register themselves for the CS executive course if they have failed in the IPCC exam. Clear the levels and become a company secretary.
Candidates who have failed the CA IPCC exam can also pursue various certification courses in finance or related fields. Certifications like FRP, CTP, CAIA and related can be undertaken by candidates as they have good scope in India and foreign lands. Moreover, these certification courses are of short term and wont consume much time of the candidates.
Move to Academics
With the zeal and enthusiasm to help others, candidates who themselves have failed the CA IPCC exams can switch to academics and become faculty in educational institutions. The level of knowledge acquired during the IPCC course can be optimally utilized and intellect can be provided to those in need.
In the initial stages of moving to an academic field the salary offered may be a bit on the lower side, but with experience, the hike in salary will be significant.
Quick Link-
Move to Government/ Private Jobs
Candidates may also switch under either a private job or take up government jobs. Private jobs can be procured simply by a job interview on the basis of skills. However, for various public sector jobs, candidates are required to clear domain specific tests/ exams and interview both.
Look here for competitive exams that can be opted.
Pursue Graduation (B.com/ BBM/ BBA)
Having a degree is equally important and helps in getting a job. Utilize your knowledge in pursuing a graduation degree. Although B.Com followed by M. Com is the most suitable course for candidates who have knowledge of Chartered Accountancy subjects. However, as per your preference you can opt for other options like BBM (Bachelor of Business Management) or BBA (Bachelor of Business Administration) etc.,
Apart from the options mentioned in this article, candidates can also opt for careers on the basis of their personal interests and hobbies like dancing, arts, photography and so on. All you need to do is declutter your mind from the failures of the past and move ahead with positive aspects always.