CA Intermediate Topper Priti Kamat, AIR 1, says, "Perseverance and Self Belief are the Key "
CA Intermediate July 2021 result was declared by the Institute of Chartered Accountants of India (ICAI) on September 19, 2021. The day became a forever memory for Priti Kamat who secured first position in CA Intermediate exam for old course. Priti credits her success to mother's support. She also believes that conceptual understanding through self studies is more suitable as compared to joining coaching classes. In an exclusive interview with Careers360, the CA Intermediate 2021 topper has shared her success story. Students can read the excerpts of the interview with CA Intermediate 2021 topper Priti Kamat below.
Latest Updates for CA Intermediate Exam
Stay up-to date with CA Intermediate Exam News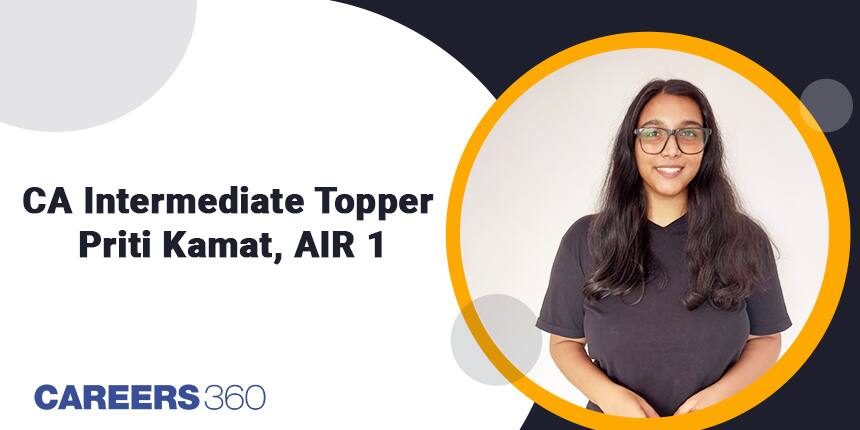 Related- To check the list of CA Final toppers - Click here
Careers360: How did you celebrate your success? Which elements would you attribute your success to?
Priti Kamat- I was in absolute disbelief when my mom pointed out that I had an AIR, I hadn't even considered checking! I would attribute my success to my patience, hard work and consistency and my mom's support, she's my rock. We couldn't really celebrate, the interviews all started rolling in without a moment's notice.
Careers360: Tell us something about your childhood, family background, schooling and key inspirations in life.
Priti Kamat- I was born and brought up in Mumbai and completed my school and junior college education in Goa. I completed my B.Com from ML Dahanukar college of Commerce in Mumbai. My mom is a cost and management accountant and she has had amazing experiences working for the best firms in the country and having met wonderful people. She urged me to pursue CA so I could get to learn and experience all that.
Careers360: What was your rank and score in CA Intermediate 2021?
Priti Kamat- I secured an AIR 1 in CA IPCC with the maximum marks in EIS/SM. I scored 388/700 with an exam passing percentage of 0.66%.
Careers360: Tell us about your planning, study hours, time table daily efforts.
Priti Kamat- I planned to study theory subjects because I have a good command over the language and I prefer studying in the morning. So I would wake at 4 am everyday and start reading my material. I believe daily revision is key when it comes to theory subjects, it is really easy to forget what you have just recently read and this helped tackle that. I reserved 6 hours after lunch to practice and revise the practical subjects and yes, it has to be a written revision.
I studied for nearly 12 hours daily for 3 months right before the exam and slept for a minimum of 6 hours a day

I made sure to solve a ton of papers and mock tests so I could prepare myself for any unpredictable question I would come across in the exam
Careers360: Which group or subject of the CA Intermediate exam did you find the most challenging and easiest? Could you cite some reasons why?
Priti Kamat- I personally like IT and strategic management and I have a hobby of reading all the Harvard Business review articles. I could get my hands on so I really enjoyed studying for group
2. Advanced Accounts, even though challenging, was very scoring if you got your concepts right and I focused on that equally so as not to let it pull me down.
Careers360: What made you opt for CA?
Priti Kamat- It is one of the most prestigious courses in the country and it clears innumerable paths for you in the future so you can decide what you want to specialize in. Gaining any other degree in this field after becoming a CA would be building on it and it is really amazing to see all the opportunities it creates for you.
Careers360: While attempting the CA Intermediate exams, which all factors need to be considered and what strategy works best?
Priti Kamat- Perseverance is key and believing in yourself that everything is going to come together in the end provided you have put your efforts in also goes a long way in keeping anxiety at bay.
Careers360: Since you have reached your dream destination, so in your opinion, how has life changed for you now?
Priti Kamat- I look forward to working with one of the Big4 for the period of my articleship and want to pursue industrial training in an investment banking firm.
Careers360: What is more suitable according to you - self-study or coaching?
Priti Kamat- Self study was always more suitable because I could retain information and recall things easily. It greatly improves your ability to correct yourself for the future when you make mistakes and are careful to not let them happen again
Careers360: What are some of the important learning areas which the future aspirants should note?
Priti Kamat- I would ask the future aspirants not to take their books into the exam hall because the pressure is insane and you do not want to let your mind start wondering if it knows as much as the person sitting across from them. Just carry some water with you always and wait outside the hall until the reading time starts.
Careers360: What is the difference between CA Intermediate old and new syllabus?
Priti Kamat- Just a few chapters actually, not much. They have just moved some material around to divide the relevant content properly between the two groups.
Careers360: How beneficial are previous years question papers or the summary of examiner's comments
Priti Kamat- VERY IMPORTANT. In fact, I allotted an entire month of my preparation to digging for and solving past question papers all the way till 2012 (or until relevant), the corresponding mock test papers, revision test papers and any other question banks I could find. Solving and going through a variety of sums was imperative to getting a deeper understanding of the subject.
Careers360: How was your experience during the article-ship training? Did it bother your study regime?
Priti Kamat- I have yet to start the training and I hope it goes well.
Careers360: Did the COVID pandemic affect your preparation for the CA Intermediate exam? How did you manage stress in such a situation?
Priti Kamat- Fortunately, no member of my family got COVID and it gave me extra time to study. It allowed me to explore the material published by various authors and it was truly an eye-opener for me. I decided to finish studying as quickly as possible so I could revise and be more thorough with my preparation.
Careers360: Any message for the future aspirants?
Priti Kamat- Be patient and believe in yourself and your efforts. Everything comes together in the end!
Questions related to CA Intermediate Exam
Showing 14 out of 14 Questions