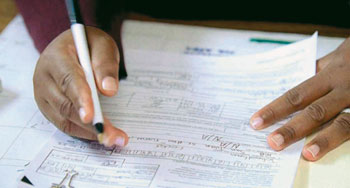 ARE you keen on a career as a finance professional in blue chip companies like Nestle, Accenture,GE Money, Ernst & Young, KPMG,Reuters,  Citigroup,Deloitte, Proctor & Gamble,Unilever,PriceWaterhouseCoopers, JP Morgan, Genpact, and HSBC, to name a few?

How about the title of 'Management Accountant' with your name, which is recognised by approx. 4,500 companies worldwide? If that sounds interesting, you should definitely consider getting a CIMA (Chartered Institute of Management Accountants) certification.

The business focus is similar to that of an MBA from a top notch B-school, but the entry barriers are low – you can join in with a mere pass in the 12th standard.  So if you are looking for  a career more in sync with the business and management aspects rather than the more routine jobs like audit, CIMA is the way to go.    As Andrew Higginson, CEO Retail Services –Tesco PLCsays, "I did the CIMA qualification and I'd take people from CIMA anytime. They're basically business people with a finance orientation, not just accountants."


What is CIMA?
Founded as the Institute of Cost and Works Accountants (ICWA) in 1919 in the UK, the institute was rechristened as Institute of Cost and Management Accountants (ICMA) in 1972 and again as Chartered Institute of Management Accountants (CIMA) in 1986.  In 2008, CIMA established a centre for the study of management accounting with the Indian Institute of Management Calcutta (IIM-C).

With 170,000 members and students in 168 countries worldwide, CIMA has grown to be one of the most widely accepted and respected professional qualification in the unique cusp of the fields of Management and Accounting.

The natural question that comes to one's mind on hearing such a qualification in the field of Finance is: how does it compare with the more popular options in the Indian context such as Chartered Accountancy(CA)/ Chartered Financial Analyst(CFA) etc. The institute claims that CIMA course has more management accounting, more business strategy, and more financial strategy compared to a Chartered Accountant/ Chartered Financial Analyst, and is hence more tuned to "business" requirement. In simpler terms, CIMA is more in-line with the core "management" issues than the rest.


Earning the spurs
There are a number of entry routes into CIMA. People don't have to have a degree necessarily. One can start CIMA after 12th standard, in which case the entry route would be the CIMA Certificate in Business Accounting consisting of 5 modules and having computer-based assessment which one can take any time throughout the year. One could complete this in 3 months or 6 months or any other timeframe depending on ones own pace and comfort level.

People can come in with a relevant degree which is usually a BBA or BCom or an Accounting and Finance programme. If one is BCom (Hons.) from Delhi University one is exempt from the first level, otherwise such graduates enter at the first (operational) level. For a bright student, it should take somewhere between 2 to 3 years.  However, there are special gateways for people with an ICWA or an MBA and they can complete the course in just one-and-a-half years. There is no time limit as such, it is left to the individual.