ACET Study Material 2021 - Check Question Papers, Books
ACET Study Material 2021- IAI has released the study material for ACET 2021. Candidates who are IAI members can find the ACET study material under the member's login. Candidates should prepare from the study material of ACET 2021 for the upcoming session of the actuarial entrance test. Institute of Actuaries in India (IAI) provide free sample papers as ACET 2021 study material to candidates who register for the ACET exam as it mimics the type of questions expected in ACET 2021 question paper. The various parts of preparation include understanding the exam pattern, referring the relevant ACET study material 2021 and then practising it all with the ACET papers. Candidates are advised to thoroughly go through the ACET study material 2021 and also not to miss out on ACET books as dealt with in the article below.
Latest- IAI will begin ACET registration for March session on January 20, 2021. Check important ACET exam dates 2021. IAI has released the ACET 2021 study material for members. Click here for IAI members login.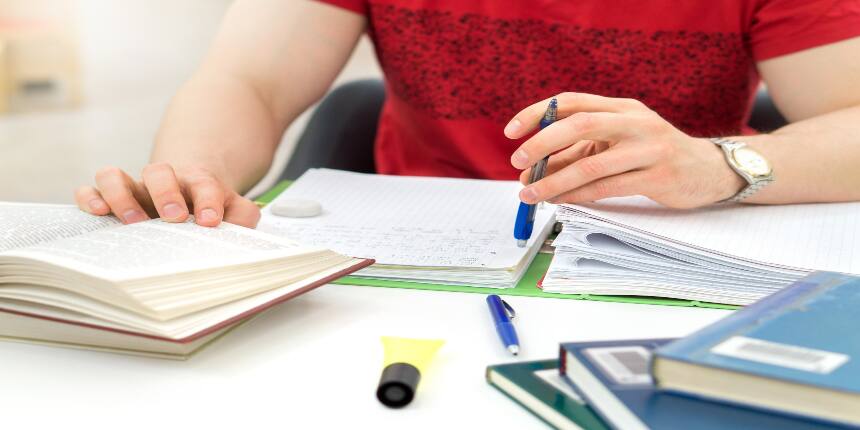 The Actuarial Common Entrance Test (ACET) is conducted thrice a year in online mode as an entrance test for admission into the course of actuarial sciences. After passing the ACET exam, a person qualifies to apply for IAI membership as a student.
ACET Study Material 2021
Actuarial science is a dynamic field of study and that's the reason why the entrance examination to the course, i.e. ACET exam is also not that easy to crack. IAI has released the ACET study material 2021 under member's login. Candidates are advised to check the pin code list to see if the ACET 2021 study material can be dispatched to their area and order accordingly. The aspirants keep searching for effective ACET study material that helps them out in thorough understanding, and thus, results in commendable scores. So here is all that aspirants need while preparing for ACET 2021.
ACET Question Papers 2021
Every time there is a new question paper set for a new session and the question asked also vary. But it is always important for candidates to refer the ACET question papers of previous sessions because sometimes, the language may vary but the essence may remain the same. So given below are the links to ACET Question Papers and their corresponding indicative solutions as provided by IAI website.
ACET Previous Year's Question Papers with Solutions
| | | |
| --- | --- | --- |
| Session of ACET | Question Paper Link | Solution Link |
| May 2016 | | |
| October 2016 | | |
| April 2017 | | |
| June 2017 | | |
| January 2018 | | |
| June 2018 | | |
| December 2018 | | |
| June 2019 | | |
| September 2019 | | |
ACET Exam Pattern 2021
The authorities of IAI introduced some amendments to the already prevailing examination pattern for ACET 2021 in the previous session. The most affected part after such amendments was the sectional distribution of marks in the ACET exam. Thus, candidates preparing for ACET 2021 may refer the table below for better understanding.
Mode of Exam

Online

Total Duration

3 Hours

Total Number of Questions

70

Distribution of Marks

45 questions – 1 mark each

20 questions – 2 marks each

05 questions – 3 marks each

Sectional Distribution

Mathematics - 30 marks

Statistics - 30 marks

Data Interpretation - 15 marks

English - 15 marks

Logical Reasoning - 10 marks

Negative Marking

No

Passing Marks

50%
ACET 2021 Reference Books
The official website of IAI contains a list of ACET preparation books that candidates can use to study and ace in the coming session of the ACET exam. As there are various sections like English and logical reasoning are covered under the ACET, it becomes inevitable to prepare it all from a single source. Hence, here are some books that are relevant for the various sections covered under the ACET 2021
Books for ACET Preparation 2021
| | | |
| --- | --- | --- |
| S. No. | ACET Books | Publisher/ Author |
| 1 | TOMATO (Test Of Mathematics at Ten plus Two-level published) | Indian Statistical Institute (ISI) |
| 2 | ACTED Study Material - FAC and STATS PACK | Actuarial Education Company |
| 3 | How to Prepare for Verbal Ability and Reading Comprehension for CAT | Arun Sharma and Meenakshi Upadhyay, Mc Graw Hill |
| 4 | Trishna's Data Interpretation and Logical Reasoning for the CAT and other MBA Entrance Examinations | T.I.M.E |
| 5 | How to prepare for Quantitative Aptitude for the CAT Editor | Arun Sharma |
| 6 | Problem Primer for the Olympiad Editors | C R Pranesachar, B J Venkatachala, C S Yogananda |
| 7 | Quantitative Aptitude for Competitive Examinations Editor | Abhijit Guha |
| 8 | An Excursion in Mathematics Editors | M. R. Modak, S. A. Katre, V. V. Acharya, V. M. Sholapurkar |
| 9 | The Pearson and Guide to Verbal Ability and Logical Reasoning for the CAT Editor | Nishit K. Sinha |
| 10 | Challenging Mathematical Problems with Elementary Solutions Editors | A.M. Yaglom and I.M. Yaglom |
| 11 | Quantitative Aptitude for MBA Entrance Examinations Editor | R.S. Aggarwal |
| 12 | Challenge and Thrill of Pre-College Mathematics | New Age International Publishers |
| 13 | High School English Grammar and Composition | Wren and Martin |
| 14 | Word Power Made Easy Editor | Norman Lewis |
| 15 | Problem Solving Strategies Editor | Arthur Engel |
Also Read,
Frequently Asked Question (FAQs) - ACET Study Material 2021 - Check Question Papers, Books
Question: Will IAI provide for ACET study material after registration?
Answer:
No, IAI doesn't provide the study material for ACET after completion of ACET registration.
Question: Do I need to study English for ACET?
Answer:
It depends upon one's level of understanding if they need some special focus on a subject like English or not.
Question: Is the ACET syllabus changed for Feb 2020?
Answer:
No, there is no change introduced till now for ACET 2020 Feb session in terms of syllabus.
Questions related to ACET
Showing 13 out of 13 Questions