Interview with ICSI President, CS Ranjeet Kumar Pandey
"We are scrapping the CS foundation course in favour of entrance exam to filter the quality of students coming into the system," says ICSI President" 
CS Ranjeet Kumar Pandey, president of the Institute of Company Secretaries of India (ICSI), speaks to Amita Jain about the proposed changes in CS examination and other initiatives by ICSI for the students. Here is an excerpt of the interview with newly appointed ICSI President.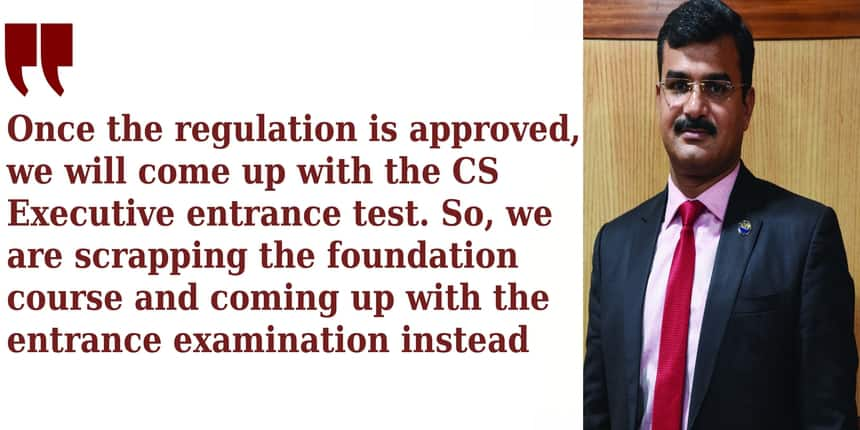 Careers360: Congratulations on becoming the president of ICSI. How do you feel?
CS Ranjeet Kumar Pandey: Thank you so much. It's a sense of responsibility. It's a position where you need to be responsible for all the members and perform your tasks very diligently. The members and council have chosen me as the president. I feel that responsibility is on my shoulders and I need to deliver.
Careers360: You are a law graduate and have an experience of more than 15 years as a CS. Did pursuing company secretaryship come naturally to you?
CS Ranjeet Kumar Pandey: It was a simultaneous process. I was doing the Company Secretaryship course and during the process, I ventured into law. If you go through the syllabus of Company Secretaryship, you would notice that it covers everything from law, management, accounting, among other things. So, it was easy for me to do a specialized degree in law too. Generally, every Company Secretary considers pursuing law as well. It is indeed a good combination.
Careers360: What are the duties and responsibilities of a Company Secretary?
CS Ranjeet Kumar Pandey: Governance, compliance and even normal management are part of being a CS. In terms of responsibilities, board management, risk management, compliance management, everything is handled by the CS and I must say that they are doing an excellent job. Their areas of operations are growing by leaps and bounds. They do exceedingly well even in insolvency and bankruptcy, as mediators and conciliators and are also registered evaluators. They are also going into banking and financial service sectors, regulatory sector, in credit function, treasury function and even in human resource, particularly the compliance side of it. We have to uphold the ICSI brand. When we perform well, the brand also gets noticed well.
Careers360: What is your roadmap for ICSI under your stewardship?
CS Ranjeet Kumar Pandey: This is a newly elected council and every council member has come up with a manifesto and vision for the institute. So, what we are going to do is, have an orientation programme with all the elected leaders across India. We will have a brainstorming session and will club our ideas together towards a common minimum programme which will be mapped through the vision document adopted in 2017 and will go up to 2022. Implementation of the ICSI Vision 2022 with a focus on the quality of students, quality of existing members, brand ICSI and new recognitions are the four pillars we want to rely and work on.
Careers360: You are also a part of the council for 'Vision New ICSI 2022'. What is the major thrust area of the document?
CS Ranjeet Kumar Pandey: The focus of the vision is on enhancing 'employability'. For instance, if as a CS you wish to go in the insurance sector, the vision says let them study what's there in the syllabus and if they want to become the specialist of an area, let's have one specialized paper wherein they will read about their special interest and pursue the same. While the special paper will give them the edge to venture in the industry of their choice, others will give them a solid foundation that all CS must have. The electives are available in domains like banking, insurance, RERA, mutual funds, IPR, etc.
Careers360: Could you elaborate on the short-term certification and training courses...
CS Ranjeet Kumar Pandey:  In ICSI, we are trying to bring everything in-house to help students supplement their knowledge with industry experience. Many short-term certification courses giving diversification to the main job have been started. We are also coming up with post membership qualifications. We had some of them earlier in corporate governance, corporate restructuring and all, but through 'ICSI Vision 2022', many upcoming courses and short-term certifications have been proposed to groom already existing members. As a part of the complete in-house exercise, we will provide them courses, training, orientation and if required practical training too.
Careers360: Any new initiatives for students?
CS Ranjeet Kumar Pandey: We are coming up with some big initiatives. Once the regulation is approved, we will come up with the CS Executive entrance test. So, we are scrapping the foundation course. It will definitely filter the quality of students coming into the system. Everybody from 10+2 pass students to graduates and CAs will be eligible for the test. Secondly, to enhance the quality of students, we have brought changes in the syllabus to make it more industry and business-oriented. Earlier you would read the law and then apply them to the business, now the drift is towards understanding the business needs and applying the law. We want to develop a business sense in students so that they become the friend, philosopher, guide to businesses, without compliance being compromised. Short-term certifications and post membership training programmes will also add on to the skills.
Careers360: What is ICSI doing on the placement front?
CS Ranjeet Kumar Pandey: Placements have remained one of the grey areas. Jobs are there, so are job providers and job seekers, but some kind of mismatch. That is being done by placement agencies, but not too well. We want to leverage technology here and come up with a placement portal where the right matchmaking happens between the type of talent demanded and present.  
Careers360: Your message to CS students and aspirants...
CS Ranjeet Kumar Pandey: Only one message -  skill is the only thing we take forward throughout our professional lives. Be it the capacity to articulate, interpret and understand the law and businesses, we need to groom ourselves on a continuous basis. With law always changing, change is the only constant for us. My appeal to all the members and students is that you should tackle those changes with enthusiasm. Obsolete people are not appreciated in any field. If you are updated and competent enough, you will be respected, regarded and growth is certain.