CA Final Topper Interview 2019: Ajay Agarwal (AIR 1) - Pick up ICAI study material and revise thrice
History is not only created by swords and wars, it can also be created by the pen, as they say, "The pen is mightier than the sword." Coming from the bylanes of Kotputli, a small place 100 kilometers away from Jaipur, a lad had been cherishing a dream to be a CA. And as fate had it, he went on to crack stage-after-stage in the first attempt itself, creating history by securing the highest marks ever since ICAI came into existence. Careers360 brings to you Ajay Agarwal, who grabbed the 1st rank in CA Final May 2019 exam. The old syllabus CA Final topper for May 2019 shares his tale of struggle and preparation and tells us what does it take to crack one of the most toughest exams in India.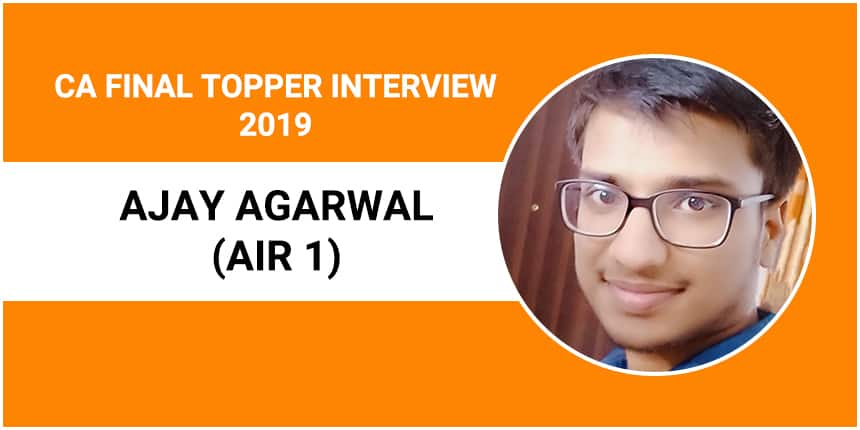 Read the excerpts below:
Careers360: How did you celebrate your success? Which all elements would you attribute your success to?
Ajay Agarwal: The President of ICAI called me up and informed that I have topped the CA Final 2019 exam. My joy knew no bounds and immediately I informed my family members. The celebration is still on and various interviews have been lined up. I think it's the guidance of two people - ESI Chairman, RP Sharma Sir and my elder brother, family support, my own hard work and the ICAI study material which contributed to my success.
Careers360: Kindly share about your childhood, family background, schooling and key inspirations in life.
Ajay Agarwal: I come from a place called Kotputli, 100 kms away from Jaipur. I have done my schooling from Shanti International School, Kotputli. Since my school days, I would aspire to secure first rank. I have always been too serious about studies. ESI Chairman RP Sharma Sir and my elder brother Atul Agarwal, who had been AIR 1 in CA Final in 2018 are my inspiration. My younger brother has also taken the CA Intermediate exam 2019 and his results would be out soon. For CPT and IPCC, I would travel from Kotputli to Jaipur (back and fro) everyday. However, for my CA Final I shifted here in Jaipur.
Careers360: Share about your rank and score in CA Final 2019.
Ajay Agarwal: 650 marks and 81.25 percent have been the highest in the history of ICAI, in CA Final exam. I had completed my preparation a year ago and I was certain that I will be able to secure AIR 1, however, was not sure about the marks I was going to secure. My elder brother had guided me and I had completely followed his guidance.
Careers360: Would you like to share with us about planning, study hours, time table and daily efforts which you had put in during preparation for CA Final?
Ajay Agarwal: Before appearing for the CA Final exam, we have had to complete 3 year article-ship. So, while doing that, I would sit for around 2 hours of self-study everyday after my working hours of article-ship for 2.6 years. However, we get a 6 months leave after competing 2.6 years of article-ship, which I utilized to study 8-10 hours-a-day. This was my schedule. To de-stressed myself, I would visit social media sites and would surf through political news mostly, being a Modi-Yogi fan.
Careers360: Which Group and subject did you find easiest and which one the toughest and why?
Ajay Agarwal: For me all subjects are same and their difficulty level too. In CA Final exam too, all subjects appeared to be of similar level to me.
Careers360: What made you opt for CA?
Ajay Agarwal: The environment at home and my elder brother instilled in me a sense to become a CA. Atul would tell me the merits of becoming a CA and under his guidance I fell in love with CA.
Careers360: While attempting the CA Final exams, which all factors need to be considered and what strategy works best?
Ajay Agarwal: Use all the study material provided at ICAI official website. Revise the study material at least 3 times and 4 times if you want a rank. ICAI also releases mock tests. These CA Final mock tests are must which further help you in developing speed, accuracy and confidence. Though I had enrolled for coaching, I had hardly gone there. I would only visit the coaching institute when I had to take the mock tests. I did that for a year or so. The major portion of my preparation was driven by self-study only.
Careers360: Since you have reached your dream destination, so in your opinion, how has life changed for you now? What was the thought behind choosing CA?
Ajay Agarwal: Life has changed drastically, in many ways. I have become an important person now. I have been getting calls from the top organisations to join them. And it becomes more important for the recruiters/law firms/companies when you are AIR 1. Your hands will be full with offers. After CA Final result declaration, I had to attend numerous calls. However, I am not of the view to work. I wish to teach.
Careers360: What is more suitable according to you - self-study or coaching?
Ajay Agarwal: Self-study is most important. Coaching plays only 10 percent role in preparation, 90 percent is self-study. Coaching only helps to understand something which is beyond your understanding or is time-consuming.
Careers360: Would you like to share some important learnings or focus areas for the sake of new aspirants and our readers from preparation point of view?
Ajay Agarwal: I would target chapters per day which I had to finish. That was my target. Then whether it would take 6 hours or 10 hours, it did not matter.
Careers360: When did you appear and qualify the entry level course and the intermediate?
Ajay Agarwal: I have been lucky enough to crack all the stages of CA in the first attempt itself. I took the CPT in June 2015 and the Intermediate in May 2016. After clearing my IPCC, from the very next day I started preparing for CA, without wasting even a day. Two months after 12th, you can take CPT exam wherein I secured AIR 5 and after 1 year post CPT, you can take IPCC where I could have the AIR 17. Then, you have to pursue 2.6 years of article-ship and finally thereafter, on the completion of the 3 years period (where you get 6 months leave for CA Final preparation), you need to take the CA Final exam. The article-ship is mandatory and it must be done properly. You will gain a lot of practical knowledge. Basically, the article-ship is to have practical knowledge of everything. Whatever we learn in IPCC we have to practically apply that in application. After completing the article-ship under any CA, the ICAI issues a certificate to us.
Careers360: What is the difference between old and new syllabus?
Ajay Agarwal: They launched the new syllabus in June 2017 wherein they have reduced the syllabus a bit. Also, one subject (Information System) has been removed and the provision of one elective subject (out of 6) has been implemented.
Careers360: How beneficial are previous years question papers or the summary of examiner's comments?
Ajay Agarwal: One can refer to the past years' question papers to just know and understand the kind of questions that appear in the exam. Also, through the examiner's comments, one gets to know that what kind of mistakes do candidates generally commit in the exam. Thus, by reading those comments one can avoid doing the same kind of mistakes.
Careers360: How was your experience during the article-ship training? Did it bother your study regime?
Ajay Agarwal: I have done it from Jaipur itself wherein I got a very good exposure to various fields including tax audit, internal audit, direct tax, indirect tax, etc. My day would start at 10.30 am, however, there was no certain time when would we wrap up the work. Sometimes, it would be 2 am that our day would come to a close.
Careers360: Any message for the future aspirants?
Ajay Agarwal: Don't buy any books from the market. The study material and books available on ICAI website are sufficient. Take ICAI mock tests and revise the syllabus or whatever you study for at least thrice before appearing in the exam.