CA Final Topper Interview 2019: Umang Gupta (AIR 3) - Passion and strategic planning are imperative
When you have like-minded people around you, the desired target becomes a little easy to achieve. However, it can never happen due to the stroke of fortune alone, you need to labour for it. Achieving great things in life demands your sweat and toil. Having all CAs and CSs in his family, Umang Gupta, AIR 3 in CA Final Exam 2019 (Old Syllabus - June session), made it a little easy for him to crack the test, as he would not need to exhaust his energy in consulting the past years toppers or others for guidance towards the exam. He would get easy access to the needed guidance at home only. But he did everything required for cracking CA Final Exam – sample papers mock tests, previous years question papers, ICAI study material or best books. Let's go through his preparation phases and the strategy applied from the interview here.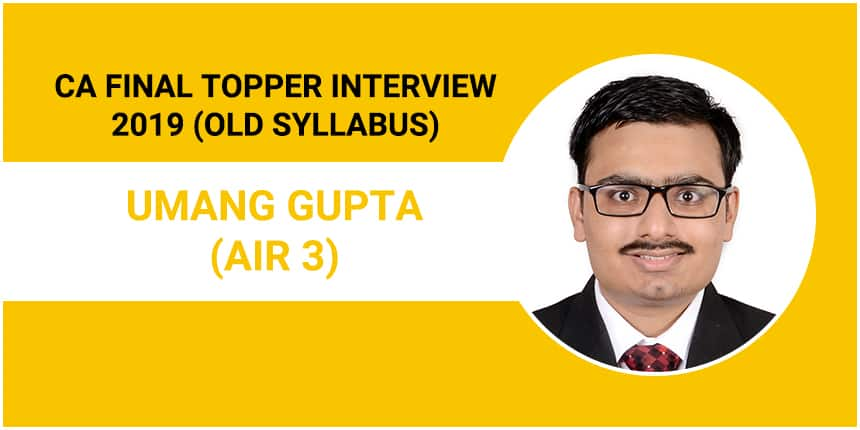 Excerpts from the Interview:
Careers360: How did you celebrate your success? Which all elements would you attribute your success to?
Umang Gupta: I couldn't believe it when I got a call from the ICAI President CA Prafulla. I thought it was a hoax, a prank call and I actually checked on truecaller about the number. So, the credit of my success goes to my parents and my younger brother Aman who has been a support throughout my journey of CA.
Careers360: Kindly share about your childhood, family background, schooling and key inspirations in life. Share about your rank and score in CA Final 2019.
Umang Gupta: My score is 588/800 which is a good score and this fetched me AIR 3 in CA Final 2019 Old Course. My both parents being CA, CS and CMA were a source of inspiration. My sister Anusha who became a CA last year guided me as to how to study, what to study, from where to study.
Careers360: What were your feelings after attempting the exams? Were you sure of cracking it?
Umang Gupta: Yes most of my exams were good enough and I was quite sure of clearing it but AIR 3 was way beyond my wildest dreams. So the key is to attempt full 100 marks paper and if you do that you are sure to get a 40.
Careers360: Which Group and subject did you find easiest and which one the toughest and why?
Umang Gupta: I found ISCA one of the most difficult. I had to revise it around 10 times to score an exception in it. My advice would be stick to ICAI study material and do the RTP, Suggested and Practice Manual.
Careers360: Would you like to share with us about planning, study hours, time table and daily efforts which you had put in during preparation for CA Final?
Umang Gupta: My classes were over, 6 months before my exams. During the last 5 months, I would study for 13-14 hours and all this while I stayed away from all kind of social media – FB, Instagram, Whatssap.
Careers360: While attempting the CA Final Exams, which all factors need to be considered and what strategy works best?
Umang Gupta: Most important are the 3 hours of exam which is a battle of nerves. The key is to stay calm, composed and attempt the questions which you are comfortable with first. Self-study is the best study for CA Final exams.
Careers360: Since you have reached your dream destination, so in your opinion, how has life changed for you now? What was the thought behind choosing CA?
Umang Gupta: I am keen to pursue MBA from a top university. Post its completion, I would want to get into a top consulting firm.
Careers360: What is more suitable according to you- self study or coaching? What is the role of coaching under CA Foundation programme?
Umang Gupta: You should take coaching to understand the concepts. But at the end of the day, what will take you forward is self-study. So if you feel stuck in some topics, then you should go for coaching or else not.
Careers360: What books did you refer for CA Final preparation?
Umang Gupta: I adhered strictly to ICAI study material, practice manual, RTP and suggested. Nothing more nothing less. That is more than sufficient.
Careers360: Would you like to share some important learnings or focus areas for the sake of new aspirants and our readers from preparation point of view?
Umang Gupta: Do everything with passion or otherwise don't do it at all. Becoming a CA is an exciting journey. Cherish every moment of it. There will be ups and downs but you need to keep moving.
Careers360: When did you appear and qualify the entry level course and the intermediate?
Umang Gupta: I cleared my CA CPT in June 2015, cleared IPCC in May 2016 with AIR 31.
Careers360: What is the difference between old and new syllabus?
Umang Gupta: The major difference in new syllabus is that it has elective subjects instead of ISCA which is a very positive thing. Another difference is introduction of IndAS in new course instead of AS, which is in line with the industry requirements.
Careers360: Did official study material for CA Final provided at ICAI website play any relevance in your preparation?
Umang Gupta: Yes it is the best source. The reason is ICAI is making the question paper, the suggested answer is prepared by ICAI and the checking is done by ICAI, so ICAI Study material is the best source.
Careers360: Did you ever refer to the mock tests, previous year questions or the summary of examiner's comments?
Umang Gupta: Mock tests are a must as they build your writing speed and help you to know your strengths and weaknesses. One must give at least 1 series of mock tests.
Careers360: What kind of preparation strategy is needed for Foundation, Intermediate and Final stage? Do all the three stages need different preparation?
Umang Gupta: Yes. And CA Final requires the most amount of preparation. CA Final is like a marathon. You need to be consistent and regular in your preparation.
Careers360: Any message for the future aspirants?
Umang Gupta: Do your best and God will do the rest. Plan your studies well as failing to plan is planning to fail.
Careers360: How was your experience during articleship training? Did it bother your study regime?
Umang Gupta: Articleship is a unique experience. It helps to broaden our perspective and helps in personality development. One must be willing to learn and have an open mind set during articleship and try to grasp as much knowledge as possible.
Also Read:
CA Final Topper Interview 2019: Ajay Agarwal (AIR 1) - Pick up ICAI study material and revise thrice