CA Final Topper Interview 2019: Arpit Chittora (AIR 3) - Time management, hard work & confidence are critical
We all in this world aim to achieve the highest summits, but those are among the rarest who know how to deal with such heights. Being among the top achievers of a national level examination, when the world is chasing you to know the success mantra, one may get swayed away by the accomplishment, however, Arpit Chittora is not. The guy stays grounded, exhibiting utmost modesty in his approach to respond to the queries he receives. With AIR 3 in CA Final 2019 new syllabus, the humble lad from Jaipur believes that not giving in to all unnecessary distractions is the key to achieve what seems to be unachievable - cracking CA exams. Not only CA Final (new syllabus), but the champion carries a history of securing top rank (AIR 7) in both CA CPT and IPCC. The topper believes that a composed mind coupled with confidence and the right amount of hard work are the elements which are essential for succeeding in CA exams. In a conversation with Careers360, Arpit Chittora (CA Final topper 2019- May session new syllabus) shares his winning strategy.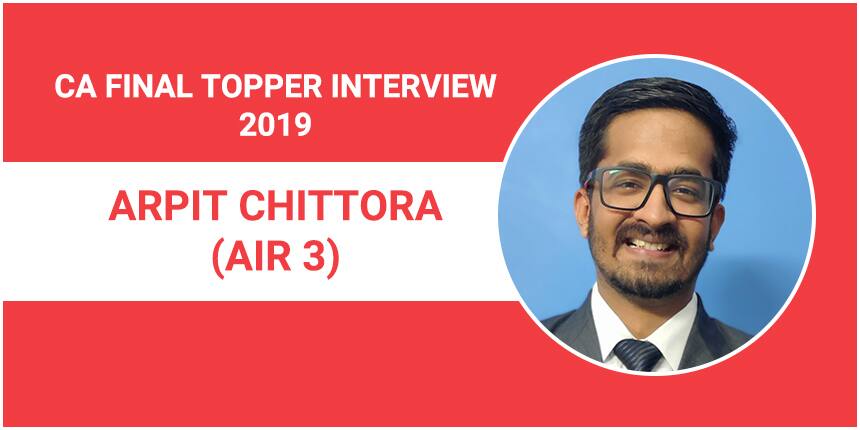 Excerpts:
Q. How did you celebrate your success? Which all elements would you attribute your success to?
A. I celebrated my success with my family and friends. I attribute my success to hard work, persistence and the support of my family and friends.
Q. Kindly share about your childhood, family background, schooling and key inspirations in life. Share about your rank and score in CA Final 2019.
A. I was born and brought up in Jaipur, Rajasthan in a grounded middle class family. I did my schooling from Seedling Modern High School, Jaipur. I am a ranker at all three levels of CA examinations. I secured AIR 3 in CA FINAL examination held in May 2019. (IPCC AIR 7; CPT AIR 7).
Q. What were your feelings after attempting the exams? Were you sure of cracking it?
A. After giving the exams I was satisfied by my performance as I knew I had given my 100% effort. Barring Audit I was reasonably certain I would clear all other papers.
Q. Which Group and subject did you find easiest and which one the toughest and why?
A. I found the second group easier as the subjects were more practical based. I found FR and GFRS as the easiest subjects as I had pursued my articleship in Accounting Advisory.
Q. Would you like to share with us about planning, study hours, time table and daily efforts which you had put in during preparation for CA Final?
A. I used to study early in the morning as I feel very sleepy during late night studies. During the exam leaves I tried to study for 12 effective hours each day.
Q. While attempting the CA Final Exams, which all factors need to be considered and what strategy works best?
A. While attempting the exams one should make sure that you have enough writing practice beforehand so that you don't face the trouble of pace or presentation in exams. One should try to stay calm and composed. Forget about the last exam while preparing for the next one. Revision should be done from the same books from which preparation was done.
Q. Since you have reached your dream destination, so in your opinion, how has life changed for you now? What was the thought behind choosing CA?
A. I don't think I have reached my destination yet. This is just a milestone in my journey. Life hasn't changed much apart from the fact that I don't have to worry about books or classes anymore.
Q. What is more suitable according to you- Self Study or Coaching? What is the role of coaching under CA Foundation program?
A. I think coaching and self-study both have their own importance. Coaching helps with regularity and timely course completion while self-study will give you better conceptual clarity. So coaching followed up with appropriate and timely self-study is the best combination.
Q. What books did you refer for CA Final preparation?
A. I referred to the institute's study material for all subjects along with the notes I had prepared in my classes and few question banks for brushing up my question-solving skills.
Q. Would you like to share some important learnings or focus areas for the sake of new aspirants and our readers from preparation point of view?
A. I suggest that you should have a fixed place for studying and try to cut out all unnecessary distractions.
Q. When did you appear and qualify the entry level course and the intermediate?
A. I qualified CPT in June 2015 and IPCC in May 2016.
Q. What is the difference between old and new syllabus?
A. I think the biggest difference between the two CA Final syllabus is the paper pattern. Both are equally difficult. The new syllabus is more up to date and relevant for the current scenario.
Q. Did official study material for CA Foundation provided at ICAI website play any relevance in your preparation?
A. Yes. Before I purchased the hard copy of the material, it was very convenient to refer the soft copy of the material hosted on the website for quick reference during CA Final classes.
Q. Did you ever refer to the mock tests, previous year questions or the summary of examiner's comments?
A. I referred to CA Final mock test and previous year questions for 3 previous attempts.
Q. What kind of preparation strategy is needed for Foundation, Intermediate and Final stage? Do all the three stages need different preparation?
A. Thorough knowledge of all the subjects is required at all three stages. As all CA students know with each level you need to be more conceptually clear and work even harder to succeed.
Q. Any message for the future aspirants?
A. My message to all future aspirants is to stay calm, in peace and always be confident that if you put in the right amount of hard work you will succeed.
Q. How was your experience during articleship training? Did it bother your study regime?
A. I had a great experience in articleship with PwC India. It used to conflict with my study regime sometimes but overall it helped me achieve great conceptual clarity in various subjects.