CA IPCC Topper Interview 2019: Jyoti Agrawal (AIR 2) - With dedication, you will sail through
Failure is simply the opportunity to begin again, this time more intelligently, said Henry Ford once. These words by him still resonate with the struggles of Jyoti Agrawal, a girl from a small city, Raurkela, when she decided to re-launch her battle against the odds for a second attempt of CA Intermediate (IPC) May 2019, not giving in the face of the first failed attempt. Launching herself with a much greater intensity this time, the CA Intermediate (IPC) May 2019 AIR 2 decided to cut herself off from all worldly affairs and to only focus on her target. Jyoti became stubborn to prove her mettle with sheer dedication, hard work, a well planned strategy and not getting swayed away by any hurdle that came her way. In an interview with Careers360, the CA topper shares the troughs and crests she encountered in her journey of preparing towards Chartered Accountancy and how she could secure a top rank in CA Intermediate (IPC).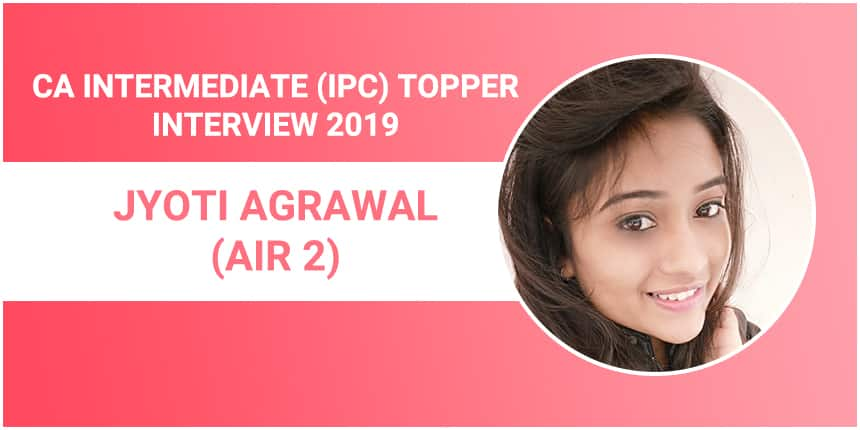 Excerpts from the interview:
Careers360- How did you get to know about your rank? How did you celebrate this grand achievement?
Jyoti- I came to know through the ICAI President who personally called and informed that "Jyoti Agrawal of Rourkela, you've secured AIR 2 in CA IPC old course examination" and at the first instance I thought it to be a prank call from one of my friends. I believed his words only after checking the IPCC result. I have not celebrated yet because since the declaration of result, I have been busy with people visiting my house as it was for the first time when the city noticed AIR 1-2-3 kind of thing. I have been getting hundreds of calls from known and unknown people across the nation. I could not answer them all about my preparation regime so I assured them that I will make a youtube video on it. People are unable to believe that an All India Rank holder can be here in a small city like ours as well (as expected from big Metro cities).
Careers360- Tell something about your family, schooling and the reason behind opting for CA. Share about your rank and score in CA IPC 2019.
Jyoti- I am a Marwadi girl from a close knit family who completed schooling from City English medium school, higher secondary education from Carmel School of Raurkela. Till class 10, I was interested in Science but the thought of dissecting cockroaches didn't make me feel good. Then I chose Commerce but mathematics was something haunting (however, out of the blue, I happened to score 93% in class 12). But my father wanted me to pursue CA because there were so many Marwadi girls becoming CAs, so here I am. I completed my graduation from Raurkela Municipal College. I had enrolled into CPT course back in 2016 and scored aggregate marks. I had appeared for IPCC in November 2018 as well, but could not clear at that time. This time I had worked really hard and got the score accordingly. Securing AIR 2 is a fact yet to be digested. All that matters with this rank is that my parents are very happy.
Careers360- Were you sure of this success after completing the exams in May 2019?
Jyoti- There was not even a single thought in my mind that this could happen. Because the MCQs carrying 30 marks were easy but the rest of 70 mark questions were breathtaking. Students were unable to answer even 1 or 2 questions. The 50% score in the old course is somewhat similar to scoring 70% marks in the new course. I had prepared really hard this time, but then I had already appeared in the November 2018 session which I could not qualify.
Careers360- Which Group and subject did you find the easiest and which one the toughest?
Jyoti- I loved Audit, Tax and Law, Accounts is an all time favourite for all the CA students. I wasn't good at Cost Accounting and Financial Management and I prayed to God to please get me through it. Lastly, Information Technology and Strategic Management (ITSM) out of which I liked the IT part but not really the Strategic Management one.
Careers360- Would you like to share with us about planning, study hours, time table and daily efforts which you had put in during preparation for CA Intermediate?
Jyoti- In the last 3-4 months, specifically from February to June, 2019, I studied for almost 20 hours straight a day and used to sleep only for 4 hours. Failing the last time, everyone treated me weirdly, So I had to prove myself (otherwise I am not that serious student). I confined myself to the four corners of my room. All I had in mind was that I need to clear the exams and make my parents proud.
Careers360- While attempting the exams, what all factors did you consider and what strategy worked the best for you?
Jyoti- It's like whatever questions I know completely, I would complete them all. I don't try to mention unwanted information just for the sake of attempting the question. The last time in an exam, I attempted only 2 questions in 1 hr 45 min and there were 3-4 more to go, and I started crying. The invigilator told me that this is the time when you can cry or give it a try. I failed at that time (the darkest secret of my life) but I actually tried my level best this time.
Careers360- What is more suitable according to you- Self Study or Coaching? What is the role of coaching under CA program?
Jyoti- I was enrolled in a coaching institute but that is not really my cup of tea. Self study and self made notes actually worked for me. I was the one who had too much of ICAI study material, a bundle of books, personal handwritten notes. ICAI focuses on the study material in the question papers so the official study material is the best. By this time, I was almost done with everyone and I completely focussed on what I can do on my own.
Careers360- When did you appear and qualify the entry level course? Tell us about your articleship training as well.
Jyoti- I enrolled into CPT course in 2016 but I wasn't able to attempt June session exams and had to leave the exam hall amidst. I appeared for December session and secured rank 2 in Raurkela. In 2017, I enrolled for IPCC but because of B. Com classes, I gave November 2018 attempt and couldn't pass. For now I am going for Integrated Course on Information Technology and Soft Skills (ICITSS training) consisting of Orientation course (OC) and Information Technology (IT) Programme to be completed before articleship (1.5 month course). The ICAI President said that "Deserving ones will get what they deserve" so I believe in that. I am trying for E & Y Kolkata if I get the chance.
Careers360- Did you ever refer to the mock tests, previous year questions or the summary of examiner's Comments?
Jyoti- I went through the Revision test papers and Mock test papers provided by ICAI before the exam. But that's just for reference and not to be relied upon completely.
Careers360- Many aspiring CAs blame ICAI for their below-the-expectation result in the exam. What's your take on this?
Jyoti- ICAI is not at all responsible for student's bad results. Whatever I studied in these exams, I got appropriate marks accordingly. ICAI wants students' concentration, presentation and answers being answered as per the marking scheme. ICAI tests your conceptual understanding of the subject. I just want to tell the future aspirants to just go with the flow which ICAI has created.
Careers360- You might have come to know that recently ICAI has introduced some changes in the CA Intermediate and Final exam pattern putting more focus upon case studies and scenarios. What's your take on this change?
Jyoti- It is the best thing to happen for CA students. If a student is conceptually clear out of theory, they might remember the concept somewhere in their mind. So if its a case study, he/ she can relate and attempt the questions accordingly.
Careers360- Any specific plan for CA Final?
Jyoti- I am going to start with tuitions in a few months along with joining articleship training. The schedule is going to be hectic for the next few years. But then 'CA' are two letters which make life far better.
Careers360- Any message for the future aspirants?
Jyoti- All I want to say to the future aspirants is that Love the CA course and it will love you back. It will teach the importance of time in one's life. There will be people around you who will belittle you repeatedly. But then you have to surround yourself with people who encourage you to achieve something big in life. All what CA course requires is your dedicated time and patience.