According to the recent data shared by ICAI on January CA pass percentage, the success rate of ICAI exams is below 5%. No wonder why it is considered to be one of the toughest national exams of the country in the commerce domain. Have you ever wondered "Why" students face such difficulty in clearing the CA exam, which comprises three levels - CA Foundation, CA Intermediate, and CA Final or why CA students fail or why CA pass percentage is low? If you have, then you are not alone.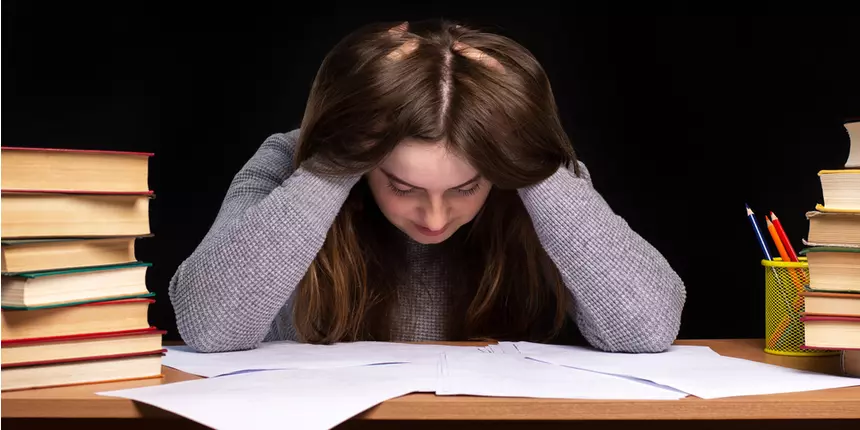 Common Reasons Why Students Fail in CA Exams
"Success is not final, failure is not final, it is the courage to continue that counts."
- Winston Churchill.
The difficulty rises with each level up moving from CA Foundation to CA Intermediate to CA Final. In this article, Careers360 throws light on some of the common reasons why students fail in CA exams. Once you know what the pain points are in CA exam preparation, you can better prepare to tackle them. Also, this article has some major tips on how to overcome failure, and career options for CA failed students. These tips can be used by future aspirants who are planning to appear in ICAI exams.
Common Reasons for Facing Failure During CA Exams
Lack of Proper Planning - Whether it is Chartered Accountancy exam or any other national level finance exam it is vital for candidates to pull up their socks in terms of pre-planning their footsteps.
One of the common reasons why ca students fail is lack of proper planning in terms of time management between different subjects, shortlisting the important topics, understanding and analyzing study material, wrongful interpretation of questions, and so on.
Although there is no specific plan to crack the CA exam, guidance related to time management tactics along with overall plan can work out in favour of candidates.
Tips to Avoid Failure during CA Exams:
Keep a note of your day-to-day activities. Divide the number of hours you wish to devote to each subject. Move ahead according to your interest. Keep track of your plan and feel free to revise your study plan/ schedule if you feel so.
Taking proper sleep of minimum 7 hours is also a must for a healthy body.
Lack of Conceptual Clarity - Understanding the topics in depth is vital for CA candidates for subjects like Economic Laws, Accounting, Tax Laws, Advanced Auditing and so on. Mugging up topics and sub heading will be of no use in subjective/ objective CA question papers.
What Does it lead to?
Low performance

Decreased scores

Lack of positivity
Tips to avoid failure during CA exams:
Use the internet in the right way to understand and effectively understand the concepts. Do not move from topic to topic simply because you have to complete the syllabus. Instead, give yourself time. Since there is no restriction on the maximum number of attempts a candidate can give in CA exams, you can take your time to prepare.
Inconsistent Preparation - Inconsistency in any exam preparation does not bring fruitful results. Thus, candidates appearing in Chartered Accountancy exams need to be well versed with the topics asked in the question papers.
For this, it is mandatory for candidates to continuously work towards answering the questions accurately within the time limit (depends on the CA course level). Thus, one of the common reasons of facing failure during CA exams by candidates is-
Tips to avoid failure during CA exams:
Note that delay in action will take you a step backward in your journey to become a Chartered Accountant. Better keep consistency in your preparation. Remember that the wasted time will never return. Do not procrastinate for the future.
Set aside a plan that works best for you. Try to make weekly/ monthly goals if required and keep track of it.
Ambiguity in Following Exam Pattern - Some candidates face failure because they start preparing for the exam without referring to the exam pattern. ICAI prescribes official exam patterns for all three levels.
Tips to avoid failure during CA exams:
Candidates preparing for the CA exams need to carefully go through the CA Foundation exam pattern, CA Intermediate exam pattern, or CA Final exam pattern before they start/ restart their preparation for the ICAI CA exams.
Lack of Preparatory Resources (books) - One of the common reasons why students fail in CA Exams is that candidates waste a lot of their precious time in looking for preparatory resources like top books, notes from coaching institutes, etc.
Tips to avoid failure during CA exams:
It is advisable for candidates to refer to the official website of ICAI for best preparation resources. ICAI provides official study material for each CA exam level. If you are still confused then better take expert advice from teachers or ICAI directly. Do not waste your time in taking unsolicited guidance from any amateur regarding CA preparation.
For reference,
CA Intermediate study material
Inadequate Revision - Sometimes candidates end up being relaxed after completing the syllabus and do not tend to revise. This ultimately leads to difficulty in remembering the CA syllabus content during the CA exam days.
Tips to avoid failure during CA exams:
Remember that continuous revision and practice is the key to success in ICAI CA exams. Try to prepare in such a way that you have a handful of time for revision before the exams.
Major career options for CA failed students
Take up any alternative courses like CS/ CMA

Explore possibilities in various financial certifications

Move to academics (teaching in a coaching institute)

Work in any private company

Attempt government exams and move to public sector
Above all, be motivated and keep faith in your preparation for better results.