CA Foundation Topper Interview 2019: Conceptual clarity brings desired results, says Priyanshi Saboo, AIR 3
Hailing from Bhopal, Priyanshi, who bagged the third rank in the CA Foundation Exam, belongs to a family who relates well to a business background. Motivation from her parents, maternal uncle and especially her elder brother led her to take up CA. Three to four hours of devoted studies enabled her to ace the examination with flying colours. Her go-getter attitude reflects not only in her academic record but also in other aspects of her life. Careers360 brings to you an interview with the topper wherein she shares her preparation strategies and the dos and don'ts for acing CA Foundation Exam.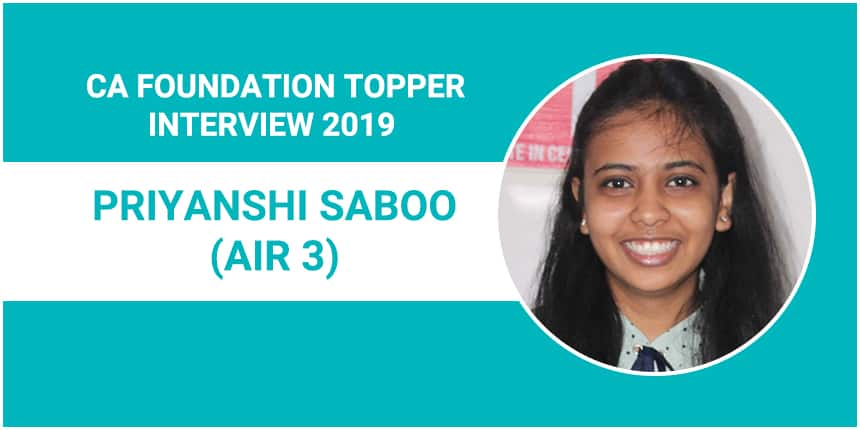 Read the full CA Foundation topper interview 2019 of Priyanshi Saboo here.
Careers360: Kindly share about your childhood, family background, schooling and key inspirations in life. Share about your rank and score in CA Foundation 2019.
Priyanshi: I have been born and brought up in Bhopal. I passed my 12th standard from Navnidh School in Commerce stream with 92.4 percent marks. My parents and maternal uncle motivated me to take up CA and my role model from the very beginning was my elder brother who kept motivating me for achieving everything. I scored 343 marks out of 400 in CA Foundation with All India 3rd Rank.
Careers360: What were your feelings after attempting the exam? Were you sure of cracking it?
Priyanshi: Yes, I was quite sure of cracking it. I was certain about cracking it, however, the AIR 3 came to me as a surprise, as I had not expected such a high rank.
Careers360: Amidst your busy study regime, what would you do to revitalize yourself?
Priyanshi: I am a Kathak dancer so I used to dance, apart from painting and meeting friends at times.
Careers360: Which subject did you find easiest and which one toughest and why?
Answer: I found Maths quite easy because I had it in my Senior Secondary. I found Law a bit difficult because it required a bit conceptualised studies. We need to understand each and every case in that but the solution to it is only module reading.
Careers360: What made you choose CA Course?
Priyanshi: Since CA is the best field in commerce stream, my parents and relatives told me about that course. Then, I gave it a little thought and chose what was best.
Careers360: How were the exams? Would you like to share with us about planning, study hours, time table and daily efforts which you had put in during preparation for CA Foundation?
Priyanshi: Exams were pretty good. I started to plan for my exams way before and used to stick to my time-table. Since my target was AIR, I would study accordingly. Though study hours do not matter much, however, consistency does. I used to study around 3-4 hours daily before exams. Gradually, the preparation hours increased as per the set target, however still I would never compromise on my daily targets, no matter what. Only then I would hit the sack.
Careers360: While attempting the CA Foundation exams, which all factors need to be considered and what strategy works best?
Priyanshi: CA Foundation is an entry-level exam and it basically aims to check how capable are you for this course. So, try to increase your aptitude and focus on concepts. We do not need to be afraid of Maths but must use it to increase our aptitude. The best strategy is having fundamental clarity in all concepts. When they are clear, you can further learn and understand question better.
Careers60: Since you have reached your dream destination, so in your opinion, how has life changed for you now?
Priyanshi: I didn't only target CA Foundation, my ultimate aim is to crack CA Final exam. But yes, life has definitely changed. Now I have to be more responsible for my career.
Careers360: What is more suitable according to you- self study or coaching? What is the role of coaching under CA Foundation programme?
Priyanshi: Self study is the basic requirement for every programme. Coachings are just additional for that.
Careers360: What all lies in between the beginning and the end of your day?
Priyanshi: Definitely studies, meeting friends, socializing and dancing.
Careers360: Talking from an overall perspective, which all elements would you attribute your success to?
Priyanshi: My parents, teachers and my hard work.
Careers360: What books did you refer for preparation?
Priyanshi: Only and only ICAI modules.
Careers360: Would you like to share some important learnings or focus areas for new aspirants and our readers from preparation point of view?
Priyanshi: If you are aiming for AIR, you cannot miss a single topic from the modules. Practice all the questions, illustrations, case studies because 60-70 percent of the percent of questions are comes from that and it is quite repetitive so you need to be thorough with it..
Careers360: Did official study material for CA Foundation provided at ICAI website play any relevance in your preparation?
Priyanshi: Yes definitely. It is like a holy grail for us. Every question comes from that only. Nothing comes from outside.
Careers360: Which educational background is more fitting to crack CA exam? Why?
Priyanshi: Any background will be suitable for CA exam. My friend from PCB background also cracked the CA Foundation exam with All India 40th Rank.
Careers360: What is your preparation strategy for Intermediate and Final exam now?
Priyanshi: My preparation strategy for Intermediate and FInal will also be the same. I will start preparing from day one only. I will not wait for the ending days to prepare myself for the exams.
Also Read:
CA Final Topper Interview 2019: Ajay Agarwal (AIR 1) - Pick up ICAI study material and revise thrice
CA Final Topper Interview 2019: Arpit Chittora (AIR 3) - Time management, hard work & confidence are critical