CA Foundation Topper Interview 2020 (Chinmay Bengani AIR 2)- The Institute of Chartered Accountants of India (ICAI) announced the CA foundation result for November 2020 session on February 8, 2021. Coimbatore boy, Chinmay Bengani secured AIR 2 and is ecstatic with his achievement. It was no easy feat for him to achieve this success and he used to start his studies as early as 5 AM. Chinmay's love for numbers inspired him to take up the Chartered accountancy course. With sheer will, effective time management and determination, Chinmay has begun his flight towards his dream and that too with flying colours. When asked about focus areas for preparation, CA foundation 2020 topper, Chinmay shares that both conceptual understanding and memorising play an important role. In this interview with Careers360, he shares details which a CA aspirant should not miss out on.
Latest: CA Foundation- Complete Guide, Click here
Also See: Online Finance & Accounting Courses & Certifications by Top Providers. Check Now!
Recommended: What Are Some Of The Career Options You Could Pursue After Commerce? Read More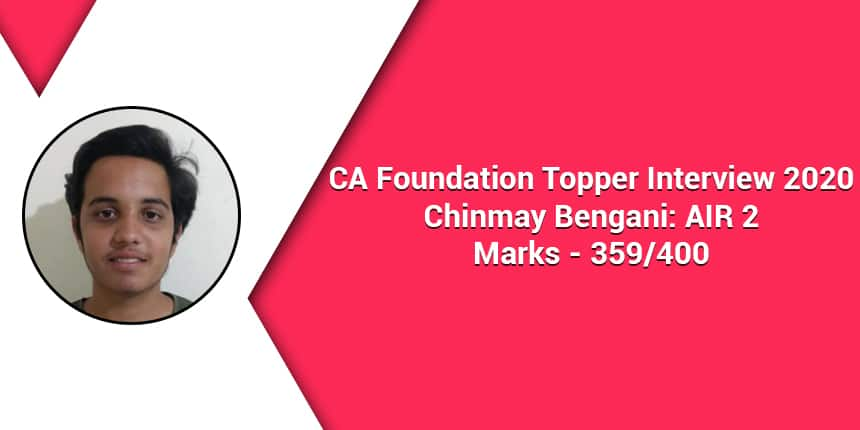 CA Foundation Topper Interview"Regular studies work better than last-minute studies by Chinmay Bengani (AIR 2)
Question- Congratulations on becoming a topper for the CA foundation exam!! How does this achievement feel?
Chinmay - Talking about the moment when this achievement came to our knowledge, we all were on cloud nine. There were phone calls and messages all around. I was ecstatic and jumping around in joy. My proud family member became very emotional and their tears were the evidence of joy which they were feeling at the moment. It was just beyond my wildest dreams. It feels very special to be among the very best. There are a lot of emotions attached to this achievement. The feeling is absolutely surreal.
Question- Kindly share your schooling and educational background? What inspired you to take up Chartered accountancy?
Chinmay - I have spent 9 years of my schooling at Kikani Vidhya Mandir Senior Secondary School from where I have completed my 10th with 94% and 12th std with 97%.
It was my love for numbers and the high requirement for these professionals which prompted me to take up this course.
Question- What was your score in the CA foundation result? Did you meet your expectations?
Chinmay - My subject wise score was 93 in accounts, 90 in Business laws and BCR, 83 in maths, LR and statistics and 90 in economics and BCK which make up to a total of 359 out of 400. The results in accounts and economics turned out as expected. But my score in law and maths was beyond my expectations. I did hear from my seniors that it wasn't going to be easy to score in law which made this score special for me.
In the Maths and Statistics paper, I found statistics to be a little tricky so I didn't expect anything above 75. But I was overjoyed with my Maths marks. Overall I could meet my expectations and rather it was well above my expectations.
Question- Tell us more about your study plan, study hours and daily efforts which you put up for CA foundation preparation?
Chinmay - The plan was absolutely simple. Use the time effectively and once you sit with the book the whole focus should be on it. I reduced my playtime and entertainment time. I used to spend 2.5-3 hours for law and accounts and 2 hours each for maths and economics making up a total of 8-10 hours of study per day. There are two types of students: one who enjoys early morning studies and the other who works hard at night. I am the early morning guy and I used to get up at 5 to study. I followed my teacher's instructions and attended all the tests regularly which was a great help for preparation and also boosted my confidence.
Question- Which subject or group of the CA foundation exam was the most challenging?
Chinmay - The most challenging subject was Business law. Being a new subject, understanding its concepts took quite a few time. The task didn't end there. The next difficult task was to memorise every bit of the lesson. It is often seen that those who understand and memorise the concepts fetch more marks than those who just understand the concepts. So memorising became all the more important to fetch higher marks in law.
Though all 4 subjects were challenging in themselves, I found Law to be the most challenging.
Question- Did you refer to any specific books for your CA foundation preparation? Which books do you recommend for our readers?
Chinmay - My entire CA foundation preparation revolved around ICAI material, their revision papers, mock test papers, and previous year's question papers. So I would recommend your readers to the books prescribed by ICAI and once a person gets a grip on it, they can definitely succeed in this exam.
Question- What should be the focus areas for CA foundation preparation?
Chinmay- As far as accounts and maths are concerned, the focus should be on practising more and more sums. In accounts, the focus should be on solving each and every sum at least twice to get a good idea and to develop speed in solving the problems. In law, concept understanding and memorising plays a major role in preparing for the main exam and the focus should be equal on both. In Maths, the focus should be on trying to find out ways to solve the problem quickly and specifically saying. One should try to use the elimination method to save time. In statistics, the focus should be more on theory than sums. In economics, concept understanding is the key and in BCK remembering is the key. In BCR, the focus should be on the formats as formats are considered very important in business communications.
Question- What is your study plan for CA intermediate and CA final 2021?
Chinmay - The plan is to work hard and with a lot of focus. The plan is to keep things simple and put sincere efforts into achieving the goal- passing CA intermediate 2021.
Question- How much time is required for CA foundation preparation according to you?
Chinmay - According to me, one needs to start from the very beginning. One should try not to pile up the portions and burden oneself with all the subjects at the same time during the last few months. 5-6 hours of study would do well in starting 1-2 months and as the exams start getting near, one should increase their study time to 8-10 hours per day. Regular studies work better than last-minute studies.
Question- Did you find the official ICAI study material useful in the main exam?
Chinmay - ICAI study material proved to be very handy for me in the main exam and the questions completely covered the ICAI study material. So if one is well acquainted with ICAI material, they can certainly crack the exam.
Question- Finally, would you like to give any message to the future aspirants of the CA foundation exam?
Chinmay - FOCUS, HARD WORK AND DEDICATION!! That's all which is required to pass the CA foundation exam. If one can utilise 8-10 hours a day, effectively with utmost dedication, one can easily clear the exam. I would like to share a small incident. When I went for my Maths exam, I forgot to take my calculator to the exam hall. It was my friend who gave me his extra calculator and I am thankful to him for helping me out. So I request my friends to not be careless like me. Always carry 4-5 pens and an extra calculator. Maybe you may become a great help for someone. Work hard and success is all yours. ALL THE BEST!!
Also read:
CA Final Topper Interview 2020 - "Solve practical problems to keep your brain fresh" suggests Mayank Singh (AIR 3)
CA Final Topper Interview 2020: "Identify questions that one is confident about" suggests Komal Jain (AIR 1)