CA Final Topper Interview 2020: "Identify questions that one is confident about" suggests Komal Jain (AIR 1)
CA Final Topper Interview 2020 (Komal Jain AIR 1)- The CA final result for November 2020 was declared on February 1, 2021. CA final topper in new syllabus with AIR 1, Komal Kishor Jain, is a determined Mumbai girl who has carved her way to success with 600/800 in the CA final exam. Not only this, she managed to clear all levels of the CA exam in her first attempt. It took her some time to soak in the great news but she is enjoying every bit of her success now. When you are determined and persistent to achieve your goal, success is destined. Komal credits a balanced approach and meticulous planning as the reason for her achievement. She believes that a course like Chartered Accountancy tests one's patience and one should keep a positive approach throughout. In an interview with Careers360, Komal shares her challenges, preparation strategy and experience in the CA final exams.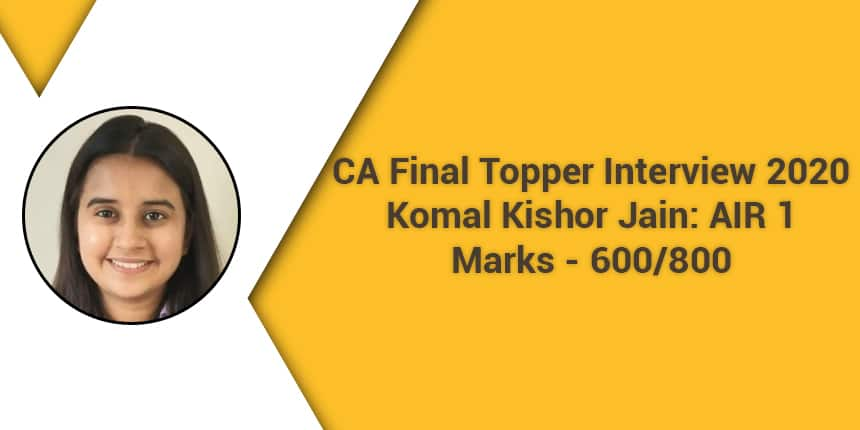 Question- Congratulations on ranking AIR 1 in the CA final exam!! How did you celebrate your success?
Komal - Thank you so much! Took me and my family quite some time to soak in the great news. Once we could sense what has happened, the celebration with family and friends had no bounds.
Question- Kindly share about your schooling and CA attempts? What was your score in the CA final exam?

Komal - I did my schooling at Fatima High School, Mumbai. Thereafter, I went on to pursue my graduation in BCom from R.A.Podar College, Mumbai. I cleared all levels of CA exams in the first attempt with a score of 600/800 in the CA Final exam.
Question- When did you qualify for the CA intermediate and CA foundation exams? How was your ICAI result in those examinations?

Komal - I appeared for the CPT/Foundation exams right after my 12th boards in May 2016 wherein I secured 186/200. I appeared for IPCC/Intermediate in May 2017 and cleared the same with an All India Rank 4.
Question- Which group or subject of the CA final exam did you find the most challenging / easiest? Could you cite some reasons why?

Komal - The most challenging subject for me personally was Auditing. Being an extremely vast subject and extensively theoretical, it required memorization of a lot of data/points at once which made it extremely challenging to cover and revise. After a gap of 5-10 days, I could hardly retain the topics and therefore, I had to assign multiple revisions for the same.
No subject was easy but I was comparatively comfortable with SFM and SCMPE(Costing) the most since the subjects were very logical and practical.
Question- What was your preparation strategy for CA final exam? Can you please elaborate?

Komal - My preparation strategy majorly revolved around meticulous planning, sheer focus and timely checks to ensure that things were going in the right direction.
Planning – I emphasized a lot on planning and ensured that I planned the entire duration of preparation well. I had plans in place for every subject, every topic and for every day as well. This ensured I had a direction and would enable timely completion of the CA final syllabus.

Sheer focus – I ensured that I adhered to the plans I made with sheer focus and determination. Whenever needed, I made necessary adjustments to achieve the target.

Checks – I gave a lot of importance to writing mock tests to ensure whether I can retain things well and put them properly on paper. It helped me realize various areas that I could work on and improve in future revisions.
Question- Did you follow topic / subject-wise preparation strategy?

Komal - Yes I think every subject requires a different approach. Few practical subjects (FR/SFM/SCMPE) require strong conceptual clarity whereas few need multiple revisions (Audit/Law). Also, solving as many questions as possible is of utmost importance for a few subjects (DT/IDT). So, depending on the nature of the subject, the preparation strategy would differ.
Question- Any reference books of note that you would like to recommend for CA final preparation?

Komal - I would recommend adhering to the Institute's material as far as possible. However, sometimes the ICAI material could be voluminous to cover. At such times, any reference books could be referred to, provided the same is exhaustive. A conscious check/review must be done before referring to any other book except the Institute's material.
Question- What was the difficulty level of this session of the CA final exam?

Komal - The Nov 2020 attempt/session was in general termed as 'slightly out of the box'. This was due to the fact that the questions in the paper were pretty conceptual and case study based. There were very few questions that were the same/similar to questions already available in the Institute's study material. Seeing so many new questions in the paper for the first time that required a strong application of multiple concepts at once was quite challenging. Overall, this attempt was comparatively tricky as compared to the previous ones.
Question- Would you like to recommend some specific focus areas for future CA aspirants and our readers?

Komal - I would highly recommend the aspirants to have a strong understanding of the subjects and have a good grip over the concepts. Planning is a must to cover the ocean-like syllabus of the course. Determination and motivation to hold on till the end are very crucial for a course like CA which tests patience to an extreme level. A balanced approach would definitely go a long way in achieving success.
Question- How important are CA final mock tests and CA final sample papers from a preparation point of view?

Komal- I personally attach a lot of importance to mock tests and solving sample papers. I would want to reiterate the fact that mock tests help in a lot of ways – time management, presentation, planning, identifying silly errors. More than writing mock tests, what is more, important is to analyze and evaluate them carefully to ensure the errors are not committed again.
Question- Did the Covid pandemic affect your preparation for the CA final exam? How did you manage stress in such a situation?

Komal - I think the pandemic had widely impacted my preparation. There were 4-5 postponements before the exam could finally take place. Extreme uncertainty over exam dates and the mental stress around the pandemic made it very tough to hold on the patience and motivation. Every time we used to prepare, the exams got postponed which was very frustrating and demoralizing.
In such times, I ensured that I maintained my positivity throughout. Whenever I used to feel bogged down, I kept my books aside for a day or two and tried diverting my mind completely. I used to do things I enjoyed and post 2-3 days, again sit back with the same momentum to achieve the end goal.
Question- How should one go about answering the question paper, like which questions to answer first?

Komal - The focus should be to identify questions that one is confident about and start with those to create a good impression. Very lengthy questions must be preferably kept at the end.
Question- Finally, what according to you are traits that are required to become a successful CA professional?

Komal - I feel that everyone places a lot of trust and confidence in CA professionals with respect to the work they do. Hence, it becomes extremely important to have sound knowledge, problem-solving ability, time management skills and ethics to be successful. Creativity and the ability to think out of the box would surely be an add-on.
Also read:
CA Final Topper Interview 2020: " Consistency is key when it comes to CA exams," says Sripriya Ramesh (AIR 2)
CA Final Topper Interview - "Solve practical problems to keep your brain fresh" suggests Mayank Singh (AIR 3)
CA Foundation Topper Interview"Regular studies work better than last-minute studies by Chinmay Bengani (AIR 2)
The Institute of Chartered Accountants of India, New Delhi Updates and Articles
Questions related to The Institute of Chartered Accountants of India, New Delhi
Showing 13 out of 13 Questions