CA Final Topper Interview - "Solve practical problems to keep your brain fresh" suggests Mayank Singh (AIR 3)
CA Final Topper Interview 2020 (Mayank Singh AIR 3): Success isn't measured by what you achieve, it's measured by the obstacles you overcome. One such success story is of Mayank Singh, CA Final topper in old syllabus who bagged the AIR 3 position. CA final result for November 2020 session was announced on February 1, 2021. It turned out to be a period of festivities for Mayank Singh. But it was not an easy achievement. Mayank faced serious difficulties due to an accident in 2017. However, that did not bog down his spirits and he overcame all obstacles with a positive attitude and utmost focus. He believes that an inquisitive attitude and thirst for knowledge works wonders in the profession of a Chartered Accountant. In this interaction with Careers360, Mayank shares more on his experience, challenges and preparation strategy for CA final exams.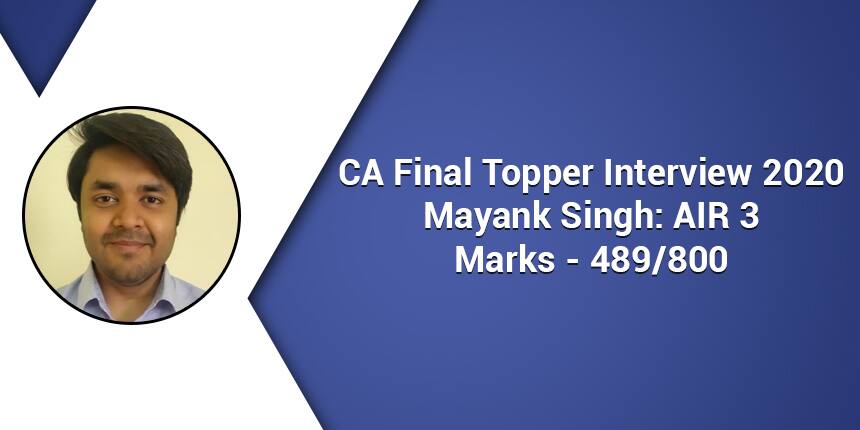 Question- Congratulations on ranking AIR 3 in the CA final exam!! How did you celebrate your success?
Mayank - The feeling of getting an AIR didn't sink in for a long time.The first few days after the result was just me answering calls and people from around the country congratulating me. I did go out with friends a few days after the results. The environment at home since the day of results has been of festivities.
Question- Kindly share about your schooling and CA attempts? What was your score in the CA final exam?
Mayank - My father was in the army so I've done my schooling from around the country. However, the last 5 years of my schooling was from Army School Jaipur. I cleared my CA finals in my 4th attempt. I've scored 61% on my final examination.
Question- When did you qualify for the CA intermediate and CA foundation exams? How was your ICAI result in those examinations?
Mayank - I appeared in CA foundation right after 12th std. in 2011. I cleared the foundation in the first go. Then after 1 year, I appeared in CA inter in May 2012. I cleared 1st group in May 2012 and 2nd group in May 2013.
Question- Which group or subject of the CA final exam did you find the most challenging / easiest? Could you cite some reasons why?
Mayank - I've always been good at practical subjects and therefore SFM, FR and AMA always appeared easy. I especially enjoy solving problems in SFM which was a contributory factor in my scoring 90 in SFM. The theory is where I struggled because of the vast course.
Question- What was your preparation strategy for CA final exam? Can you please elaborate?
Mayank - I was supposed to give my exams in November 2017 but I couldn't because of an accident in August 2017 which left me quadriplegic i.e. paralyzed from the neck down. I stayed away from the Chartered Accountancy (CA) course for 2 years to focus on my body. Returning back to the final course was difficult as a lot had changed in the course and I was still paraplegic. I focused on the subjects in which I was weak and kept on improving in the subjects in which I was already good. 3 months before the exams I completely removed all the distractions. Turned off the internet on my phone and focused completely on my studies.
Question- Did you follow topic / subject-wise preparation strategy?
Mayank - I completed my syllabus subject wise. I took up 2 subjects at a time, one theory and one practical. Whenever I got bored of studying theory I used to shift to practicals so as not to get into a rut. Keeping your brain fresh is also very important, solving practical problems did that for me.
Question- Any reference books of note that you would like to recommend for CA final preparation?
Mayank - I personally think that students shouldn't underestimate the institute's study material. It is the best source of knowledge for CA students. I did my preparation from the study material provided on the knowledge portal of the Board of studies.
Question- What was the difficulty level of this session of the CA final exam?
Mayank - The finals are never easy. Exhibit A – the pass percentage. I found the paper of FR to be completely different from what I was expecting, it was very lengthy. Students should be prepared to face an adverse paper and still score at least passing marks.
Question- Would you like to recommend some specific focus areas for future CA aspirants and our readers?
Mayank - Ins AS are something that should not be ignored as ICAI is focusing a lot on them when it comes to examination. Any changes in the relevant laws and regulations which the institute has notified for the examinations shouldn't be ignored. Also solving mock test papers before the exams is a must.
Question- How important are CA final mock tests and CA final sample papers from a preparation point of view?
Mayank - They are of the utmost importance. They help you understand where you stand in terms of preparation, what areas are you lacking in and where you need to put in more effort. The biggest benefit of solving MTP is that every time you solve a paper you end up revising the syllabus.
Question- Did the Covid pandemic affect your preparation for the CA final exam? How did you manage stress in such a situation?
Mayank- I had been staying in my house since my accident so the restrictions weren't something which affected me a lot. But the examinations kept getting postponed over and over again which did affect my studies but after a while, I decided to not pay any heed to it as the exams were bound to happen someday. At the time of exams, I was worried about contracting the virus but I was provided with a completely separate room because of my condition.
Question- How should one go about answering the question paper, like which questions to answer first?
Mayank - Students should answer those questions first in which they are completely confident and can answer them within the time which they've set for it. The questions which are lengthy or appear to be difficult or contain some element that you've never faced before should be attempted later so that it doesn't end up consuming your precious time.
Question- Finally, what according to you are traits that are required to become a successful CA professional?
Mayank - An inquisitive attitude is a must. CA is a very dynamic profession and requires Keeping up to date with the latest developments. So you should have a never quenching thirst for knowledge.
Also read:
CA Final Topper Interview 2020: "Identify questions that one is confident about" suggests Komal Jain (AIR 1)
CA Final Topper Interview 2020: " Consistency is key when it comes to CA exams," says Sripriya Ramesh (AIR 2)
The Institute of Chartered Accountants of India, New Delhi Updates and Articles
Questions related to The Institute of Chartered Accountants of India, New Delhi
Showing 13 out of 13 Questions