CA Intermediate Topper Interview: Darshan S. (AIR 3) – Revision test papers play critical role in your success
They say if you run after two hares, you will catch neither, however, there are some who chase two hares and are still able to catch both of them. Darshan S. has proved that while completing his B.Com General programme and cracking CA Intermediate (Old Syllabus) May 2019 Exam simultaneously. Securing an All India Rank 3, the topper was flabbergasted to know that he has been able to secure a spot among the top 3 rank holders of CA Intermediate. It was not in his list of things-to-do, however, a simple conversation with his father made him decisive about pursuing CA. Let's see whether his journey unto cracking the exam was smooth-sailing or full of hiccups.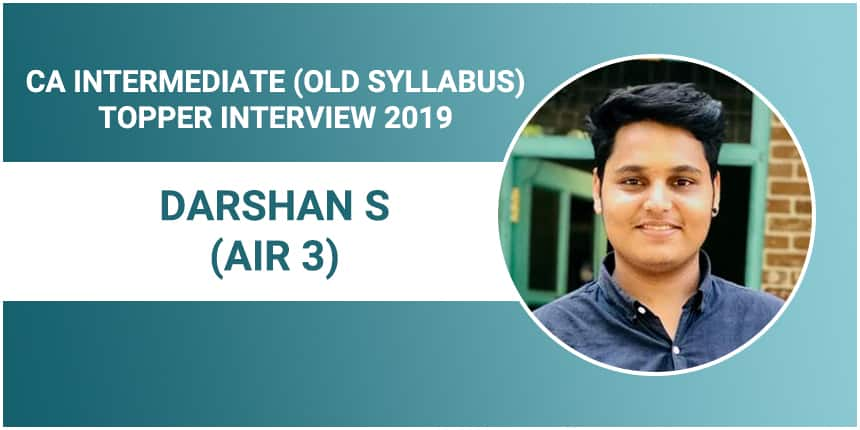 Excerpts from the Interview:
Careers360: How did you celebrate this grand achievement? Who was the first person you shared the news with?
Darshan S: When I received a call from the ICAI President, I took it for a prank. However, later on when I checked my result, I immediately understood that it was actually the ICAI President and I have had actually secured AIR 3 in CA Intermediate Exam of May 2019. So, I went to the temple and had some good time with family and friends, celebrating my victory.
Careers360: What inspired you to opt for CA?
Darshan S: It was a simple discussion with my father one fine day, which acted as a game changer for me. I was in a bit dilemma about the future, but my father shared that CA is a good profession. He just shared his experience with me, as he too had cracked the Intermediate stage in his time, however, could not continue due to some personal issues. So, this inspired me to give it a try. Though it all started with that conversation, however, it was completely my own decision, my father didn't urge me to do it. As I am good with numbers ad maths, I decided to go for it.
Careers360: Tell something about your family background, schooling and key inspirations in life.
Darshan S: I have studied in GSJJB School, Chennai (CBSE). I was the topper in Business Studies and Mathematics in my school. Then I joined Royala College for my graduation in B.Com General and completed it with distinction. I had cleared CPT before I joined the college for graduation.
Careers360: What were the challenges along, especially during preparation?
Darshan S: I had no other challenge, but family pressure sometimes to learn our family business. We have our jewelry business, so the family would sometimes pursue me to learn the alpha and omega of the business. Apart from it, I did not experience any challenge.
Careers360: Which Group and subject did you find the easiest and which one the toughest?
Darshan S: Costing, Accounts, etc. were easier for me, as I am good with numbers. I got 70s in all arithmetic subjects. The toughest subject for me was IT.
Careers360: Would you like to share with us about planning, study hours, time table and daily efforts which you had put in during preparation for CA Intermediate?
Darshan S: I don't believe in long hours of study. More than quantity, it's the efficiency of your preparation. So, I would suggest that your preparation should be effective whatever time you prepare. I would like to point out here that my case was a bit different, as I was simultaneously pursuing my B.Com course, which helped me in cracking the exam. Apart from a couple of hours which I would study (for 6 months) for CA Intermediate, it's was my B.Com studies only which contributed to my preparation and success. 70 percent of my CA Inter syllabus was from B.Com only. Plus I had the advantage of time – 2 years of my graduation wherein I got time to revise the topics time and again. But, yes, planning is critical. You have to prioritise the topics and make a study plan as per the time you have.
Careers360: While attempting the exams, what all factors need to be considered and what strategy works the best?
Darshan S: You get access to the test paper 15 minutes before the exam starts, so it's very important that you reach the exam centre well in advance. Secondly, in my view, revision outside the exam centre or just before the exam is not a good idea. Third, go through the paper carefully and begin with only those questions which you are confident about. Leave the rest to be attempted later on. Only mention the relevant points, it should not be vague. Avoid answering anything wrong/incorrect. Also, arrange your stationery items, keep them in some order. Don't keep it messy around your seat, save time, even if some seconds.
Careers360: What is more suitable according to you- Self Study or Coaching? What is the role of coaching under CA programme?
Darshan S: I had taken a 9 months coaching, however, I would not suggest for coaching. Only those people should take coaching who have no study routine or discipline, as there are fixed timings of classes at coaching. In addition, coaching is good only if you are stuck in terms of understanding some topics. As per my personal experience, you would only remember 20 percent of whatever you learn at coaching.
Careers360: Which books did you refer for CA Intermediate preparation?
Darshan S: I would recommend ICAI books only. That's enough study material. I only purchased one book on Auditing by Vikas Ostwal, for understanding purpose only. But ICAI material is more than enough to crack the Intermediate Exam.
To check detailed CA Intermediate study material – Click Here
Careers360: When did you appear and qualify the entry level course? Tell us about your articleship training as well.
Darshan S: I am in still in the process of planning for my articleship. At present, I am pursuing my 15-day orientation classes. This is a mandatory training wherein we are taught about aspects like personality development, etc. It's a certified course which is mandatory to start articleship and is organised by ICAI itself.
Careers360: Tell us something more about the articleship.
Darshan S: After completing 2.5 years of articleship (but you have to complete 3 years), you are eligible for attempting the Final Exam. There are two channels here.
1. In the first channel, take Foundation Exam, then after a 9 months gap, you can appear for IPCC. Then 2.6 years articleship and you can appear for Final Exam, and then finally again 6 months of articleship.
2. In the second channel, with a UG degree, take 9-months articleship training and you become eligible for appearing in CA Intermediate Exam. Post your clearing the Intermediate Exam, you have to complete the remaining 2.3 years of the articleship.
Careers360: Do you think mock tests and previous years question papers are critical for preparation?
Darshan S: Most important are revision test papers (RTPs), which ICAI releases 2 months before the Intermediate Exam. RTPs are too important for two reasons – first that any latest changes or amendments are available in the RTPs, which are quite important for you to be aware about, secondly 70 percent of the questions in the paper come from the RTPs only. And yes, mock tests and previous years question papers too play vital role. ICAI also provide mock tests at their regional centres, so candidates can take those there.
To get access to CA CPT Sample Papers – Click Here
Careers360: Tell us about the registration process (stage-wise), its validity period and application process as per the different stages.
Darshan S: Registration is a one time process - once you register, you get a registration number, which they also call SRO number in official language. Thereon, every time there's an exam, you have to fill the application form which is released 2-months before any stage exam. Post filling the application form, you get a roll number, which is different for all the stages.
Also Read:
CA IPCC Topper Interview 2019: Jyoti Agrawal (AIR 2) - With dedication, you will sail through
CA Intermediate Topper Interview 2019: Akshat Goyal (AIR 1) - Consistency is the key to success