CA Intermediate Topper Interview 2019: Akshat Goyal (AIR 1) - Consistency is the key to success
In a competitive world like ours, rare are the people who opt to go with the flow and still manage to stand out of the crowd. With a family background of Chartered Accountants (father and sister), Akshat Goyal, AIR 1 for CA Intermediate (New) May 2019 is on the roll to become the next CA in the family. The topper believes that dedicated studies from the very beginning of the course is the ultimate key towards cracking the CA exams. The topper is habitual with great marks from the very beginning with 194 marks out of 200 at the CPT level. In a conversation with Careers360, Akshat discusses his thoughts and experiences of preparation for the exam.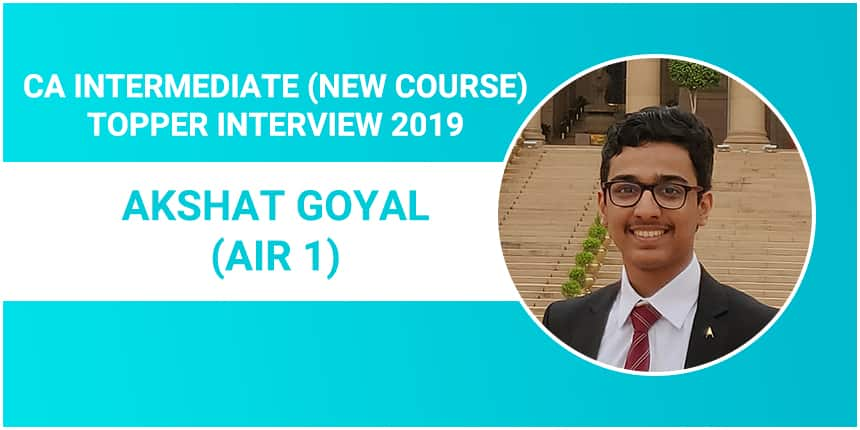 Excerpts:
Careers360- How did you celebrate this grand achievement? How did you come to know about your rank?
Akshat- I celebrated with my family and some of my friends, and the party is still pending. I was informed about my rank by the ICAI President who called almost ½ hour before the official declaration of result. The contact number didn't reveal that its 'the ICAI President' so I had a doubt and had to confirm the result with the website. It felt great to know that I was the topper for my course.
Careers360- Tell something about your family background and schooling. Share about your rank and score in CA Intermediate 2019.
Akshat- I stay with my family at Jaipur, my father and sister are both Chartered Accountants. I completed my schooling from India International School, Jaipur. Securing AIR 1 was not into my books initially and it feels great having scored the highest marks.
Careers360- Were you sure of this success after completing the exams in May 2019?
Akshat- I thought that I would get good marks or maybe a rank. You just can not predict at once if you're going to top the examination. We can never be sure of such things if there might be a student out there who might be even better.
Careers360- Which Group and subject did you find the easiest and which one the toughest, and what were the corresponding scores?
Akshat- I think the second group was the toughest because of two theory subjects- Audit and EISSM (Enterprise Information Systems and & Strategic Management), I didn't like them at all. I scored 93 in Audit and 84 in EISSM. I find Costing the easiest (scored 99 in that).
Careers360- Would you like to share with us about your study time table and daily efforts which you had put in during preparation for CA Intermediate? How did you relax yourself during your study regime?
Akshat- I used to study for 10-12 hours a day while studying for the exams. I am not an early bird, it's impossible for me to wake up at 5 and study. I wake up at 8 or 9 and would stay up till late, around 1 or 2 at night. I started watching web series, some standup comedy shows in December for an hour to relax. I joined twitter so that I become aware about what's happening in the outside world, especially the Loksabha elections. Even on May 23 (Loksabha election results), I almost wasted half the day without studying.
Careers360- While attempting the exams, what all factors need to be considered and what strategy works the best?
Akshat- My way of attempting the questions is that I have to do it anyway. I take difficult questions as a challenge as to what kind of question is it that I don't know. I leave such questions for last-minute and first focus on what I already know.
Careers360- What is more suitable according to you- Self Study or Coaching? What is the role of coaching under CA program?
Akshat- I took coaching for Chartered Accountancy and I believe that coaching is really useful just like that of a school. One can not get into self-study but has to go to school for primary studies at least. As there is no primary college or something and coaching is the primary source of study for CA, one should not skip coaching. The other person's experience and understanding the pattern makes exam preparation a bit easy.
Careers360- When did you appear and qualify the entry-level course?
Akshat- I passed CPT exams in June 2018 and thereon got CA Intermediate registration into new course. I had scored 194 out of 200 (probably the higher because ICAI doesn't disclose the toppers and merit list for CPT).
Careers360- You might have come to know that recently ICAI has brought in some change in the CA Final and Intermediate exam pattern putting more focus case on studies and scenarios. What's your take on this change?
Akshat- Well that would be more challenging and demanding. You will have to think more and require excess time into the paper. Currently, MCQs require less time as you have to get through 70 marks for whole 3 hours and you can manage to beat the time as well. Now, a bit more time has to be devoted for these case studies using enhanced conceptual understanding.
Careers360- Did official study material for CA provided at ICAI website play any relevance in your preparation? What books did you refer for CA Intermediate preparation?
Akshat- I totally depended upon the ICAI study material for my preparation. The coaching institute's faculty made us study from the official study material only and provided notes as well (I don't make any personal notes). I didn't refer to any other author's books ever while preparing for the exams.
Careers360- Do you believe in understanding the concepts or is it the exam pattern through mock tests and previous year question papers that are into your focus?
Akshat- I try to understand the conceptual things first. I would just go through all such papers as available at the ICAI website. It's good for practice and one can even understand the pattern of answers expected as well. Pressure management is the positive side of these mock tests.
Careers360- Any specific plan for CA Final? Tell us about your articleship training as well.
Akshat- Well I have not planned anything yet for CA Final, but of course, I'll be working harder this time. I would like to take a break for a while and start with the coaching after Diwali. I am looking forward to start articleship training soon (as I've been applying at various places for the same). I believe that articleship will result in a more busy and organized life.
Careers360- Any message for the future aspirants?
Akshat- I want to tell the future aspirants that you should study from the very beginning because continuous study is important. One should not plan for the last 2-3 months. You have to study from the starting itself to make sure that you succeed.
Candidates can also check
CA Foundation Topper Interview 2019: Priyanshi Saboo, AIR 3
CA Final old syllabus Topper Interview 2019: Ajay Agarwal (AIR 1)
CA Final new syllabus Topper Interview 2019: Arpit Chittora (AIR 3)