CA Final Topper Interview 2020: "Planning, focus, consistency are pillars of CA", says Rajvi Nathvani (AIR 3)
CA Final Topper Interview 2020 (Rajvi Nathvani AIR 3)-
The Institute of Chartered Accountants of India (ICAI)
declared the
CA final result
for November 2020 session on February 1, 2021. The day turned out to be a dream come true for Mumbai Girl, Rajvi Nathvani. She emerged as a
CA Final topper
under the new syllabus of November 2020 exams with an All India Rank 3. Acing the CA final exam has been an overwhelming experience for her and she credits her amazing score in CA final result Nov 2020 to focused study, planning and consistency. Rajvi believes that conceptual understanding and analytic skills are traits of a successful
Chartered Accountant
. In this interaction with Careers360, Rajvi shares details on her subject wise strategy, exam experience and tips to answer the CA final question paper effectively.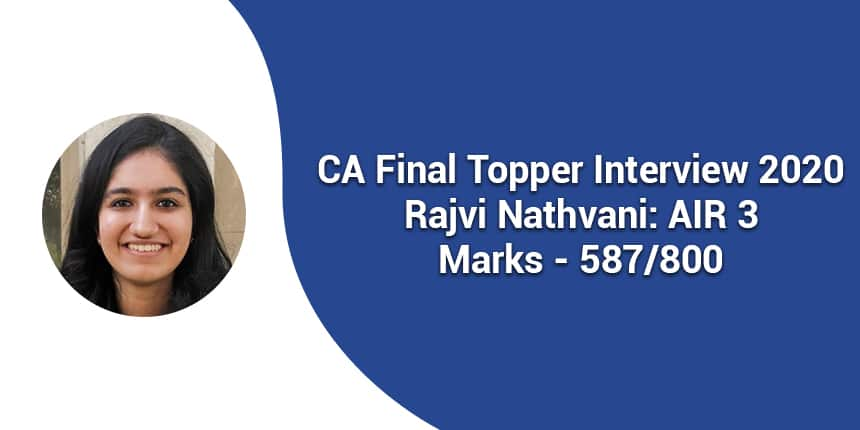 Question: Congratulations on ranking AIR 3 in the CA final exam!! How did you celebrate your success?
Rajvi: Thank you! This feeling is very overwhelming and I celebrated the success with my family and friends who have been my constant support.
Question: Kindly share about your schooling and CA attempts? What was your score in the CA final exam?
Rajvi: I completed my school at Our Lady of Remedy High School in Mumbai following which I joined Narsee Monjee College, Mumbai for HSC and graduation.
I cleared CA Final in the first attempt in November 2020 with a score of 587 / 800 marks and an All India Rank 3.
Question: When did you qualify for the CA intermediate and CA foundation exams? How was your ICAI result in those examinations?
Rajvi: I qualified for the CA Foundation (CPT) in June 2016 and secured 180 / 200 marks. I was eligible for CA intermediate (IPCC) in May 2017 in which I secured an All India Rank 39 with 500 / 700 marks.
Question: Which group or subject of the CA final exam did you find the most challenging / easiest? Could you cite some reasons why?
Rajvi: I found Direct Taxation very interesting and my articleship experience added to the passion and preparation.
As far as the challenging subject is concerned, I found Audit slightly difficult to score. But constant revisions, conceptual understanding and focusing on key words helped me ace the subject.
Question: What was your preparation strategy for CA final exam? Can you please elaborate?
Rajvi: Planning, focus and consistency are the pillars on which the CA course lies. The right mix of hard work and smart work coupled with concept clarity has always helped me ace the exams with confidence.
Question: Did you follow the topic / subject-wise preparation strategy?
Rajvi: I followed a subject-wise strategy since I believe it is important to get an overall understanding of the subject as a whole to crack the paper.
Detailed subject-wise strategy:
- FR: This can be divided into 3 parts – 1. Ind AS – Be very conceptually correct as also solve all illustrations from ICAI modules, RTPs, MTPs, past papers.2. Business combination, Consolidated Financial Statements – Writing practice and understanding the flow of answers is important. 3. Theory chapters like CSR, Integrated Reporting, etc. – Working knowledge of these concepts should be gained by reading the ICAI modules.
- SFM: Being very clear about your concepts is necessary. Make summaries of formulae and tricky concepts. Also, theory carries 30 marks and should not be ignored.
- Audit: Ensure 100% coverage of syllabus. Focus on key points and make sure that each question's language is linked with the answer. Make a list of MCQ related pointers, e.g.; applicability of sections, form nos, etc.
- Law: Understand the provisions well and solve the answers sequentially. Cover 100% of syllabus. Make voice memos and summaries for the smaller concepts to cover everything in 1.5 days. Make a list of section nos, form nos, time limits, applicability, exceptions, etc.
- SCMPE: Focus on ICAI modules and understand the flow of writing theory answers by solving case studies, etc. Make a list of formulae, etc. for practical topics. Refer to the list of adjectives e.g.; analyse, recommend, calculate, etc. shared by ICAI and answer based on such question words.
- Elective: Focus should be on understanding than remembering. Index, cross-referencing, distinguishing between primary and secondary reference material is most important.
- Direct Tax: Understand the sections well as also solve a lot of questions to have a grip on them. Summarise the concepts to ensure complete coverage.
- Indirect Tax: Integration among various chapters e.g.; place of supply, time of supply, the value of supply, ITC, etc is important. Hence, solve questions regularly to develop the thought process. Do not skip the small chapters, FTP, Customs, etc.
Question: Any reference books of note that you would like to recommend for CA final preparation?
Rajvi: The ICAI modules and other ICAI reference material (RTP, MTP, Suggested answers, etc.) should be your bible for CA final preparation. Apart from that, ensuring that the syllabus is summarised crisply to cover 100% during the 1.5 days should be the plan.
Question: What was the difficulty level of this session of the CA final exam?
Rajvi: I found the November 2020 papers very conceptual. Few papers were slightly out of the box. Hence, it is necessary to stay calm and confident and do not get bogged down by seeing a different variety of questions.
Question: Would you like to recommend some specific focus areas for future CA aspirants and our readers?
Rajvi: Focused and dedicated study pattern with conceptual clarity will be the prime success factors. Just believe in yourself and see your dream turn into reality!
Question: How important are CA final mock tests and CA final sample papers from a preparation point of view?
Rajvi: Solving test papers and critically assessing your answers is extremely important. It will act as a reference for not making the same mistakes again and presenting the paper in a manner that is easiest for the examiner to check. I would recommend solving at least 2 mocks for practical papers and 1 mock for theory papers in writing.
Question: Did the Covid pandemic affect your preparation for the CA final exam? How did you manage stress in such a situation?
Rajvi: The constant notifications regarding exam postponements added to the stress and the entire planning went for a toss. In this situation, it was important to keep calm and understand that all students are facing the same situation. Hence, take a short break and re-plan the remaining days. Do not become complacent until you submit the last answer sheet!
Question: How should one go about answering the question paper, like which questions to answer first?
Rajvi: The initial 15 minutes reading time is very important. You should quickly run through all the questions and decide which question to leave in the option and order of the 5 questions to be attempted. You should ensure to secure 40-50 marks in the first half of the duration (1.5 hours). Hence, choosing the order wisely is of the essence. The balance of 1.5 hours should fetch you bonus marks to increase your score. For theory papers, I would recommend solving the MCQs at the beginning of half an hour.
Question: Finally, what according to you are traits that are required to become a successful CA professional?
Rajvi: Conceptual understanding of the subject and analytical skills coupled with the ability to constantly keep learning and never stop are the basic traits to become a successful CA professional.
Also read: