CA Final Topper Interview 2020: " Consistency is key when it comes to CA exams," says Sripriya Ramesh (AIR 2)
CA Final Topper Interview 2020 (Sripriya Ramesh AIR 2)- The Institute of Chartered Accountants of India (ICAI) announced the CA final result for November 2020 exams on February 1, 2021. The day turned out to be a celebration for Chennai girl, Sripriya Ramesh who became the All India rank 2 Topper in the old syllabus for the CA final 2020 exams. After narrowly missing the cut in November 2019, Sripriya emerged victorious in the November 2020 exams with her perseverance and strong determination. She strongly believes that hard work and consistency is imperative to pursue the course of Chartered Accountancy. In this interview with Careers360, Sripriya shares her experience of overcoming hurdles and her preparation strategy to become a successful Chartered accountant.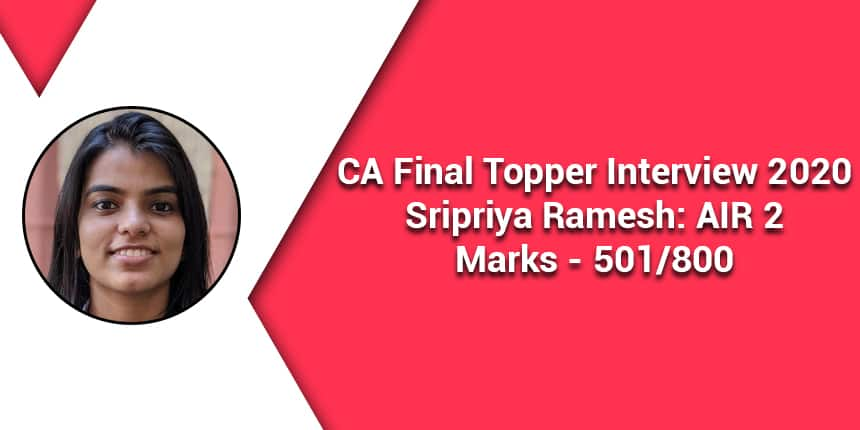 Question- Congratulations on ranking AIR 2 in the CA final exam!! How did you celebrate your success?
Sripriya - Firstly, thank you for your wishes! I was ecstatic when the results came out. I was on cloud nine as I definitely did not expect to be in the top 3 ranks. Looking back at how the exams went, I knew I had a good chance of passing, but getting AIR 2 felt surreal. Never had I imagined that I would be receiving a call from the President of ICAI to congratulate me on my grand success. There were multiple phone calls that continued for 3-4 days after the results were announced from people all over the country. Undoubtedly, it deserved a fantastic celebration, especially since I am the first CA in my family. Celebrations lasted for a week or so, and it majorly involved meeting a lot of my close friends and family.
Question- Kindly share about your schooling and CA attempts? What was your score in the CA final exam?
Sripriya - I was born in Coimbatore and I moved to Chennai at the age of 10. I did my schooling at DAV Girls Senior Secondary School, Gopalapuram, Chennai and college from MOP Vaishnav College for Women, Chennai. I cleared CA-CPT and CA-IPCC in my first attempt and cleared CA-Final in my second attempt with ~ 63% in November 2020.
Question- When did you qualify for the CA intermediate and CA foundation exams? How was your ICAI result in those examinations?
Sripriya - I enrolled in the CA course soon after Class XII and cleared CPT in June 2014 with 76%. I wrote CA-IPCC group-wise in May and November 2015 and cleared with an overall 57% while pursuing B.Com (Accounting and Finance). Upon graduation in April 2017, I proceeded to do my articleship at PricewaterhouseCoopers in Chennai.
Question- Which group or subject of the CA final exam did you find the most challenging / easiest? Could you cite some reasons why?
Sripriya - I found Paper 2: Strategic Financial Management to be very interesting and within my comfort zone the most and Paper 3: Advanced Auditing and Professional Ethics to be the most challenging. This was because Auditing, as a subject, is very vast and generic. A lot of effort needs to go into remembering and generating the key points in the exam. I understood that presentation plays a key role in such a subject as one has to structure their thoughts and gather the content in their mind before proceeding to write each answer. I felt that each subject comes with its own set of advantages and challenges in terms of exam preparation and it is pivotal to capitalise on one's strengths.
Question- What was your preparation strategy for CA final exam? Can you please elaborate?
Sripriya - I believe that consistency is key when it comes to CA exams. Each person has different methods of preparation. I spent about 8-10 hours on studies every day. I felt that Paper 3: Advanced Auditing and Professional Ethics and Paper 6: Information Systems Control and Audit were highly theoretical and hence studied both the subjects daily for 2-3 hours each in order to be in touch with the subjects for better retention. I dedicated the rest of the time towards another subject which would be the main target and move on to the next subject. I also allocated time for writing question papers and covering Revision Test Papers, CA final Mock Test Papers and amendments.
Question- Any reference books of note that you would like to recommend for CA final preparation?
Sripriya- I completely believe that following ICAI's study material is more than sufficient to ace the exams. It is crucial to keep oneself updated with the latest amendments and refer to the revision test papers and mock test papers hosted by the Institute as well.
Question- What was the difficulty level of this session of the CA final exam?
Sripriya- The exam cycle of November 2020 (Old Syllabus) was moderate. Having written the November 2019 exams, I found November 2020 slightly better in terms of difficulty level.
Question- Would you like to recommend some specific focus areas for future CA aspirants and our readers?
Sripriya - It is very important to understand that about 20-30% of every paper gets covered by the amendments, Revision Test Papers and Mock Test Papers. Covering those will ensure that you're almost close to passing. After this, one should focus on getting an exemption in every paper. Specific focus should be given towards conceptual understanding rather than mere rote learning.
Question- How important are CA final mock tests and CA final sample papers from a preparation point of view?
Sripriya - It is highly recommended that one simulates an exam atmosphere and practices writing exams by utilising the Institute's past exam question papers and mock test papers. It helps to assess where they stand and drive their efforts towards their weak areas. It also greatly helps from the time management and presentation perspective.
Question- Did the Covid pandemic affect your preparation for the CA final exam? How did you manage stress in such a situation?
Sripriya - I had an unsuccessful attempt in November 2019 by narrowly missing the cut, the result of which was announced in January 2020. It was devastating for me since I had always been a top performer in academics. Further, the onset of Covid brought with it testing times since there was an uncertainty as to when the situation would improve for the Institute to decide on the conduct of the exams. The ICAI also had to postpone the exams on multiple occasions acceding to the requests of the student community because of the gravity of the situation. It left me high and dry as I had to reschedule my studies to focus again with different strategies and timelines. The outbreak and sustenance of the pandemic changed everything beyond anybody's imagination and expectation but it also taught me many finer things to which we had turned a blind eye in the past. In the end, I am happy that the exams were conducted and everything has gone to plan.
Question- How should one go about answering the question paper, like which questions to answer first?
Sripriya - The approach during the initial 15 minutes meant for reading the question paper determines one's frame of mind for the next 3 hours. Hence, it is very important that one mentally charts out the manner in which the questions are to be answered. It is recommended that the order of questions attempted begins with one's most confident answers to the least.
Question- Finally, what according to you are traits that are required to become a successful CA professional?
Sripriya - The Chartered Accountancy course is viewed as a one-stop solution for Accounting, Finance and Taxation related matters in the industry and these are the domains that are undergoing a lot of structural changes in recent years, calling for updation of knowledge on a consistent and continuing basis for any qualified professional to be in race against competition. The need for hard work at the initial stage to establish and identify oneself goes without saying. Though hard work should always sustain at every level, it is more emphasised at the entry-level, be it in employment or practice, as this gives the necessary cutting edge to a professional to be endowed with a rewarding career. I also think tenacity is yet another fundamental trait to becoming a successful CA. Strong determination and perseverance should not get watered down with the passage of time.
Also read:
CA Final Topper Interview 2019: "Understand more and memorize less" suggests Suryansh Agarwal (AIR 1)
CA Final Topper Interview - "Solve practical problems to keep your brain fresh" suggests Mayank Singh (AIR 3)
CA Final Topper Interview 2020: "Identify questions that one is confident about" suggests Komal Jain (AIR 1)
CA Foundation Topper Interview"Regular studies work better than last-minute studies by Chinmay Bengani (AIR 2)
The Institute of Chartered Accountants of India, New Delhi Updates and Articles
Questions related to The Institute of Chartered Accountants of India, New Delhi
Showing 13 out of 13 Questions