CA Final Topper Interview 2019: "Focus on subjects and not groups" says Abhay Bajoria (AIR 1)
CA Final Topper Interview 2019 (Abhay Bajoria - AIR 1) - The Institute of Chartered Accountants of India declared CA Final result for Nov 2019 session on January 16, 2019 and the day came out to be a huge surprise for Kolkata's Abhay Bajoria. With a score of 603/800 in the November session, Abhay became a CA Final topper with AIR 1 under the new syllabus. Life becomes a bit easy when you learn from your failures, but when you have always been great at winning, you already know what all does it take to grab the summit. Having cleared all three levels towards becoming a Chartered Accountant in one shot, the all time winner shared with Careers360 as to what strategy and planning worked for him.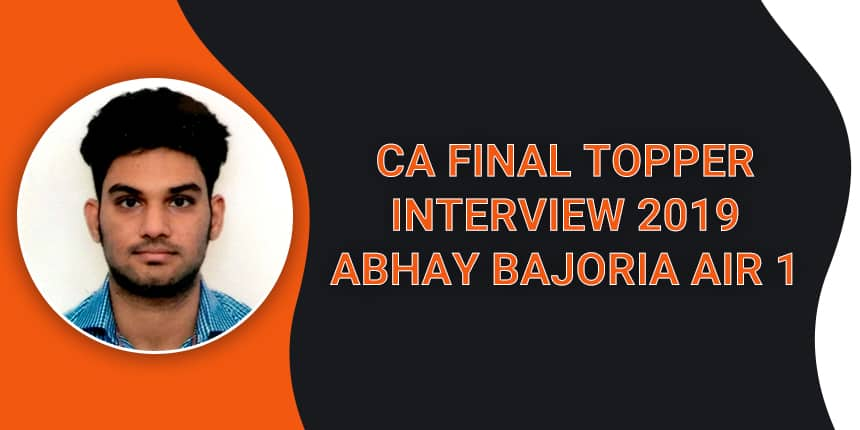 Careers360- Congratulations for AIR 1 in CA Final Nov 2019. How did you celebrate your success?
Abhay- When I received this call from ICAI President, I wasn't at all expecting such news and thought it to be some prank. It's been days after CA Final result declaration and the fact is yet to sink in while the celebration is still on. All the congratulatory messages and calls are overwhelming and.
Careers360 - Kindly share about your childhood and schooling. Share about your rank and score in CA Final exams.
Abhay - I have always been good at studies, a topper at school as well as college level. I had scored good in class 9, so my teachers suggested that I join Science instead of Commerce and even I was interested in Science. Still I opted for Commerce because I felt like if I go for Science stream, I will have to study for 6-7 long hours in a day which did not seem like my cup of tea then. So I decided to go for Commerce because I will have to study less, contrary to how I ended up with CA and giving too much of time and effort.
Coming to CA Final score, I was disappointed with my score in Strategic Financial Management (SFM) where I feel I'm the strongest at and the exam also went great, so I expected above 90 and got just 77. Although there is one paper which I found very difficult to even clear and was expecting only a 40-50 score and ended up getting 75 in that paper.
Careers360 - What were your feelings after attempting the exams? Were you sure of cracking it?
Abhay - No, not at all because what I believe is give your 100% effort because rank is something not in your hands. It is a latter concept as it depends upon how others are performing in the exams.
Careers360 - Which Group and subject did you find easiest and which one the toughest and why?
Abhay - Well I have seen many people categorizing the subjects into group 1 and group 2. But what I believe is that if you've decided to give both the groups, you should not be categorizing the subjects as at the end of the day, you have to appear for all 8 papers and they all carry 100 marks each. However, I did categorize subject wise and Costing was one subject which I really liked apart from Strategic Financial Management (which I felt strong at) because the CA Final study material for the same proved much helpful and was very unique & interesting to study from. Coming to the difficult one, the two law papers proved difficult due to theoretical part because I believe, and am comfortable with conceptual and logical reading and understanding. So I decided to devote a lot of study time, most out of last 2-3 months, into those two subjects to make sure that I remember everything.
Careers360 - While preparing for CA Final exams, which all factors need to be considered and what strategy works best?
Abhay - First of all, you have to have self belief and confidence as these are the most important factors for any examination. The CA Final syllabus is not that much of rocket science and if you give sincere effort, it can be understood. It is just that it is really very difficult to retain such a huge syllabus and you need to keep revising it. You have to take it as a challenge that you'd be working hard on a daily basis. Whenever you feel like giving up, believe in yourself yet again that its a new day and a new opportunity, and that you have to start afresh with new energy.
Careers360 - What was the thought behind choosing CA? How life changed for you before and after January 16, 2020?
Abhay - When I joined CA, it was just after my 12 Board exams that I happened to appear for CPT and I was not sure as to what this course is all about. My father is also from Commerce background only, from whom I've heard about it but was not that clear. It was when I entered the CA Intermediate level when I got a clearer picture. Hence, it was not a conscious decision on my part that I would become a Chartered Accountant, but of course, after seeing those tears of happiness and pride in my mother's eyes and everything else, made me believe that all the effort and hard work that I had put in was actually worth it.
Careers360 - What is more suitable according to you- Self Study or Coaching? What is the role of coaching under the CA Final program?
Abhay - There is a mixture which worked for me in that regard. I had taken coaching for some subjects while for others, I went for youtube videos as well as self studies with the help of official study material.
Financial Reporting (FR) - Praveen Sharma

Strategic Financial Management (SFM) - Sanjay Saraf

Direct Tax Laws - Vinod Gupta

Costing - Satish Jalan

Others, Youtube Videos of Vishal Bhattad and Darshan Khare
Careers360 - When did you appear and qualify the entry level course and the Intermediate?
Abhay - I appeared for CPT in June 2015 and cleared in the first attempt. I appeared for CA IPCC in Nov 2016 and secured AIR 16. Nov 2019 was also my first attempt for CA Final.
Careers360 - Did official study material provided at ICAI website play any relevance in your preparation?
Abhay - Well yes, no matter whatever tutions or coaching you go for or what kind of youtube classes you take. The most important and inevitable part is CA Final study material and ICAI's publications as it covers almost 70-80 of the question paper. One should also get thorough with CA Final mock tests so as to score well. Selective study at CA Final level is not at all advisable because with that, there is a high chance that you will end up not able to attempt certain questions because you have never read about them. Even if it is 1-2 questions, it will be very difficult to pass. One thing that I believed in was that 5 decent answers is better than 3 perfect answers.
Careers360 - How was your experience during articleship training? Did it bother your study regime?
Abhay - To be frank, it was completely a roller coaster ride as there were a lot of ups and downs during those 2.5 years of articleship. I had joined EY in my first year of articleship and thereafter shifted to Deepak and Satya Co Associates. I can say that I have grown and improved a lot as compared to what I was 2.5 years ago and much of credit goes to my articleship training. It is one of the most important corporate exposure that one gets. Even if it does not help studies directly, one can actually relate to what is there in the theoretical portion and books. That is why one should take his/ her articleship training very much sincerely.
Careers360 - Any message for the future aspirants?
Abhay - I would just say to them that keep believing in yourself as this is the course that can take you to great heights. Of Course one should enjoy life but take it as a challenge as well, so start enjoying whatever you do because otherwise it will become really very difficult to explore things.
The Institute of Chartered Accountants of India, New Delhi Updates and Articles
Questions related to The Institute of Chartered Accountants of India, New Delhi
Showing 6 out of 6 Questions