CA Student Interview on How to prepare for CA Exam from Home
How to Prepare for CA Exam from Home - The COVID19 pandemic has put life on hold for many of us and especially students. ICAI has already announced that the CA May 2020 examinations have been postponed in wake of the outbreak of coronavirus pandemic in the country. Amid rising tensions and uncertainty over the future, this is the best time for students to focus on their weak points, strengthen their strong points and prepare for the upcoming CA exams in a better manner. Now that all the students have been 'STUDYING FROM HOME', we got in touch with one of the CA aspirants preparing for the exam amid lockdown. Varsha Sharma, a Delhi University graduate and a CA Inter aspirant talks about how she is making the best use of time during the lockdown period and shaping her preparation strategy for the exam. The hardest part for her is staying away from her home during these stressful times, but she buoyantly says she isn't getting demotivated by anything and taking this as an extended opportunity to focus and prepare for the exam. The excerpts from our conversation with Varsha are given below: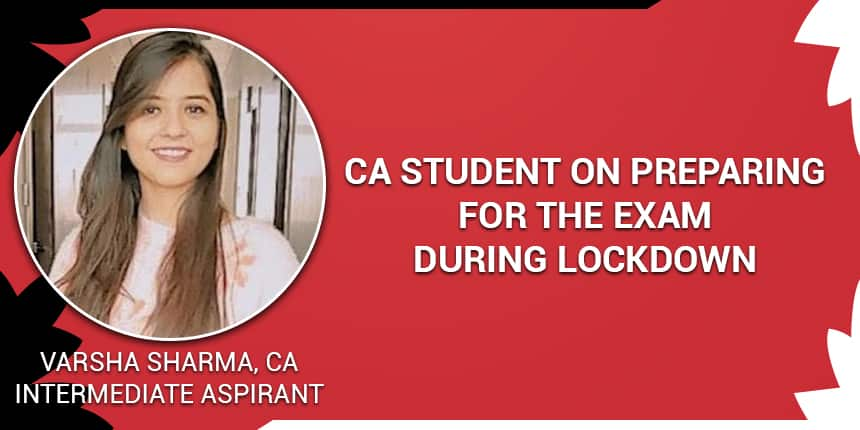 CA Online Preparation Questionnaire
Careers360: Tell us something about yourself and the CA course you are currently preparing for.
Varsha: I am varsha sharma. I have completed my graduation in B.com from Delhi University. I am pursuing Chartered Accountancy as a career, currently preparing for CA Intermediate(IPCC).
Careers360: Why did you choose Chartered Accountancy as your career ahead, was there any specific reason for it?
Varsha: With the rapid growth in economy, careers in finance and accounts have gained tremendous popularity and the most prestigious career option in the field is that of a Chartered Accountant. Chartered Accountancy is a dynamic, challenging and rewarding profession. It is a 5 year full fledged course but I am ready to devote all this time because the opportunities and scope once you become a CA are truly worth it.
Careers360: How is your CA exam preparation going during the lockdown period?
Varsha: In the current situation of lockdown, staying home has been beneficial in two ways - first being safe and second giving utmost time & attention to my studies .
Careers360: Are you following any CA study time table during lock down? If yes, how have you created the same?
Varsha: There is no strict time table as such but as I have enough time these days therefore I give 5 to 6 hours untangling my basic concepts & revising them with the practice of solving Mock Test Paper & Previous year papers.
Careers360: What changes did you majorly feel in the way you prepared for the exam?
Varsha: Staying Away from family makes it hard to maintain a healthy routine and due to this it makes things a bit more difficult . Carrying out household chores alone and balancing it with preparation is exhausting. Due to the basic rule of social distancing , group studies and solving each other's problems is out of question. However, there are more pros than cons for me as I am able to devote more time to study and I am using this time to focus on my weak points and make sure I am fully prepared for the exam.
Careers360: Now that you have tried both offline and online study for CA exam, which one do you prefer? And why?
Varsha: Both the ways have their own pros and cons but personally I feel offline preparation is advantageous. In online courses you get the basic idea of the topic you are preparing and do not get a chance to raise a doubt whereas in offline courses you can consult your teaching faculty for the slightest problem and concern.
Careers360: Is there some specific point you are focusing on while studying from home?
Varsha: With the completion of course & due to plenty of time my only focus is revising my notes and study material as much as possible.
Careers360: Are you going for an online coaching program or self study?
Varsha: As I have told my preference ,I prefer offline study. So Yes , I am doing self study.
Careers360: Do you think the CA official study material available on the ICAI website is adequate for the exam preparation?
Varsha: I have been following the official website of ICAI and it is of great help . A deep knowledge of concepts through study material gives good rewards, but, for practice one can prefer some extra books of other teachers.
Careers360: What other books apart from the official study material you are referring to for CA exam preparations?
Varsha: I am referring to CA Praveen Sharma sir's book for Accountancy but only the official CA Inter study material for theory subjects.
Careers360: How do you take your time off amid all the exam tensions, what's your stress relief mantra?
Varsha: My mantra is Meditation. Amid all the stressful and tiring preparation hours, half an hour of meditation proves as my energy booster, increases my strength to focus & expands my thinking ability.
Careers360: Do you want to give any tips to your fellow students who are also preparing for the exam?
Varsha: Due to lockdown the examination has been postponed so my tip is to use this time effectively & efficiently for preparation. This is the time to make up for all the missed lessons, bleak concepts and lack of revision.
The Institute of Chartered Accountants of India, New Delhi Updates and Articles
Questions related to The Institute of Chartered Accountants of India, New Delhi
Showing 6 out of 6 Questions