CS Full Form: Company Secretary Course Details, Duration, Eligibility, Syllabus
CS Full Form: The full form of CS is "Company Secretary". A Company Secretary (CS) is also known as a " Corporate Secretary" in some parts of the world. It is a highly recognized and coveted career option that an individual can choose. CS is a senior position in both the private and public sector organizations.
Stay up-to date with CSEET News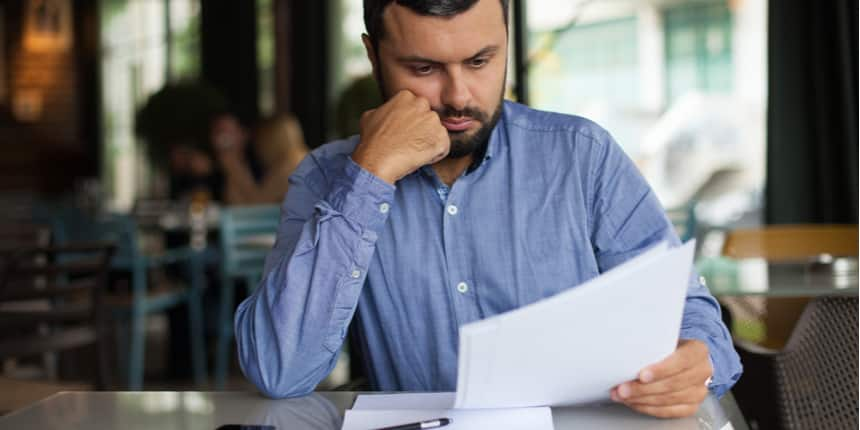 The CS professionals are responsible for regulating the primary business functions and also reporting the progress and other issues to the board members. The Company Secretary also ensures that the decisions of the board members are implemented strongly.
The company secretaries also handle the legal matters and other compliance in a company. Before starting a career as a CS a person should understand the role and also be aware of the pros and cons attached to the position. The significance of a CS (Company Secretary) is generally felt when a company has multiple responsibilities towards any statutory compliance.
To become a CS a person needs to enroll in the CS programme at the Institute of Company Secretaries of India (ICSI). They need to clear three levels of exam, CSEET exam followed by CS Executive exam and CS Professional exam. In this article, we will discuss the CS course details, eligibility, and syllabus.
Important - Check the Complete List of Full Forms
Eligibility to enroll in Company Secretary (CS) programme
To be eligible to get admission in Company Secretary (CS) programme a candidate must fulfill the following eligibility criteria:
Aspirants applying for CS courses after completing 10+2 from any background should register for the CSEET exam.

After clearing CSEET, aspirants can enroll in the CS Foundation programme.

Candidates applying for the CS course after completion of graduation also need to appear for CSEET. Students from all streams except fine arts can join the CS Executive programme.

The CSEET scores are valid for a period of 1 year. After 1 year if a student fails to get admission in a CS programme they will have to appear for the CSEET exam again.

Candidates who have failed to clear the CS Foundation or executive programme are not eligible to register for CS Professional programme.

After completion of CS final exams, the next step is to go through training. Students after completing the course need to undergo short-term training.

After successfully completing the training students are eligible to become Associate Company Secretary.
Process to become a Company Secretary (CS)
To become a Company Secretary a person needs to clear three-course levels namely: executive programme, foundation programme, and professional programme.
| | | |
| --- | --- | --- |
| Levels | Description | Duration |
| CSEET | Students get to study four different subjects such as business communication, legal aptitude and reasoning, economic and business environment and current affairs, communication and presentation skills. | Computer based test of 120 minutes |
| CS Executive Programme | In the CS Executive course the main area covered is law. This includes commercial law, tax law, company law, general law, accounts and audit practice as well as securities law. | 9 months |
| CS Professional Programme | The final level of the CS professional programme is the CS Professional programme. | 15 months |
Course and syllabus of Company Secretary (CS)
| | |
| --- | --- |
| Paper | Syllabus |
| Paper 1 | Business Communication |
| Paper 2 | Legal Aptitude and Logical Reasoning |
| Paper 3 | Economic & Business Environment |
| Paper 4 | Current Affairs, Presentation and Communication Skills |
Modules

Syllabus

Module I

Jurisprudence, Interpretation & General Laws

Company Law

Setting up of Business Entities and Closure

Tax Laws

Module II

Corporate & Management Accounting

Securities Laws & Capital Markets

Economic, Business and Commercial Laws

Financial and Strategic Management
Module

Syllabus

Module I

Governance, Risk Management, Compliances and Ethics

Advanced Tax laws

Drafting, Pleadings, and Appearances

Module II

Secretarial Audit, Compliance Management, and Due Diligence

Corporate Reconstructing, Insolvency, Liquidation, and Winding-up

Resolution of Corporate Disputes, Non- Compliances, and Remedies

Module III

Corporate Funding and Listing in Stock Exchanges

Multidisciplinary Case Studies

Elective (1 out of the given 8 subjects)

Banking- Law, and Practice

Insurance- Law and Practice

Intellectual Property Rights- Laws and Practice

Forensic Audit

Direct Tax Laws and Practice

Labour Laws and Practice

Valuations and Business Modelling

Insolvency- Law, and Practice
Company Secretary(CS) training
| | | |
| --- | --- | --- |
| Type of training | Description | Duration of training |
| SIP or Student Introduction Programme | Students in order to be eligible to sit in both the modules of the CS Executive exam need to pursue this training within a time period of 6 months after registering for the CS executive programme. | 7 days |
| EDP or Executive Development Programme | Before starting the 15 months training students need to pursue this training program. | 8 days |
| Compulsory Computer Training Programme | All CS aspirants must pursue this programme to get eligible for clearing cs executive program. | 70 hours |
| PDP or Professional Development Programme | Candidates must complete this training course during the period of 15 months of training. | 25 hours |
| Specialized Agency Training | CS aspirants can perform this course after completing EDP or SIP or passing the professional program, and by completing the 15 months of training. | 15 days |
| MSOP or Management Skills Orientation Programme | This training course must be completed if the student has been partially or fully exempted from training. as registered the documents needed to fulfill the regulation of 1982. | 15 days |
| Professional or Management Training | Candidates can pursue this course with the completion of cs Executive or cs professional program. | 15 months |
| Practical Training | Candidates can only pursue this training course, only if they have completed the cs professional program. Also they are eligible to do this training only if they are exempted from undergoing the 12 months training under the 1982 companies secretaries regulation. | 3 months |
Career Prospects for CS
Business Consultant

Operations Manager

Investment banker

Financial consultant

Legal advisor

Stock broker and many more
Roles and Responsibilities of Company Secretary
The roles and responsibilities of a company secretary are as follows:
Company Secretaries (CS) are the compliance officers in a company. They give suggestions and perform their role as an in-house legal expert.

They also perform as a chief advisor to the board of directors in corporate matters.

Company secretaries are experts in matters related to securities law, capital market, and corporate law.

The Company Secretaries are also responsible for the regulatory compliance in an organization.
Frequently Asked Question (FAQs) - CS Full Form: Company Secretary Course Details, Duration, Eligibility, Syllabus
Question: What is the full form of CS?
Answer:
The full form of CS is Company Secretary.
Question: Can CS professionals get jobs abroad?
Answer:
Yes, CS professionals can get jobs abroad. There are many countries who prefer to hire CS professionals completing their course from ICSI.
Question: What is the complete duration of a CS course in India?
Answer:
The CS program has 3 course levels, namely foundation course, executive course, and professional course. The CS Foundation course is of 8 months duration followed by executive course of 7 months and professional course of 15 months. The complete course duration is of 3 years.
Question: What are the career prospects after completing a CS course in India?
Answer:
The job roles after completing the CS course in India are investment banker, finance consultant, marketing manager, stock broker, legal advisor etc.
Questions related to CSEET
Showing 124 out of 124 Questions