CA Final Topper Interview 2019: "Make a preparation plan and stick to it" says Praneeth (AIR 1)
CA Final Topper Interview 2019 (Praneeth AIR 1) - It is a well known fact amongst ordinary people, CA aspirants and CA Final toppers that becoming a Chartered Accountant takes a lot, including patience, hard work and years of dedication. Few are those who cross all the examination hurdles without falling at any of them and make it all through single attempt at each of the three levels. Habitual to scoring the highest of marks since school times, Gurram Naga Sri Krishna Praneeth again made it to the top notch with AIR 1 in CA Final (Old Syllabus) November 2019. In a conversation with Careers360, the CA Final topper for old syllabus, Praneeth Gurram shares his success mantra and how the future aspirants should proceed with their preparation.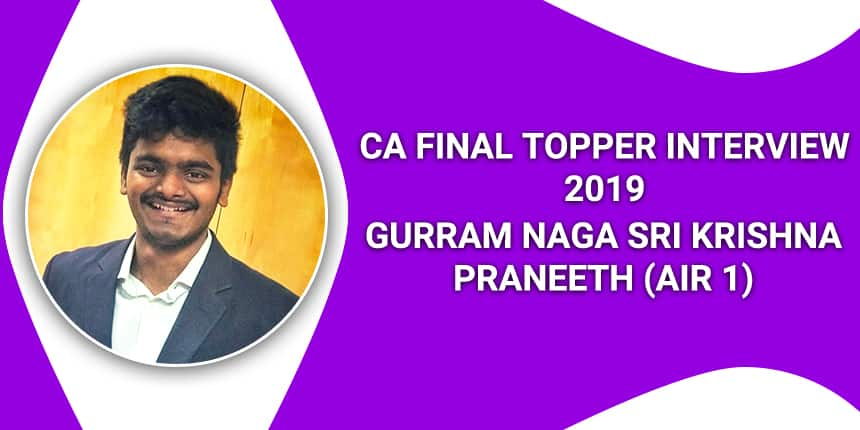 Read complete CA Final Topper Praneeth Interview 2019 (AIR 1) here -
Excerpts:
Careers360: How did you celebrate your success? Who was your inspiration behind this?
Praneeth - I celebrated with my family and friends, and I am still in celebration mode only. Talking about inspiration, it is always my father whom I want to make happy and proud.
Careers360: Kindly share about your family background and schooling.
Praneeth - We are a family of four, including mother-father and a brother. I have been great at studies with around 97-98% throughout. I got 9.8/10 CGPA in school and 97.2% in Inter exams.
Careers360: When did you appear and qualify the entry level and Intermediate, and how was the ICAI result?
Praneeth - I appeared for CPT for the first time in June 2015 and cleared with 156/200 score. In May 2016, I appeared for both the groups of Intermediate level and scored 414 marks.
Careers360: What were your feelings after attempting the exams? Were you sure of cracking it?
Praneeth - Yes, I was sure of cracking the exams in the first attempt, but I was not sure of getting a rank. I was sure to score around 450-500, but 576 is huge for me as this is the first time that I got a rank and ended up with becoming a CA Final topper.
Careers360: Which Group and subject did you find easiest and which one the toughest?
Praneeth - I think it is the first group that proved better as Financial Reporting is easier for me and since IPCC itself I have been good at accounting. Auditing is the toughest, somewhat a nightmare for me.
Careers360: While preparing for CA Final Exams, what all factors need to be considered and what strategy works best?
Praneeth - It's all about preparing short notes, a plan and then sticking around it perfectly. I attempted three mock test papers (MTPs) in October along with other CA Foundation sample papers and that helped me a lot in time management and presentation.
Careers360: Since you have reached your dream destination, so in your opinion, how has life changed for you now? What was the thought behind choosing CA?
Praneeth - Life is completely different from being a student earlier. Everyone is congratulating me, many people visited to meet the CA Final topper, I am totally out of words for now. Talking about the thought of becoming a CA, after qualifying class 10, I had this very thought of becoming a CA. It is one of the most respectable professions and when people tell that they are a Chartered Accountant, they are treated differently in the society.
Careers360: What is more suitable according to you- Self Study or Coaching? What is the role of coaching under the CA Final program?
Praneeth - I think it is always the combination of both coaching and self study. First one should go for coaching and then all of it should be revised for understanding what exactly has been learnt, so according to me, it is a two way process.
Careers360: What books helped you in preparation for CA Final exams?
Praneeth - Well, for Information Systems Control and Audit, Financial Reporting and Strategic Financial Management, I found CA Final study material and practice manual really helpful. For the rest of papers, I went for books as well as mentioned below.
Subject wise study sources
Subjects

Books

Corporate and Allied Laws

Munish Bhandari's books

Advanced Auditing and Professional Ethics

Aarthi Lahoti's books

Direct Laws

Indirect Taxes

Kedar Junnarkar's books
Careers360: Would you like to share some important learnings or focus areas for upcoming aspirants and our readers, from preparation point of view?
Praneeth - Students usually do not prioritize as per subjects. I was not that good at three theory subjects and stood strong at practical subjects. So I had a huge target of scoring 90 marks in the 4 subjects I'm strong at, so that I would end up doing fine with scoring 50-60 in the rest. It is all about making priorities accordingly and putting more effort into your target subjects.
Careers360: What kind of preparation strategy is needed for CPT, Intermediate and Final stage? Do all the three stages need different preparation?
Praneeth - I have been the same from CPT itself, so I think it is about sticking with the plan and preparing short notes at the very initial days at all levels. The short notes prepared will help you prepare during CA Final exam dates. At the CA Final stage, one has to make sure to attempt mock tests inevitably. Also, the previous 4 attempts of CA Final sample papers should be positively practised play a vital role in understanding the CA Final exam pattern.
Careers360: How was your experience during articleship training? Did it bother your study regime?
Praneeth - I completed the CA Intermediate level in 2016 and completed articled training from M. N. Rao and Associates, Vijayawada. The training period changed me a lot, it helped a lot at direct and indirect taxation as there isn't much in law and auditing. This was very helpful in preparing for CA Final exams of November 2019 session. It brought in the change from thinking like 'a student' to 'a professional' during articleship. One gets to interact with no. of clients, seniors - juniors and partners and it all adds to learning.
Careers360: Any message for the future aspirants from the CA Final topper (AIR 1)?
Praneeth - I would suggest the students to keep their target score in mind, attend mock tests regularly to have the habit of writing because between CA Inter and Final comes the articleship period where, you are not in touch with exams and study rooms that regularly. So you need to get out of your comfort zone, strategize your study plan and stick to it.
The Institute of Chartered Accountants of India, New Delhi Updates and Articles
Questions related to The Institute of Chartered Accountants of India, New Delhi
Showing 6 out of 6 Questions