CA Final Topper Interview 2019: "Understand more and memorize less" suggests Suryansh Agarwal (AIR 1)
CA Final Topper Interview 2019 (Suryansh Agarwal AIR 1) - ICAI declared the CA Final result for November 2019 exams on January 16, 2020 and the day is now a lifetime memory for Noida boy, Suryansh Agarwal who left everyone behind and became CA Final topper in new syllabus with AIR 1. Strategizing for exam preparation and getting 100% result out of it is what one should learn from this genius. Suryansh believes that conceptual understanding is a must in the course of Chartered Accountancy. In an interaction with Careers360, CA Final topper Suryansh Agarwal shares his journey of learning and achieving much before becoming an AIR 1.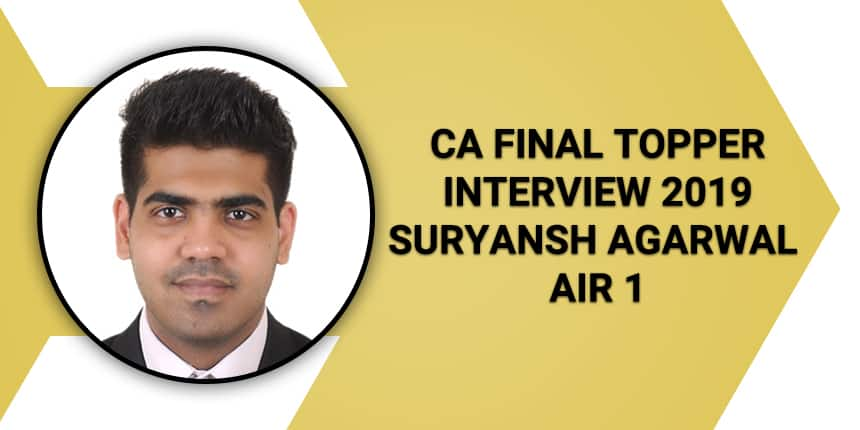 Careers360- Hearty congratulations on your success. So how did you celebrate after being declared a CA Final topper? What all elements would you attribute your success to?
Suryansh- I felt really happy when I got to know the results. I was surprised when ICAI President called up to congratulate and disclosed that I was one of the CA Final toppers, and that too with AIR 1. I would like to thank my family for their constant support, my teachers and my seniors who guided me through this journey.
Careers360- Kindly share about your schooling and CA attempts. Share about your rank and score in CA Final 2020.
Suryansh- I completed my schooling from Delhi Public School, Noida. Thereafter, I pursued my graduation from Shri Ram College of Commerce, Delhi University. I appeared in the CA entry level of CPT in June 2014; CA IPCC in November 2015 and then CA Final (New Syllabus) in November 2019. I secured a 75.38% score in CA Final Nov 2019 New Syllabus and this was something beyond imagination to me.
Careers360- What were your feelings after attempting the ICAI exam? Were you sure of cracking it?
Suryansh- The exams went well and I was confident of cracking it. However securing an AIR 1 after declaration of CA Final result came in as a pleasant surprise to me.
Careers360- Which Group and subject did you find easiest and which one the toughest, and why?
Suryansh- According to me, categorizing the subjects as the easiest and the toughest would not help. Every subject is easy and tough in bits and pieces. However, I can say that I enjoyed Strategic Financial Management the most.
Careers360- Would you like to share with us about planning, study hours, time table and daily efforts which you had put in during preparation for CA Final?
Suryansh- It is important to plan your studies well in order to cover the entire CA Final syllabus. I used to put in around 14-15 hours into studies during the last 3-4 months of preparation. I believe that it is very important for each individual to make his own timetable that suits him the best and not to copy anyone else's.
Careers360- While attempting the CA Final Exams, which all factors need to be considered and what strategy works best?
Suryansh- It is important to focus on the important areas. Focus more on understanding the concepts than to memorizing the content word by word. As the number of application-based questions are increasing, conceptual clarity is very important for CA Final.
Careers360- Since you have reached your dream destination, so in your opinion, how has life changed for you now? What was the thought behind choosing CA?
Suryansh- Frankly, every end brings with it a new beginning. I am looking forward to newer challenges. I developed an interest towards this course when I was in 12th standard and it further grew while in college.
Careers360- What is more suitable according to you- Self Study or Coaching? What is the role of coaching under the CA Foundation program?
Suryansh- It is very subjective and thus, a combination of the two should be implemented. I feel that the last 2-3 months before CA Final exams should be devoted towards self study. And it is always a good option to go for coaching for subjects that you are not comfortable with. It helps to develop a thorough understanding of the concepts.
Careers360- What source did you refer to for CA Final preparation?
Suryansh- I primarily referred to the institute's CA Final study material for preparation and the RTPs and MTPs, i.e. the CA Final sample papers for preparation as they all are quite helpful to understand the approach of question papers. One more thing that I would like to add is, we should understand that there is very limited time to revise the entire syllabus one day before the exam. So, always try and make summary charts and notes to facilitate revisions.
Careers360- What kind of preparation strategy is needed for Foundation, Intermediate and Final stage? Do all the three stages need different preparation?
Suryansh- The common preparation strategy for all three levels is Hard Work + Smart Work. Maintaining consistency in studying is very crucial.
Careers360- How was your experience during articleship training? Did it bother your study regime?
Suryansh- The articleship experience has been very helpful. I have learned a lot in the last 2-3 years. My articleship never affected the studies adversely.
Careers360- Any message for the future aspirants?
Suryansh- I would like to keep it short, just 'Focus and keep going'.
The Institute of Chartered Accountants of India, New Delhi Updates and Articles
Questions related to The Institute of Chartered Accountants of India, New Delhi
Showing 7 out of 7 Questions