CA Intermediate Topper Interview: Anjali Goyal (AIR 3) - Make your basics clear & rely on ICAI study material
Various elements come together to take you to your desired target, no matter how impossible it may initially seem. However, it doesn't happen on its own, it's us, humans who make it possible by adding brain, effort, planning, consistency, execution, and other vital components once we set out for an aim. Sometimes you are less bothered about the outcome, but are focussed more on the causes. This strategy worked the best in case of Anjali Goyal's case, who managed to secure AIR 3 in CA Intermediate May 2019 (New Pattern) Examination. While sharing her success story with Careers360, the topper says that it's her deep-rooted belief that the word "impossible" doesn't exist. And this is her success mantra. Let's know how she would spend her days preparing for CA Intermediate Examination.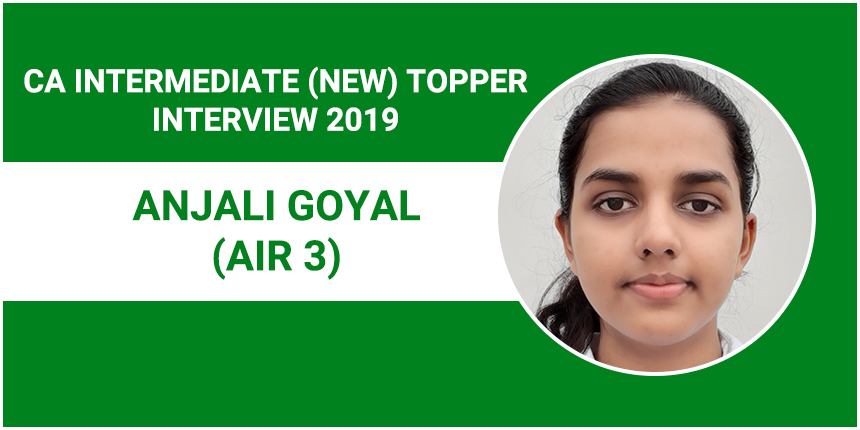 Excerpts from the Interview:
Careers360: How did you celebrate your achievement? Who was the first person you shared the news with?
Anjali Goyal: As soon as I got to know about my rank, I was very happy. I called up my mother and father. They were at their office at that time. Everyone was very happy, they all came to the house at that time only. My brother was working in his office at Gurgaon. When he heard the news, he started cheering in joy and came to Panipat in no time. We all danced and enjoyed very much. It was all and all a very good moment.
Careers360: Tell something about your family background, schooling and key inspirations in life. Share about your rank and score in CA Intermediate 2019.
Anjali Goyal: My parents are both Chartered Accountants practicing at Panipat. My brother has also cleared his Intermediate with All India Rank 21 and he is currently doing his articleship from Deloitte, Gurgaon. Speaking of my educational background, I have done my schooling from Delhi Public School. There is one quotation which inspires me a lot, which says "There is nothing impossible in this world". This has inspired me a lot.
Careers360: Were you sure of your success after completing the exams in May?
Anjali Goyal: No, I was not sure about it. When I appeared for the examination all of my exams went pretty well. But my performance in two of the examinations was not upto my expectation. So, I was not sure about my marks.
Careers360: Which group and subject did you find the easiest and which one the toughest?
Anjali Goyal: Advance Accounts was the most easiest and I also scored the highest marks in it. The most difficult exam for mee was Audit.
Careers360: Would you like to share with us about planning, study hours, time table and daily efforts which you had put in during preparation for CA Intermediate?
Anjali Goyal: Planning is very important for scoring good marks. Students need to give equal time to each subject. The number of study hours doesn't matter much, you need to put your focus whenever you are studying. I used to study for around 10-12 hrs. It is very necessary to clear the basics of every subjects. You need to focus on self study. Complete one subject first and then take another subject.
Careers360: What is more suitable according to you- self study or coaching? What is the role of coaching under CA programme?
Anjali Goyal: Self study is much more important. With the help of self study, you will be able to understand the basic concepts of the subjects. You will be able to figure out your weakness and strength. I took coaching from Jaipur. There are some topics in the curriculum which require extra attention. The teachers helped me in understanding those topics. The coaching institute conducts mock tests which are very important for passing the examination.
Careers360: While attempting the exams, what all factors need to be considered and what strategy works the best?
Anjali Goyal: When you appear for an examination, you get very less time for revision of complete curriculum. So, I would suggest test takers should not be nervous before and while attempting the exam. Just believe in yourself. During the examination, first try to attempt those questions for which you know the answer, then go for other questions. Don't leave answering any question.
Careers360: What books did you refer for CA Intermediate preparation?
Anjali Goyal: I would suggest only ICAI CA Intermediate study material and practice manual. Also attempt mock tests, revision test and previous year question papers of IPI. Even ICAI asked all the questions from their study material only.
Careers360: When did you appear and qualify the entry level course? Tell us about your articleship training as well.
Anjali Goyal: I appeared for CPT in June 2018. I will try to do my articleship from a good firm only because articleship gives a practical knowledge.
Careers360: Any message for the future aspirants?
Anjali Goyal: Don't be afraid of the examination. Exams aren't so difficult and I would like to say that there is no substitute for hard work. Hard work always pays off. Just believe in yourself.
Careers360: Tell us about the registration process (stage-wise), its validity period and application process as per the different stages.
Anjali Goyal: When you pass out the class 12th examination, you need to register for the entry level CA Foundation examination. After clearing the foundation examination, you need to register for the Intermediate examination. One needs to clear the Intermediate examination one group for both the group. Then, you need to complete three year articleship. To become a CA, one needs to clear the CA Final examination after finishing the articleship.
Careers360: ICAI has recently made some changes in CA Intermediate and Final examination pattern, putting more focus on case studies and scenarios. What's your take on this?
Anjali Goyal: More case studies are now given in the question paper. Also, they have added 30 marks MCQ questions. I think it has made the examination even more difficult. If you give the wrong answer, you will not get any marks.So, clear your basic concepts first and then attend the examination.
Also Read:
CA Intermediate Topper Interview 2019: Akshat Goyal (AIR 1) - Consistency is the key to success
CA IPCC Topper Interview 2019: Jyoti Agrawal (AIR 2) - With dedication, you will sail through
CA Intermediate Topper Interview: Darshan S. (AIR 3) – Revision test papers play critical role in your success
CA Final Topper Interview 2019: Ajay Agarwal (AIR 1) - Pick up ICAI study material and revise thrice
CA Final Topper Interview 2019: Umang Gupta (AIR 3) - Passion and strategic planning are imperative