The Institute of Chartered Accountants of India (ICAI) administers the ICAI CA examination throughout the country. Candidates who wish to join the Chartered Accountancy profession in India can pursue this course. The CA exam is divided into three levels - CA Foundation, CA Intermediate and CA Final. To be qualified as a Chartered Accountant, candidates must pass all three levels of the ICAI examinations.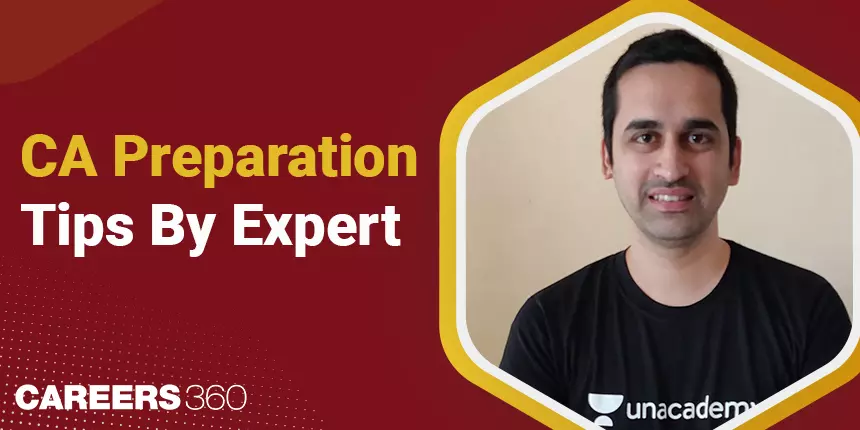 10 ways to excel in CA Exams: Dhananjay Bhave, Educator at Unacademy
CA Dhananjay Bhave, who is a CA educator at Unacademy, here shares expert tips to excel in the CA exams.
1. Complete the Entire Syllabus
It is of vital importance for candidates to focus on all of the topics in each subject and complete the entire syllabus without any compromise. Do not indulge yourself in selective reading. It is important to understand and study the entire book.
Quick Links:
2. Revise Thoroughly
Practice makes a man perfect. Hence, revisions should be done every day rather than waiting until the last minute. During revision, all ICAI materials, revision papers, and model test papers should be read extensively. This will boost your confidence and ensure that you are well prepared for the exam.
3. Refer to Only One Source
In order to grasp knowledge adequately, stick to one source and take notes from it. It will reduce the amount of time spent on understanding the same content. Hence, avoid referring to various sources as this may leave you baffled.
Check the Books for CA Foundation
4. Make Your Own Timetable
Managing time is of utmost importance. Make a detailed schedule for your day ahead of time. Try to divide your time between different subjects and varied topics. Post that, you can plan for each topic on a simpler level. This will be much easier for you to complete the syllabus on time. Additionally, go through your schedule and make changes every two to three days (if required).
5. Maintain a Healthy Routine
At times, take short breaks, balance your schedule, and eat well to recharge yourself. Make it a point to spend an hour each day doing something that refreshes you, whether it's music, painting, dance, cricket, or jogging.
6. Practice Mock Tests
Expose yourself to a variety of questions by taking practice tests. This will allow you to mentally plan out your schedule. Furthermore, completing mock exams will also assist you in comprehending the paper pattern and questions asked. Mock tests will help you stay on track with your schedule, manage your stress, and improve your presentation skills.
Also glance at the following for preparatory purposes:
7. Focus on Time Management
Time management is the most important aspect of a student's preparation. Try to avoid all potential sources of distraction and devote a significant amount of time in studying. Ensure not to spend more than necessary time on any topic. It is important to manage your time effectively, or else the preparation process would feel unending.
8. Don't Pressurize Yourself
Keeping a positive attitude will uplift your confidence. Try not to lose faith in yourself. Keep in mind that your motivation to achieve your goal is fueled by your happiness. Hence, believe in yourself, feel confident, and give yourself the assurance that you can do it.
9. Make Summary Notes
Make separate notebooks for each subject and try to have documented summary notes of all the topics. This will enable you to effortlessly revise from a single source and also relieve you from unnecessary stress prior to the exam.
10. Last Minute Tip
Don't talk about, analyze, or be concerned about the paper that has already been completed. Remember that nothing can be done about what has already happened. Instead, concentrate on the upcoming papers and do well in them. Integrate yourself with the learning process in order to unlearn and then learn again.
Also note that on the basis of request received from the ICAI, the University Grants Commission (UGC) declared on March 15, 2021 that applicants who pass the Chartered Accountant (CA) will now be recognized as equivalent to Postgraduate Degree candidates.